NEWS
Soul-stirring battle that lasted for 120 minutes - Always have respect Vol.112
26 September 2022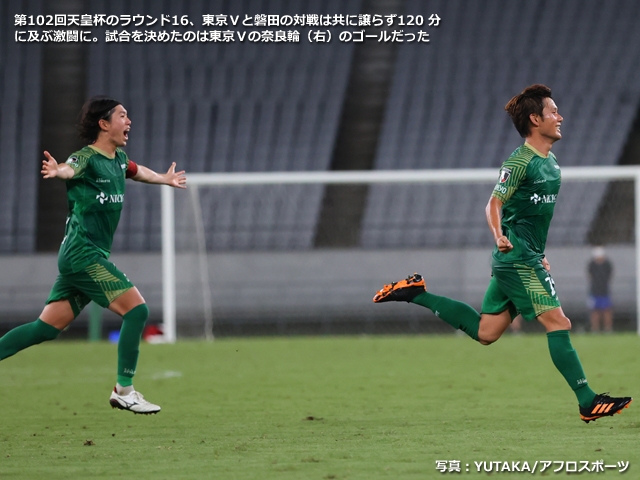 The Round of 16 match between Tokyo Verdy and Jubilo Iwata in the Emperor's Cup JFA 102nd All Japan Football Championship was played at Ajinomoto Stadium in Tokyo on 20 July, and it was a soul-stirring battle. The match, which went into extra time in the sweltering heat, lasted 120 minutes and ended in a 2-1 victory for Tokyo Verdy, but it was a match that went beyond winning or losing, and touched the hearts of those who watched it.
Tokyo Verdy, who are currently struggling in the middle of the J2 standings, made headlines in the Emperor's Cup when they stunned J1 champions Kawasaki Frontale 1-0 in the third round of the tournament in June. However, they faced a major challenge before the round of 16, which was scheduled for 13 July.
Several members of the team tested positive for COVID-19, forcing the team to suspend its activities for six days from 11 July. Needless to say, the Emperor's Cup match was postponed, and with Iwata's approval, the match was rescheduled a week later, on the 20th.
However, the team was left with only three days to prepare for the match as a group. During the six days when team activities were suspended, players had to follow different procedures; some of them were not allowed to leave their rooms, while others were allowed to rum alone in parks. Trainers kept in touch with each player and worked hard to keep them fit.
In the game, Iwata appeared to have taken the initiative at first, but led by veteran midfielder KAJIKAWA Ryota, Tokyo Verdy fought back by exchanging passes. After seeing the match proceed in a stalemate, the deadlock was finally broken in the 82nd minute, when ARAI Mizuki converted a penalty kick to put Tokyo Verdy ahead. Despite conceding the late goal, Iwata did not give up and pushed more players upfront to create chances. Their resilience came to fruition in additional time, when ITO Makito redirected the cross delivered by MATSUMOTO Masaya to setup the goal of GERMAIN Ryo.
Tokyo Verdy had been applying pressure from the frontline for 90 minutes without letting up and could have easily been disheartened by this late equaliser. However, before entering extra time, coach JOFUKU Hiroshi made a bold move by playing midfielder NISHITANI Ryo and defender NARAWA Yuta, who both entered as a late substitute, as their two forwards. Regarding his decision to have these two players play upfront, coach Jofuku explained, "Regardless of where they normally play, I needed players who can make runs [to keep the pressure on from the frontline]."
The decisive goal came in the 114th minute, when Narawa collected a loose ball following a corner kick, and without hesitation from 23 metres out, struck a right footed shot that captured the left corner of the goal.
After being shifted to the forward position, Narawa, a 34-year-old veteran who mainly plays as a side-back, made relentless efforts to keep the pressure on the opposing defenders for 30 minutes.
Narawa's goal and his overall performance were certainly a testament to his commitment towards the match, as he commented afterwards, "I've played every match as if it was my last, and that approach just happened to result in a goal today."
With this victory, Tokyo Verdy advanced to the quarterfinals for the first time in 18 years. However, despite the team's feat, coach Jofuku maintained a subdued tone after the match to express his apologies and appreciation, rather than the joy of winning.
"We would like to express our sincere apologies to everyone involved in this match, including the match officials, Jubilo Iwata, supporters, and the media, for causing the postponement due to our club's recent situation with COVID-19."
In fact, Iwata were also in a difficult situation, with two players and a coach testing positive on 13 July, and although their team activities were not suspended, their squad took a hit in the J1 match against FC Tokyo on 17 July, when they lost another player due to injury, making it hard for them to come up with a full squad. Many fans must have wished that the Emperor's Cup match had taken place a week ago.
However, coach ITO Akira did not make any excuses or complaints, but instead praised his players for their tireless efforts to fight through 120 minutes.
Both teams used all six substitutions allowed and the match was played at full speed for the entire 120 minutes. The passion and determination of the coaches and players of both teams were clearly felt through their performance, and it is no surprise that it touched the hearts of those watching.
Written by OSUMI Yoshiyuki (Football Journalist)
*This article was originally posted on the Japan Football Association Newsletter, "JFAnews," August 2022 edition.
Japan Football Association Newsletter "JFAnews"
The Japan Football Association Newsletter "JFAnews" contains all the information on the Japan National Team, and all the events hosted by the JFA. Tournament results and team information throughout the nation are also available. The official monthly magazine is a must read for coaches, referees, and all members of the football family.
For information on the newest edition (Japanese website)