NEWS
JFA Respect Symposium 2022 Eradication of violence and verbal abuse - Safeguarding policy into the everyday life of the club
28 September 2022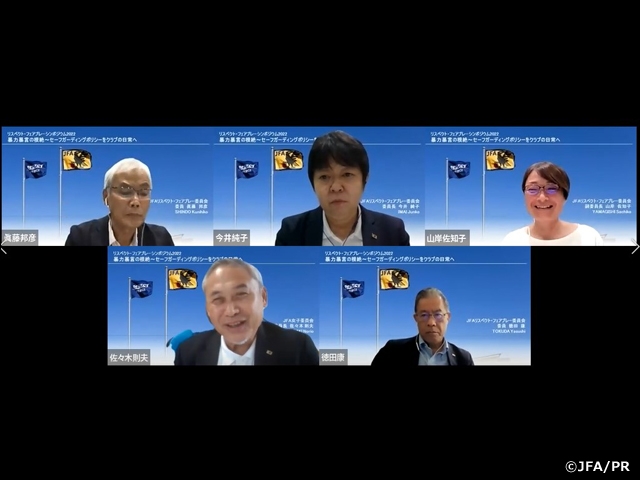 On Saturday 24 September, Japan Football Association (JFA) held the "JFA Respect Symposium 2022 Eradication of violence and verbal abuse - Safeguarding policy into the everyday life of the club" online.
Every year, JFA has organised "Respect Fair-play Days" to promote the importance of respect and various initiatives to achieve a world without discrimination, violence and verbal abuse. In previous years, it has been held for 10 days in early September, but in 2022 it was expanded to a month from Thursday 1 to Friday 30 September, allowing more football sites to take part in the activities.
The symposium was divided into two parts, with the keynote speeches in the first part introducing the "JFA's Welfare Officer System," "Safeguarding Workshops" and the "Emotions Project."
The Welfare Officer System was launched in 2015 and aims to eradicate discrimination, violence and verbal abuse by assigning a person in charge of protecting the safe and secure enjoyment of football to each prefectural football association, league federation, tournament and match venue, and each club. IMAI Junko, Chair of the JFA Respect/Fair play Committee, explained that "We are working with the strong belief that it is important for everyone involved to have a sense of ownership and to work to 'not do, not allow, and not tolerate' discrimination, violence and verbal abuse."
Safeguarding workshops are conducted with the aim of creating an environment in which children's safety, security and happiness are protected, while making safeguarding a personal matter and developing an action plan. SHINDO Kunihiko, a member of the JFA Respect/Fair play Committee, introduced the actual card games used in the workshops and said, "Even if you have no intention of doing so, your words and actions can become a risk. That is why I think it is very important to have friends who can recognise and communicate with each other," he said, explaining the significance of holding the workshops.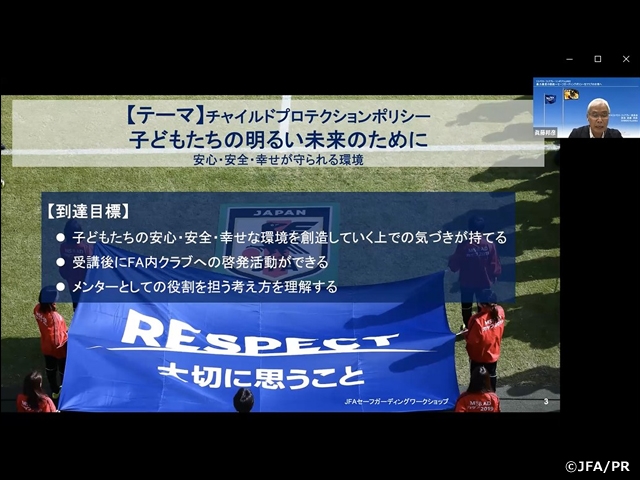 The Emotion Project was presented in the form of an interview by YAMAGISHI Sachiko, Vice-Chair of the JFA Respect/Fair Play Committee, to ONO Takeshi, JFA Deputy Technical Director. Introducing scenes such as Japan's opening goal in the AFC Asian Cup UAE 2019 semi-finals between Iran and Japan, Deputy Technical Director Ono explained the various emotional swings that occur during a football match. "Emotions are what make football beautiful. If we become masters of emotion before we are manipulated by it, we can feel the happiness of football."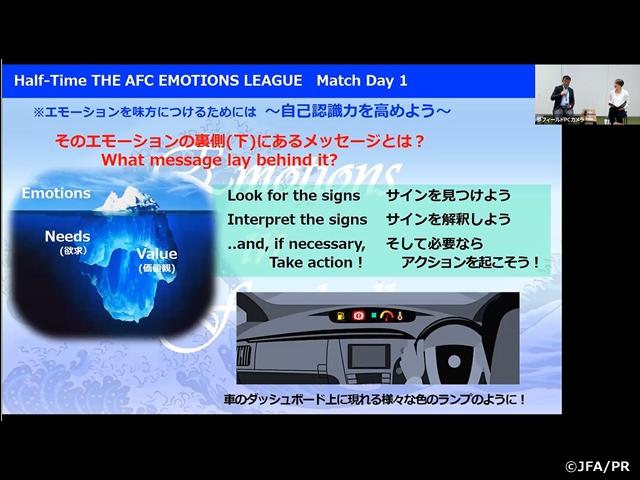 In the second part of the Symposium, a panel discussion was held on the theme "Eradicating violence and verbal abuse - bringing safeguarding policies into the everyday life of clubs." Here, they discussed the three initiatives introduced in the first part. First, a video was shown of the U-20 Japan Women's National Team winning the Fair Play Award at the FIFA U-20 Women's World Cup Costa Rica 2022™ held in August this year, with SASAKI Norio, Chairman of the JFA Women's Committee, stating, "The players' behaviour, fair play on the pitch, and the way they treated the supporters showed the essence of Japanese women's football. The players were supported for their dedication and received the Fair Play Award. This is what Japanese women's football should aim for, and I think the world has recognised this."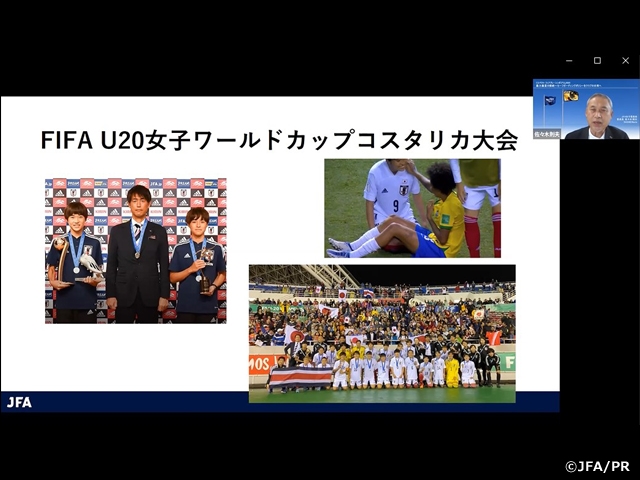 One of the panellists, TOKUDA Yasushi, Executive Director of the Aichi Football Association and a member of the JFA Respect/Fair play Committee, commented on the initiatives to eradicate discrimination, violence and verbal abuse, saying, "There have been many consultations. In order to improve the situation, we need to create an environment where people think about the issue as their own, and it is necessary for the prefectural football associations to work together with the JFA." He also stated, "There is a division between those registered with the prefectural football associations and the JFA, so I think it is important to create an atmosphere where we can work together as fellow footballers to achieve the same goal."
In addition, examples of the Women's Committee's efforts during Respect Fair Play Month, such as the captains' meeting at the JFA U-18 Women's Football Final 2022, the exchange of respect declaration boards before matches and the declaration of respect by captains, were presented. Chair Imai commented, "I felt it was very valuable that the players thought about respect and fair play in their own minds and expressed it in their own words."
Speakers' Comments
TASHIMA Kohzo, JFA President
We have been engaged in activities to promote respect for a long time. And even before this Respect project began, the JFA had won fair play awards in various competitions under the slogan "Fair Play." This is now part of the culture of Japanese football. Supporters picking up litter in the stands, the national team cleaning their dressing room after matches. I think this is exactly what respect is all about. Remembering to respect the opponents, coaches, fellow players, rules, equipment, the pitch and everything else is a great asset for the JFA. Let us all continue this practice and keep the spirit of respect in our hearts.
IMAI Junko, Chair of JFA Respect and Fair play Committee
The theme of this symposium was " Eradication of violence and verbal abuse - Safeguarding policy into the everyday life of the club," as we believe that it is meaningless unless it permeates into the everyday life of each club. We want to create a relationship and premise in football where everyone can frankly tell each other what is on their mind. We want to take a step forward towards a place where we all take on a role to work together, and make a positive change in the environment, landscape and culture of the sporting and footballing world. We are looking forward to working with you.
SASAKI Norio, Chairman of JFA Women's Committee
Japan is a country where people have strong interests in sports and various activities, but we still see instances where people lack respect. In today's society, just a single incident can lead to a tendency to say that the football world is not good enough, tarnishing the image of those who are truly sincere in their work to make the football world a better place for the future. Demands to eliminate violence and verbal abuse are greater than ever before. I believe that we must learn from these trends and turn them into good habits. I would like to encourage everyone to learn and expand on this.