NEWS
Respecting the difference - Elimination of Violence in Football Vol.98
03 September 2020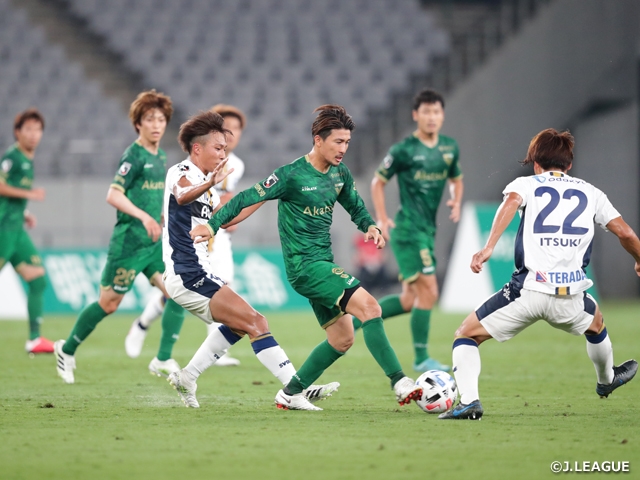 Football has finally returned.
Since winter, the spread of COVID-19 has shaken the world and brought our society into unprecedented territory. Ever since the state of emergency has been lifted, J.League has resumed under various restrictions, and the society has taken its first step back to normality. It is inevitable that other football activities will soon return to our daily lives as well.
There is one thing I feel strongly unacceptable during this pandemic, and that is the prejudice and discriminative behaviours towards COVID-19 patients (including people with close contact with patients) and healthcare workers. Nobody is willingly getting infected. In fact, the healthcare workers are risking their lives to protect us from this unprecedented pandemic. People's actions based on rumours and hoax are so much scarier than the virus itself.
Another concern is the discrimination towards people who are refraining to take part in social activities due to the risks of getting infected. Although football has returned to our lives, some would still be hesitant to participate, and we must not distance or exclude these people. It is important that we understand their concerns and do what we can to create an environment where everyone feels safe to make their return to the pitch.
Racial discrimination, especially towards African Americans in the USA, has become a major social issue. There are various types of discrimination, but one of the factors that leads to such behaviours is the feeling to exclude others. When something "different" is thrown into the mix, everything becomes unstable and falls apart. That "different" thing can be race, religion, sexuality, beliefs, or way of thinking. People get scared when others think differently, which leads them to feel uncomfortable and ultimately makes them take discriminative behaviours. It makes me wonder, why cannot people just appreciate the difference and respect diversity.
There is also discrimination against the weak. Discrimination towards minorities, and unfortunately, sexual and gender inequality is still a persistent issue. People with superiority attacking the weak is a very scary phenomenon.
Taking in case of JFA's elimination of violence hotline, nearly 70% of the calls in 2019 were regarding players under the age of 18 (primary school: 36%, junior high school: 21%, high school: 12%). It does not necessary mean that all cases included verbal or physical abuse, but child abuse caused by adults have never ceased.
In August 2019, FIFA established the "FIFA Guardians," which is a football programme that respects and promotes children's rights defined in the "Convention on the Rights of the Child." AFC has followed by placing an officer for this programme and the trend to protect children's rights have been spreading throughout the football community. JFA has also taken a stand by implementing programmes like "Players first," "Green card," and "Welfare officer," but further cooperation with programmes carried out by FIFA is necessary to strengthen its stand to protect children's rights.
The English football association, The FA, has taken the most progressive approach to protecting children's rights. Based on legal measures established by the British Government in 2006, everybody involved in under 18 youth football (organisers, coaches, referees, etc.) must be screened for criminal records and are required to participate in children safety workshops. The rules are made clear that youth teams without officers who have attended these workshops or welfare officer workshops may not participate in any tournaments. Without the legal support from the government, it may not be feasible to implement the same type of measures in Japan, but it is possible to customise and adapt the basic essence in our country. Programmes can also incorporate the Japanese culture and customs to make it more effective in Japan.
Recently, the concept of "Game empathy" has been incorporated to help referees better understand the players' feelings and expectations when making their decisions. Instead of managing the game just from the referee's point of view, the players' feelings and expectations are being considered upon making judgements on the pitch. Referees, however, cannot make decisions that deviate from the Laws of the Game, nor can they change facts such as the ball crossing the line, but they still have the discretion to make the best possible decision by having empathy towards the players.
In English, the word "empathy" is commonly translated into the same Japanese word "Kyokan" as for "sympathy" and used interchangeably. However, while sympathy is to understand and recognise someone's sadness, empathy is to understand someone's feelings as if you were experiencing it yourself. In England, children are educated to understand racial diversity, economic disparities, and differences in sense of values, and the concept of empathy is also one of the things they learn at a young age. The English phrase, "put yourself in someone's shoes" is a great idiom to understand the word empathy.
To prevent the spread of COVID-19, we must construct a strict hygienic environment, which requires us to change our daily routines. Changes can be a burden but having football back in our lives is such a blessing. We hope to use this as an opportunity not just to adjust to the new environment, but to enrich our daily lives. That includes having empathy and an open mind towards those who are different from you. Taking a stand to protect weaker people, including children, is another thing we can do to enrich our lives. It is our responsibility to take action to spread these ideas from the top to the grassroots.
【Reporter】MATSUZAKI Yasuhiro (former chairperson of JFA Respect/Fair play Committee)
*This article was originally posted on Japan Football Association "Technical News," March 2020 edition.