NEWS
Tosu claim top spot with win over Hiroshima – Prince Takamado Trophy JFA U-18 Football Premier League 2022
02 May 2022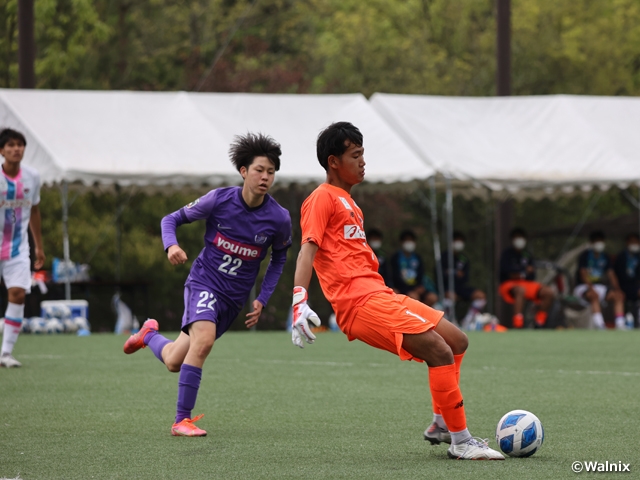 The fifth sec. of the Prince Takamado Trophy JFA U-18 Football Premier League 2022 WEST took place on Saturday 30 April and Sunday 1 May. At Yoshida Soccer Park, Sanfrecce Hiroshima FC Youth (Hiroshima) welcomed Sagan Tosu U-18 (Sagan).
Featured Match
Sanfrecce Hiroshima FC Youth 1-4 (0-1, 1-3) Sagan Tosu U-18
Entering the match riding a two-game winning streak, Tosu managed to take the initiative by moving the ball with great tempo but couldn't find ways to create chances against the home side, who dropped deep to lock-up the central area, as OSATO Koma (#11) later reflected, "Hiroshima is an opponent we couldn't win against last season. We knew it was going to be a tough match, especially when playing at their home field."
"Although we were able to possess the ball, there was a sense of urgency," said coach TANAKA Tomonori, as Tosu continued to struggle against the Hiroshima defence. However, the deadlock was broken in the 29th minute, when FUKUI Taichi (#10) took a free kick to deliver the ball into the mix, setting up the goal of Osato, who struck a header into the net, as the defender reflected on the play, "Watching the game from behind, we weren't creating many chances, so I wanted to help the team gain momentum by converting a set-piece. When I scored the first goal, Taichi delivered a perfect ball, so I just needed to make contact with the ball."
Tosu continued to be the aggressor in the second half, as SAKAIYA Keisuke (#9) fired a shot off the cross bar to start the action. However, it was Hiroshima who scored the next goal, as HAMADA Sota (#20) responded to a deflection of the free kick struck by KASAGI Yuzu (#10) to level the match in the 55th minute.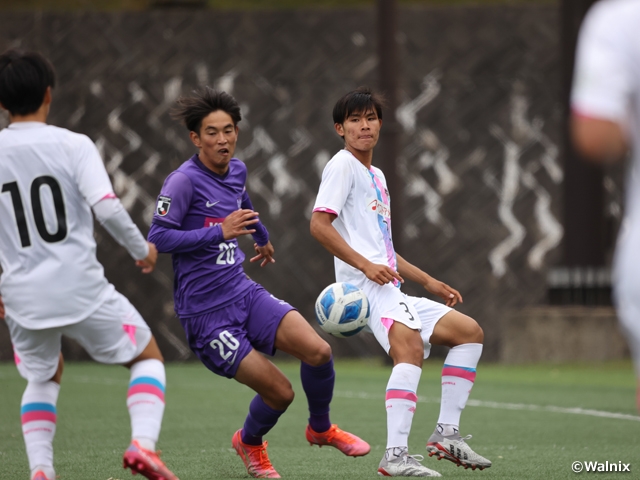 Gaining momentum from the equaliser, the home side gradually picked up their pace to create more opportunities in the attacking third, but Tosu responded back in the 63rd minute, when Osato once again converted the cross sent by Fukui to give the visiting side the lead.
"We were close to giving up the momentum after conceding the equaliser, but with our opponents pressing forward, I knew that I could help the team regain control by capitalising on the set-pieces," said Osato, and just as he predicted, the tide shifted towards Tosu for the remainder of the match. Effectively utilising the width of the field, Tosu penetrated the flanks to initiate their attacks, which led to the goals of Fukui in the 65th minute, followed by the goal scored by SAKAI Shunya (#4) in the 87th minute to wrap up the match 4-1.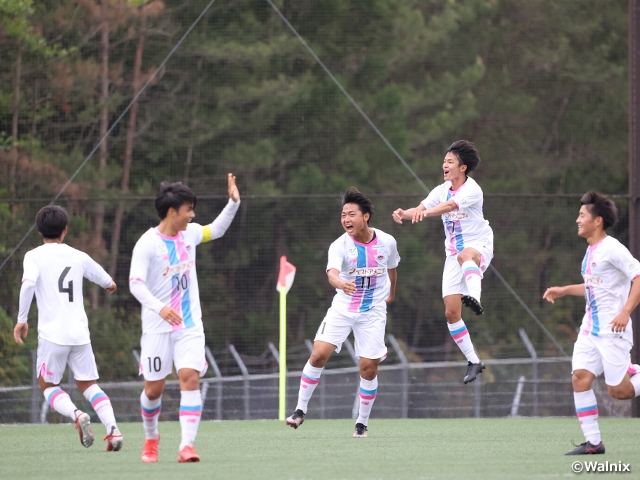 "We managed to win the match by showing our style of football," said Osato, as the Kyushu side extended their winning streak to three matches to claim the league lead.
Coaches and Players' Comments
TANAKA Tomonori, Coach (Sagan Tosu U-18)
Ideally, we want our players to improve while winning, but our focus must not always be on just winning matches. That is why I am constantly communicating with my players to talk about what went well and what didn't go well in our matches and reflect the findings into our daily training sessions. We were able to get away with some mistakes today, but we must remind ourselves that those mistakes would have been exploited when playing for the top team. We must acknowledge our shortcomings and strive to become a better team.
GK #1 KURIBAYASHI Hayato (Sagan Tosu U-18)
After failing to move up from the junior youth team to the youth team of Sanfrecce Hiroshima, I was given the opportunity to join Tosu. Facing my former team, I wanted to showcase just how much I have improved as a player since being dropped by them. Although it wasn't my best performance, I feel like I was able to make a statement with this victory. Our goal for this year's team is to play tenaciously to keep clean sheets. Although we conceded a goal today, we cannot lose if we don't concede any goals, so we will continue to do our best to rack up as many clean sheets as possible.
TAKATA Tetsuya, Coach (Sanfrecce Hiroshima FC Youth)
We wanted to keep the first half scoreless, so that goal we conceded from a set-piece really hurt us. We have been conceding too many goals from set-pieces this season, so that is something we must fix. Instead of picking up the pace after the equaliser, we ended up conceding another goal from a set-piece. I was hoping that we would gain momentum from the equaliser, so I must say that things didn't go our way today. The players are now realising how hard it is to win a match. We need a win to change all this, so we will prepare ourselves for our next match.
MF #10 KASAGI Yuzu (Sanfrecce Hiroshima FC Youth)
We have conceded in each of our games since the start of the season. Defence was supposed to be our strength, so we must start earning clean sheets to get on our winning ways. Never in the history of Sanfrecce have we experienced such a run of unwinnable matches since the start of the season. But if we start winning from here, we can show that we are a strong team. We can't finish like this, so we need to show more of our strength.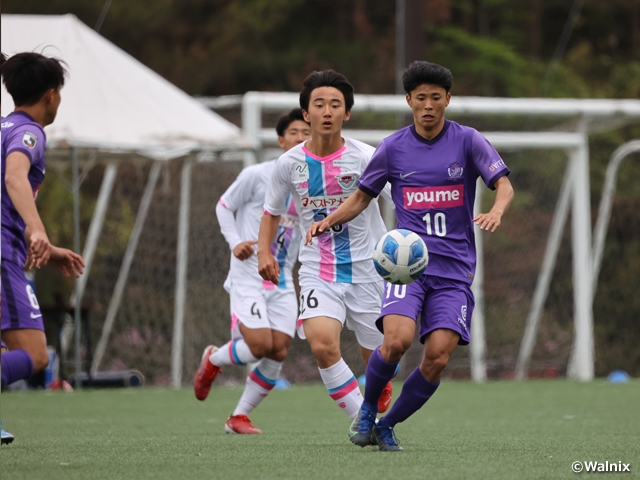 Results of other matches
Cerezo Osaka U-18 3-2 (1-1, 2-1) Jubilo Iwata U-18
Gamba Osaka Youth 2-5 (1-2, 1-3) Riseisha High School
Higashi Fukuoka High School Postponed Vissel Kobe U-18
Shimizu S-Pulse Youth 4-0 (3-0, 1-0) Ozu High School
Nagoya Grampus U-18 3-1 (1-0, 2-1) Shizuoka Gakuen High School
Led by the goal of their ace KINOSHITA Shinosuke (#9), who has now scored in three consecutive matches, Cerezo Osaka U-18 (Osaka) defeated Jubilo Iwata U-18 (Shizuoka) to mark their third consecutive victory. The match between two Osaka sides, Gamba Osaka Youth (Osaka) and Riseisha High School (Osaka), saw Riseisha score five goals to claim the victory and bragging rights. Propelled by the brace of NARISAWA Yuan (#9), Shimizu S-Pulse Youth (Shizuoka) defeated Ozu High School (Kumamoto) to register their second win of the season. Nagoya Grampus U-18 (Aichi) edged Shizuoka Gakuen High School (Shizuoka) 3-1 to increase their tally to nine points. The match between Higashi Fukuoka High School (Fukuoka) and Vissel Kobe U-18 (Hyogo) was postponed. Alternative dates will be announced as soon as they are decided.

#高円宮U18 プレミアリーグ 2022
WEST 第5節(5/1)

試合結果#広島 1-4 #鳥栖#東福岡 (延期) #V神戸#清水 4-0 #大津#名古屋 3-1 #静岡学園

結果詳細はこちらhttps://t.co/GNr6IeMq2n#高校サッカー pic.twitter.com/0KG62jw4L4

— 高円宮杯 JFA U-18サッカープレミアリーグ (@jfa_u18) May 1, 2022
#高円宮U18 プレミアリーグ 2022
WEST

暫定順位表
1⃣ #鳥栖
2⃣ #静岡学園
3⃣ #C大阪
4⃣ #磐田
5⃣ #名古屋
6⃣ #清水
7⃣ #履正社
8⃣ #大津
9⃣ #V神戸
1⃣0⃣ #東福岡
1⃣1⃣ #広島
1⃣2⃣ #G大阪

詳細はこちらhttps://t.co/UFlr6DHexG#高校サッカー pic.twitter.com/mSIaXsRzBx

— 高円宮杯 JFA U-18サッカープレミアリーグ (@jfa_u18) May 1, 2022
Prince Takamado Trophy JFA U-18 Football Premier League 2022
League Duration: Sat. 2 April - Sun. 4 December 2022