NEWS
Maebashi Ikuei take the lead three times in win over AC Fukushima - Prince Takamado Trophy JFA U-18 Football Premier League 2022
02 May 2022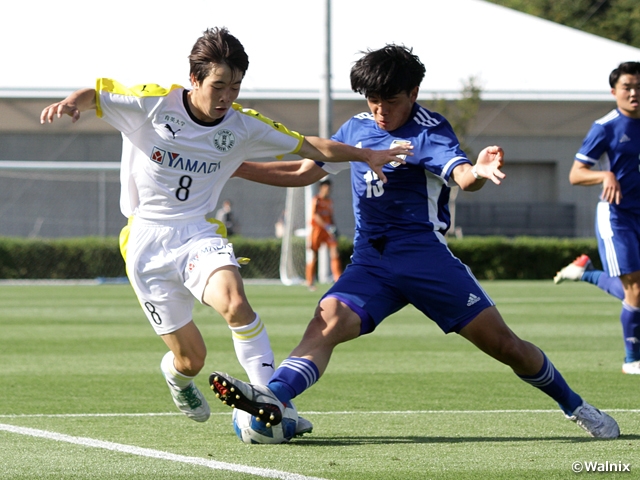 The fifth sec. of the Prince Takamado Trophy JFA U-18 Football Premier League 2022 EAST took place on Saturday 30 April and Sunday 1 May. At Prince Takamado Memorial JFA YUME Field, JFA Academy Fukushima U-18 (Shizuoka) welcomed Maebashi Ikuei High School (Gunma) in the first ever Premier League match held at JFA YUME Field.
Featured Match
JFA Academy Fukushima U-18 2-3 (1-1, 1-2) Maebashi Ikuei High School
The match started with Maebashi Ikuei taking the initiative with their individual skills, as OKUBO Kaito (#8), who coach YAMADA Kosuke described as "a player that has been improving day by day," made a cut-in towards the centre before striking a right footed shot that pierced the net in the 10th minute.
Led by the big saves made by their goalkeeper SAGA Tesho (#1), AC Fukushima, who have been promoted to the Premier League for the first time since 2015, played with great composure to avoid the aggressive pressure applied by Maebashi Ikuei while seeking for their opportunity to score a goal. Their patience was paid off in the 30th minute, when SHIBA So (#6) converted the free kick delivered by HANASHIRO Rinto (#13) to equalise the match.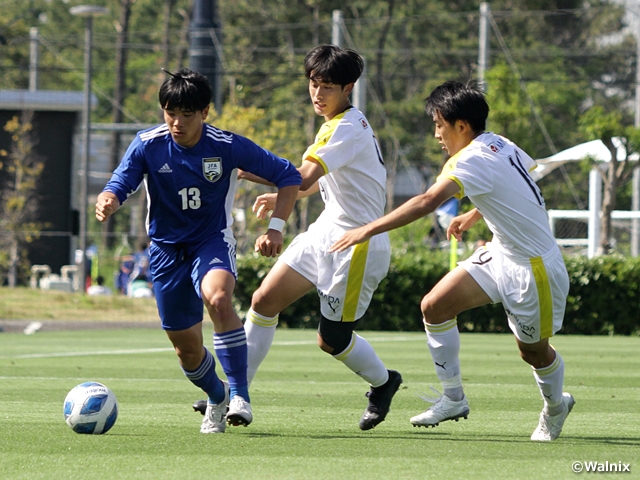 After both sides started the second half with great intensity level, it was Maebashi Ikuei who scored the next goal, as the shot taken by Okubo in the 56th minute took a deflection off a defender before finding the back of the net. AC Fukushima responded in the 66th minute, when MAKITA Hiroki (#10) initiated a short counter to set up the goal of SEKI Hinata (#14) to make it 2-2.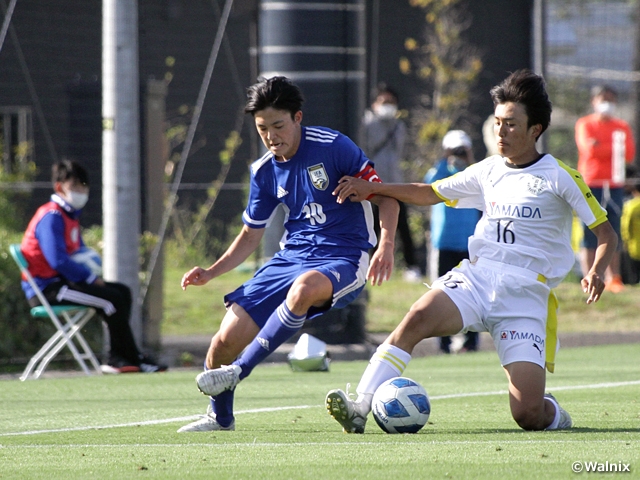 As the match intensified, the decisive moment arrived soon after the second equaliser scored by the home side, as AC Fukushima's coach FUNAKOSHI Yuzo later reflected, "We conceded from a simple play because we weren't executing the simple plays ourselves." The goal came in the 70th minute, when TAKAASHI Zen (#10) responded to a through-ball sent by TOKUNAGA Ryo (#14) before striking a right footed shot that gave Maebashi Ikuei their third lead of the match, which proved to be the winning goal for Maebashi Ikuei.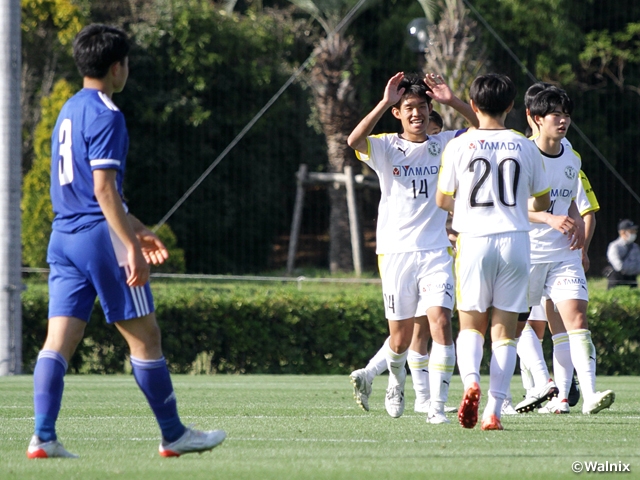 "Not limited to this match, but we have conceded way too many simple goals," said Maebashi Ikuei's coach Yamada, but also mentioned, "I knew that we could compete at the Premier League and the players have proved that." AC Fukushima's coach Funakoshi on the other hand, started off by praising his players, "They made great challenges," before commenting, "Winning is not everything, but we must strive to achieve our goal of avoiding relegation this season."
Coaches and Players' Comments
FUNAKOSHI Yuzo, Coach (JFA Academy Fukushima U-18)
It was great to see the players taking on a positive challenge against a great team like Maebashi Ikuei. However, I feel that we need to be able to execute the routine plays a little better. I think we need to pay more attention to the details, such as body orientation, support, challenge, and cover.
MF #10 MAKITA Hiroki (JFA Academy Fukushima U-18)
It was great to play in the wonderful environment of the JFA YUME Field. Although everyone showed their willingness to compete and make runs for the team, we just didn't have what it takes to win today. The JFA Academy players have been together for six years, so we really have a strong family-like relationship. In order to repay the people of Gotemba, who accepted us after the Great East Japan Earthquake, we want to achieve results in our final year in Shizuoka.
YAMADA Kosuke, Coach (Maebashi Ikuei High School)
The fact that we have been conceding multiple goals is a problem we need to address. Our attackers are not exactly blessed with size, but they can irritate the opponents with their speed and agility. However, we were not able to move the ball as well as we did last week, so we are not satisfied with our offensive performance neither.
MF #8 OKUBO Kaito (Maebashi Ikuei High School)
I entered the match determined to take shots, which led to my two goals today. The opponents were wary of my dribbling, but I am happy to score from a play I have been working on for a while. As long as you are playing in the Premier League, you are always thinking of ways to improve yourself.
Results of other matches
Omiya Ardija U18 2-2 (2-0, 0-2) Yokohama FC Youth
Aomori Yamada High School 1-2 (0-1, 1-1) Kawasaki Frontale U-18
Funabashi Municipal High School 0-0 (0-0, 0-0) Ryutsu Keizai University Kashiwa High School
FC Tokyo U-18 5-3 (1-2, 4-1) Kiryu Daiichi High School
Kashiwa Reysol U-18 1-2 (0-1, 1-1) Yokohama F.Marinos Youth
Despite taking a two-goal lead in the first half, Omiya Ardija U18 (Saitama) conceded two goals to Yokohama FC Youth (Kanagawa) in the second half to share a point apiece. Kawasaki Frontale U-18 (Kanagawa) defended their league lead with a 2-1 away victory over third place Aomori Yamada High School (Aomori). The match between two high school sides from Chiba, Funabashi Municipal High School (Chiba) and Ryutsu Keizai University Kashiwa High School (Chiba) ended in a scoreless draw. Second place FC Tokyo U-18 (Tokyo) scored five goals in their home match against Kiryu Daiichi High School (Gunma) to stay in contention for the title race. Yokohama F.Marinos Youth (Kanagawa) marked their third win of the season with their 2-1 victory over Kashiwa Reysol U-18 (Chiba).

%F0%9F%8F%86#高円宮U18 プレミアリーグ 2022%F0%9F%8F%86
%F0%9F%94%B4EAST 第5節(5/1)%F0%9F%94%B4

%E2%9A%BD試合結果%E2%9A%BD#青森山田 1-2 #川崎F#市立船橋 0-0 #流経大柏#FC東京 5-3 #桐生第一#柏 1-2 #横浜FM

結果詳細はこちら%F0%9F%94%97https://t.co/Y65xFaqUYE#高校サッカー pic.twitter.com/tWTDfBPSf0

— 高円宮杯 JFA U-18サッカープレミアリーグ (@jfa_u18) May 1, 2022
%F0%9F%8F%86#高円宮U18 プレミアリーグ 2022%F0%9F%8F%86
%F0%9F%94%B4EAST%F0%9F%94%B4

%E2%9A%BD暫定順位表%E2%9A%BD
1%E2%83%A3 #川崎F
2%E2%83%A3 #FC東京
3%E2%83%A3 #横浜FM
4%E2%83%A3 #前橋育英
5%E2%83%A3 #青森山田
6%E2%83%A3 #市立船橋
7%E2%83%A3 #流経大柏
8%E2%83%A3 #大宮
9%E2%83%A3 #横浜FC
1%E2%83%A30%E2%83%A3 #AC福島
1%E2%83%A31%E2%83%A3 #柏
1%E2%83%A32%E2%83%A3 #桐生第一

詳細はこちら%F0%9F%94%97https://t.co/xyY4xTyaZQ#高校サッカー pic.twitter.com/vtyDx0N02I

— 高円宮杯 JFA U-18サッカープレミアリーグ (@jfa_u18) May 1, 2022
Prince Takamado Trophy JFA U-18 Football Premier League 2022
League Duration: Sat. 2 April - Sun. 4 December 2022