NEWS
Reysols win "Kashiwa Derby" in dramatic fashion! - Prince Takamado Trophy JFA U-18 Football Premier League 2022
25 April 2022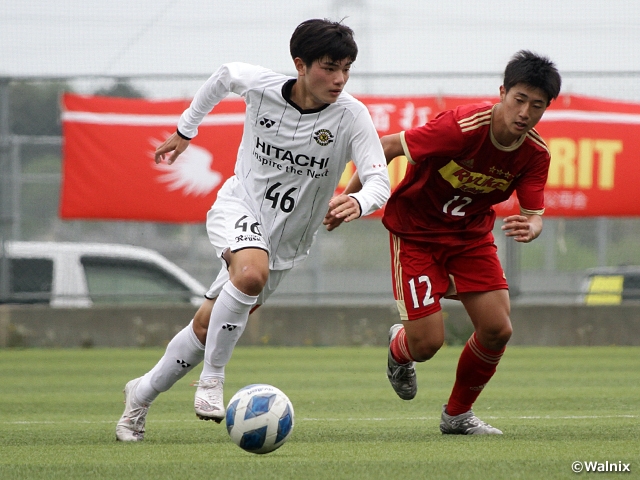 The fourth sec. of the Prince Takamado Trophy JFA U-18 Football Premier League 2022 EAST took place on Saturday 23 and Sunday 24 April. In Kashiwa, Chiba, Ryutsu Keizai University Kashiwa High School (Chiba) welcomed their city rival Kashiwa Reysol U-18 (Chiba) to their home field.
Featured Match
Ryutsu Keizai University Kashiwa High School 1-2 (1-1, 0-1) Kashiwa Reysol U-18
"We know each other very well," said Reysol's coach SAKAI Naoki ahead of this season's first "Kashiwa Derby," as the two sides showcased an intense battle from the early minutes.
It was Ryutsu Keizai Kashiwa who took the initiative, as OKAWA Kafu (#2) directly converted a free kick in the third minute. Although Okawa is not the usual set-piece taker, the defender later commented, "I had been working to improve my cross-balls, and the work has paid off."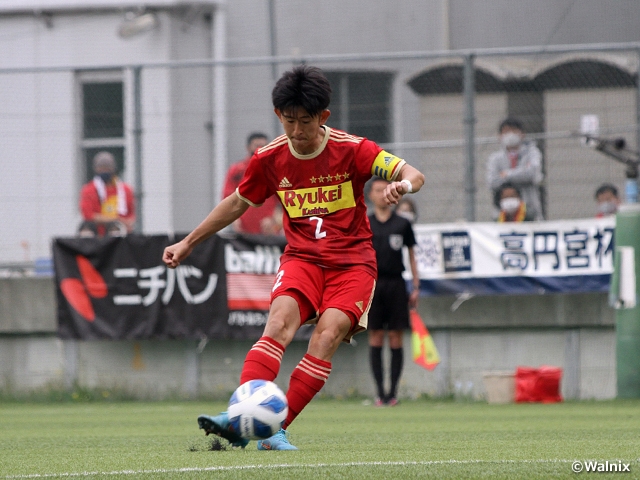 However, as Ryutsu Keizai Kashiwa's coach ENOMOTO Masahiro later pointed out, "We started playing passively after taking the lead," the home side gradually lost momentum as the match progressed, allowing Reysol to create chances from counterattacks. Although their goalkeeper KINOSHITA Haruki (#25) stepped up to make two big saves in the 11th and 30th minutes, Ryutsu Keizai Kashiwa conceded the equaliser to KURITA Shoma (#13) in the 43rd minute, as the match entered halftime tied at 1-1.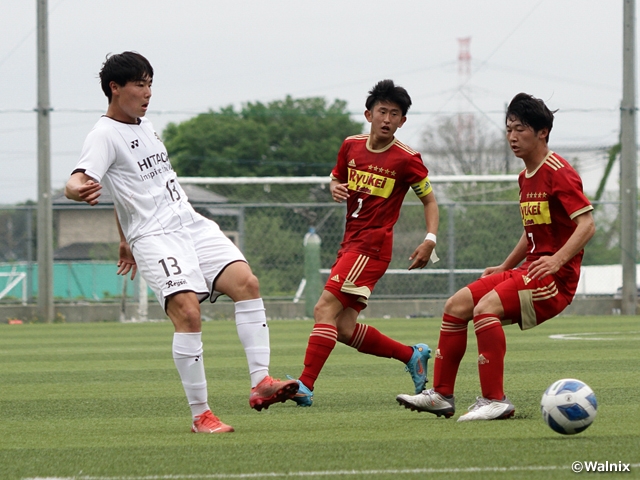 Despite their struggles to find their rhythm, Reysol continued to play patiently in the second half, as coach Sakai commented, "We knew that our opponents would run out of gas at some point." Just as coach Sakai predicted, Ryutsu Keizai Kashiwa started to show signs of fatigue and a pair of golden opportunities arrived for the visiting side in the closing minutes of the match.
The first moment arrived in the 85th minute, when YAMAMOTO Ota (#9) induced a foul inside the opposing penalty area to win a PK. However, Kinoshita made a spectacular save to deny this spot kick. Despite missing out on a huge opportunity to take the lead, Yamamoto was undeterred as he reflected, "I was determined to win the match for the team." The striker's perseverance came to fruition in the fourth minute of additional time, when Yamamoto carried the ball from the left side before firing a mid-range shot that found the back of the net. As the Reysol's eleven celebrated the last-minute goal, the final whistle was blown, giving Kashiwa Reysol U-18 a 2-1 in this season's first Kashiwa derby.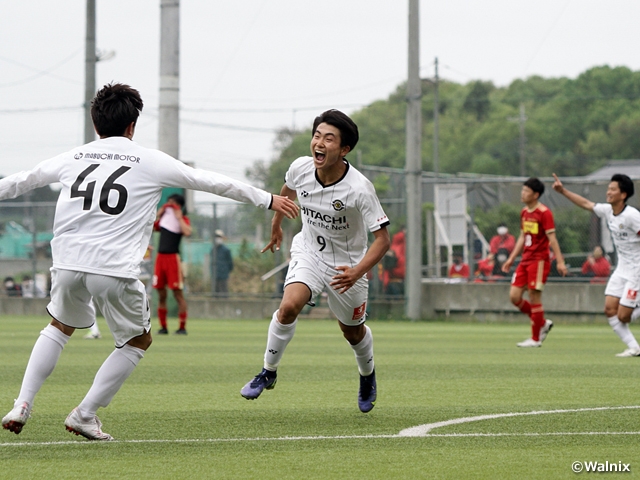 Following this heart-breaking loss, coach Enomoto regretted the fact that they couldn't score the second goal, rather than the late goal they conceded. Coach Sakai on the other hand, commented, "It is always difficult facing Ryutsu Keizai Kashiwa," and continued by praising his players, "They played hard until the very end."
Coaches and Players' Comments
SAKAI Naoki, Coach (Kashiwa Reysol U-18)
We knew we had to play our best game in order to win against this opponent, so even when facing adversity, we focused on getting our jobs done. It's not easy evading multiple waves of pressure, but we need to be able to control how we possess the ball after winning the ball. Some of the players who played with in the past few years are now playing for the top team, and their presence are great inspiration for the current players.
FW #9 YAMAMOTO Ota (Kashiwa Reysol U-18)
After missing the PK, I was determined to finish the match myself, and the goal came from an angle I had practiced many times in our training sessions. My goal is to score 20 goals this season, so I am not satisfied with my performance so far. I still have a long way to go. I need to do a better job helping our defence as well, so I need to build my endurance to make more runs.
ENOMOTO Masahiro, Coach (Ryutsu Keizai University Kashiwa High School)
This is exactly what happens when we play like that. We unexpectedly managed to take a 1-0 lead early on, but things went south after that. We had to attack the flanks more often and we weren't able to respond well against our opponent's counterattacks. Those are just some of the aspects we must improve ahead of our next match.
GK #25 KINOSHITA Haruki (Ryutsu Keizai University Kashiwa High School)
Although I was able to make a solid save to start the match, I am not satisfied with the fact that I conceded two goals in this loss. I feel like I could have prevented the goals if I gave better directions to my teammates. I was originally rostered into the C-team, but now that I am given the opportunity to play in the Premier League, I hope to make the most of this experience to become a better player.
Results of other matches
Yokohama FC Youth 1-3 (0-0, 1-3) FC Tokyo U-18
Aomori Yamada High School 0-1 (0-0, 0-1) JFA Academy Fukushima
Kiryu Daiichi High School 0-0 (0-0, 0-0) Funabashi Municipal High School
Maebashi Ikuei High School 2-1 (1-0, 1-1) Omiya Ardija U18
Kawasaki Frontale U-18 3-1 (1-1, 2-0) Yokohama F.Marinos Youth
After the first half ended scoreless, FC Tokyo U-18 (Tokyo) notched three goals in the second half to win over Yokohama FC Youth (Kanagawa). Seeking for their first win of the season, JFA Academy Fukushima (Shizuoka) played an away match against Aomori Yamada High School (Aomori), where they handed the Aomori side their first loss, thanks to the 55th minute goal scored by SAITO Haru (#7). The match between two high school sides, Kiryu Daiichi High School (Gunma) and Funabashi Municipal High School (Chiba) ended in a scoreless draw. Maebashi Ikuei High School (Gunma) welcomed Omiya Ardija U18 (Saitama) to their home, where they earned their second win of the season with the brace scored by KOIKE Naoya (#9). Despite conceding the opening goal, Kawasaki Frontale U-18 (Kanagawa) came up with a victory in the Kanagawa derby against Yokohama F.Marinos Youth (Kanagawa), after scoring three unanswered goals.

#高円宮U18 プレミアリーグ 2022
EAST 第4節(4/24)

試合結果#青森山田 0-1 #AC福島#桐生第一 0-0 #市立船橋#前橋育英 2-1 #大宮#流経大柏 1-2 #柏#川崎F 3-1 #横浜FM

結果詳細はこちらhttps://t.co/Y65xFaqUYE#高校サッカー pic.twitter.com/gKZbhjp2PC

— 高円宮杯 JFA U-18サッカープレミアリーグ (@jfa_u18) April 24, 2022
#高円宮U18 プレミアリーグ 2022
EAST

暫定順位表
1⃣ #川崎F
2⃣ #FC東京
3⃣ #青森山田
4⃣ #横浜FM
5⃣ #前橋育英
6⃣ #AC福島
7⃣ #市立船橋
8⃣ #流経大柏
9⃣ #柏
1⃣0⃣ #大宮
1⃣1⃣ #横浜FC
1⃣2⃣ #桐生第一

詳細はこちらhttps://t.co/xyY4xTyaZQ#高校サッカー pic.twitter.com/H6Rhf1gQas

— 高円宮杯 JFA U-18サッカープレミアリーグ (@jfa_u18) April 24, 2022
Prince Takamado Trophy JFA U-18 Football Premier League 2022
League Duration: Sat. 2 April - Sun. 4 December 2022