NEWS
Tosu conquer Kobe's defence to win two in a row - Prince Takamado Trophy JFA U-18 Football Premier League 2022
25 April 2022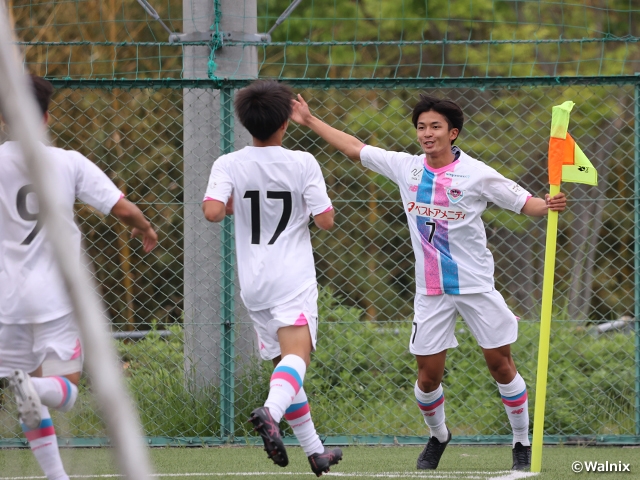 The fourth sec. of the Prince Takamado Trophy JFA U-18 Football Premier League 2022 WEST took place on Saturday 23 and Sunday 24 April. At Ibuki Forest Football Ground, Vissel Kobe U-18 (Hyogo) welcomed Sagan Tosu U-18 (Saga) to their home field.
Featured Match
Vissel Kobe U-18 0-3 (0-2, 0-1) Sagan Tosu U-18
After losing two consecutive matches, Kobe entered this match with a strong desire to win, as TERASAKA Shogo (#4) mentioned, "We wanted to keep the game scoreless in the first half and start attacking in the second half." However, with the home side dropping deep in their own territory, it allowed Tosu control the ball possession and take the initiative of the match. Led by SAKAI Shunya (#4), the visiting side effectively utilised the width of the field to keep the ball moving and scored the opening goal in the 10th minute, when NARAHARA Yoshiki (#7) responded to the loose ball following the long throw delivered by KITAJIMA Fumiya (#18).
"It really helped that we managed to score early. I had been making conscious efforts to collect the second ball and anticipate the deflections in our training sessions, which allowed me to respond and convert that ball," said Narahara. After taking the lead, Saga struggled to create chances against the Kobe defence, but still managed to control the ball possession, as Narahara later reflected, "We were quick to make the transition after losing the ball. Our aim was to win the ball early so that we can reinitiate our attacks from a high position."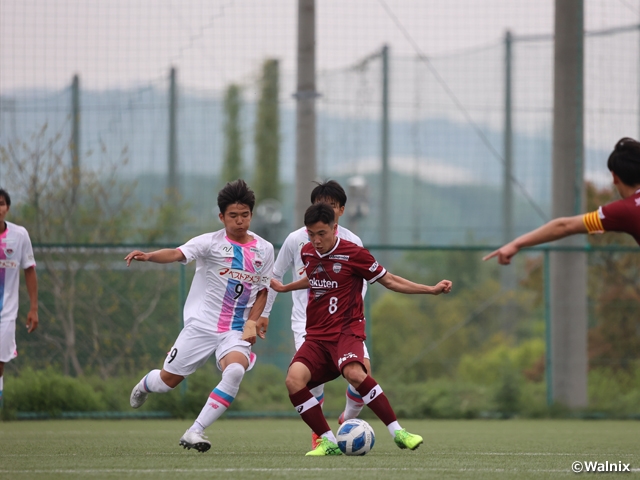 Saga's attack-minded approach once again came to fruition in the 39th minute, when Sakai delivered a lobbing pass behind the Kobe defence. Responding to this ball Narahara drew attention of the defenders, before laying the ball to FUKUI Taichi (#10), who slotted the ball into the net, as the midfielder recalled, "We had our struggles in the first half, but we managed to stay persistent and exploit the gaps in our opponent's defence. It was great that we were able to score the second goal with a combination play."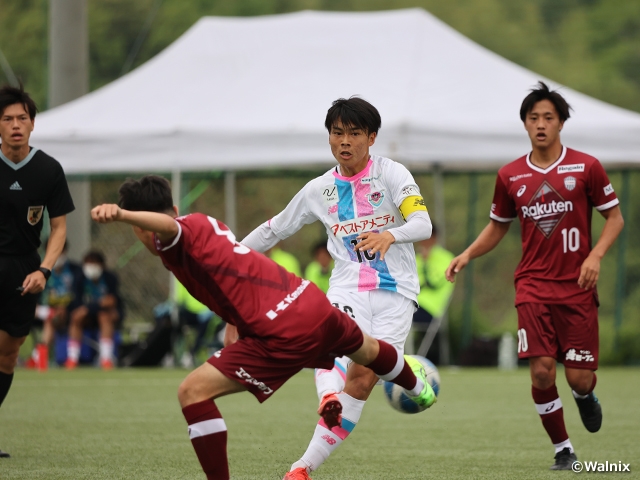 The momentum shifted in the second half, as Kobe started to gain ground by applying aggressive pressure from the front line. The addition of IMATOMI Teruya (#28) also allowed NAGASAWA Mikaze (#10) to attack the flank, but led by the centre backs, OSATO Koma (#11) and TAKEUCHI Ryotaro (#3), Saga managed to keep their composure to keep the clean sheet intact, as Fukui later reflected, "We were a bit too passive in the second half. It would have been better if we had played more aggressively in our defence, but the fact that we managed to keep our patience was a good thing."
The patience showcased by Saga was rewarded in the closing minutes, as KIDO Harunosuke (#8) was brought down inside the Kobe penalty area, allowing Fukui to convert the spot kick in additional time to close out the match 3-0.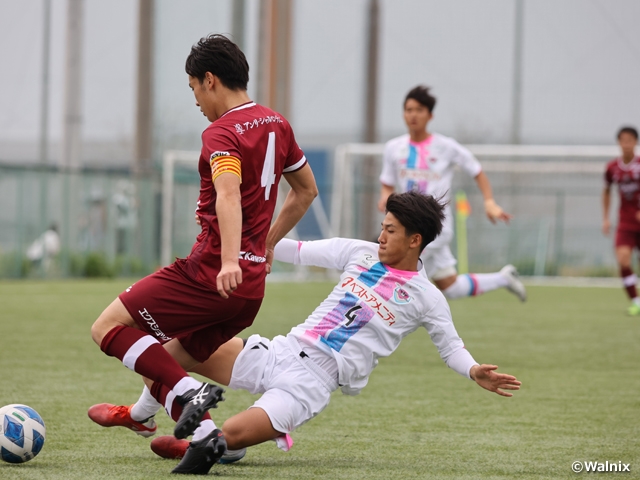 Coaches and Players' Comments
TANAKA Tomonori, Coach (Sagan Tosu U-18)
Kobe was dropping deep in the first half, which allowed us to easily carry the ball up to the halfway line but made it hard to create chances in the final third. However, it was great to see our side move the ball with composure and score two goals. With our opponent changing their approach in the second half, we struggled to apply pressure from our front line, but still managed to stay patient in defence. It would have been better if we had taken the initiative once more, so that is an aspect we need to improve on ahead of our next match.
MF #10 FUKUI Taichi (Sagan Tosu U-18)
We were given plenty of space to possess the ball in the first half but started to make mistakes once our opponents started to apply pressure in the second half. Nevertheless, it was great that we were able to fight patiently. I am happy that I was able to score a goal, but there is still plenty of room for improvement. I made too many simple mistakes and was slow on shifting my position in defence, so I need to do a better job in our next match. We have been playing well in the last four matches, but we can't rest on our laurels. We can't afford to lose any matches, so we will give maximum effort from our daily training.
DF #4 TERASAKA Shogo (Vissel Kobe U-18)
Following last week's match against Cerezo Osaka U-18, we have once again conceded from our lack of concentration. We also haven't been able to make adjustments to our defence line since our match against Ozu. Because our offence and defence are not in sync with each other, we haven't been able to win the ball and allowed our opponents to exploit the space behind our defence line. We were a little too eager to score goals from a perfect build-up, but sometimes we just have to take shots in order to score goals. We have had a series of difficult matches, but we still have plenty to play in the league, so we need to regroup and try to win our next match.
MF #8 ADACHI Shuto (Vissel Kobe U-18)
I used to play with Tosu's Sakai during my time with Sorriso Kumamoto, so I really wanted to win today, but we ended up losing 0-3. I personally felt like I lost the battles for the ball as well. Our opponents were quick to apply pressure against us, which nullified my ability to control the ball and deliver passes down the line. The season has just started, and we still have chance to win the league title, which is our goal for this season. We will regroup and strive to achieve our team goal.
Results of other matches
Riseisha High School Postponed Nagoya Grampus U-18
Jubilo Iwata U-18 Postponed Gamba Osaka Youth
Ozu High School 1-1 (1-1, 0-0) Sanfrecce Hiroshima FC Youth
Shizuoka Gakuen High School 1-1 (0-0, 1-1) Shimizu S-Pulse Youth
Higashi Fukuoka High School 0-7 (0-5, 0-2) Cerezo Osaka U-18
The fixtures between Riseisha High School (Osaka) and Nagoya Grampus U-18 (Aichi), Jubilo Iwata U-18 (Shizuoka) and Gamba Osaka Youth (Osaka) were both postponed. Alternative dates will be announced as soon as they are decided. Ozu High School (Kumamoto) welcomed Sanfrecce Hiroshima FC Youth (Hiroshima) to their home field, where they conceded the opener but managed to equalise with the goal of KOBAYASHI Shunei (#9) to earn a point. The match between two Shizuoka sides, Shizuoka Gakuen High School (Shizuoka) and Shimizu S-Pulse Youth (Shizuoka), also finished in a 1-1 tie. KINOSHITA Shinosuke (#11) marked a hat-trick for the second week in a row, as Cerezo Osaka U-18 (Osaka) thrashed Higashi Fukuoka High School (Fukuoka) 7-0.

#高円宮U18 プレミアリーグ 2022
WEST 第4節(4/24)

試合結果#大津 1-1 #広島 #静岡学園 1-1 #清水#東福岡 0-7 #C大阪

結果詳細はこちらhttps://t.co/GNr6Ievn0n#高校サッカー pic.twitter.com/3Eh3S38wZe

— 高円宮杯 JFA U-18サッカープレミアリーグ (@jfa_u18) April 24, 2022
#高円宮U18 プレミアリーグ 2022
WEST

暫定順位表
1⃣ #静岡学園
2⃣ #鳥栖
3⃣ #磐田
4⃣ #C大阪
5⃣ #名古屋
6⃣ #清水
7⃣ #大津
8⃣ #V神戸
9⃣ #履正社
1⃣0⃣ #東福岡
1⃣1⃣ #広島
1⃣2⃣ #G大阪

詳細はこちらhttps://t.co/UFlr6DqbvG#高校サッカー pic.twitter.com/mDN4x5gINP

— 高円宮杯 JFA U-18サッカープレミアリーグ (@jfa_u18) April 24, 2022
Prince Takamado Trophy JFA U-18 Football Premier League 2022
League Duration: Sat. 2 April - Sun. 4 December 2022