NEWS
U-23 Japan National Team finish tournament with a mere point after drawing Qatar - AFC U-23 Championship Thailand 2020
16 January 2020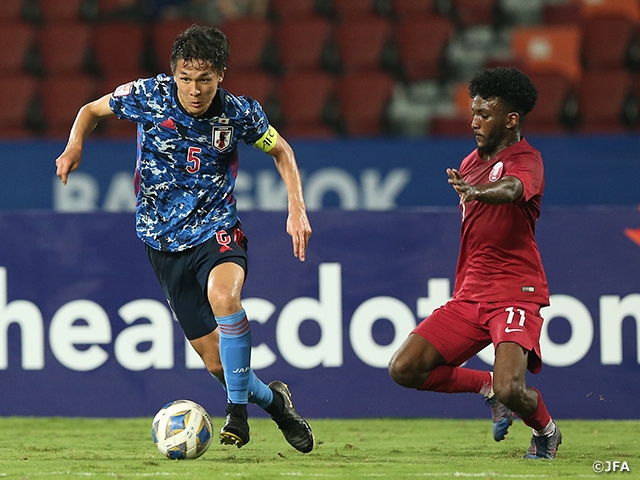 On Wednesday 15 January, the U-23 Japan National Team played their third group stage match of the AFC U-23 Championship Thailand 2020 against the U-23 Qatar National Team. Despite seeing their player getting ejected, Japan managed to score the opening goal, but conceded a late penalty kick to draw the match 1-1.
In their final match of the tournament, coach MORIYASU Hajime named OSAKO Keisuke (Sanfrecce Hiroshima) in goal, with a three-man defence line of HASHIOKA Daiki (Urawa Red Diamonds), TATSUTA Yugo (Shimizu S-Pulse), and MACHIDA Koki (Kashima Antlers). While TANAKA Shunta (Osaka University of Health and Sport Sciences) and TANAKA Ao (Kawasaki Frontale) were positioned as the defensive midfielders, SOMA Yuki (Nagoya Grampus) and SUGIOKA Daiki (Kashima Antlers) were placed in the flanks. With MESHINO Ryotaro (Heart of Midlothian FC) and HATATE Reo (Juntendo University) positioned as the attacking midfielders, OGAWA Koki (Jubilo Iwata) was the lone striker upfront.
The match started with Japan taking control of the ball possession, as they effectively utilised the width of the field to keep the ball moving. A close opportunity was created in the 22nd minute, when Sugioka connected with a cross sent by Soma, but the shot went wide of the target.
Despite the dominant performance showcased by the Japanese side during the first half, an accident striked Japan, as Tanaka Ao was shown a red card after a contact play went under review by VAR.
With the team forced to play with 10 men, SAITO Mitsuki (Shonan Bellmare) was introduced in the second half to shift the Japanese system to a four-back formation. Despite the numerical disadvantage, Japan displayed great aggression to create opportunities. The golden moment came in the 72nd minute, when Ogawa received the ball from Meshino, before striking a right footed shot that pierced the opposing goal.
However, with their advancement to the final round at stake, Qatar rallied back to level the match. The equaliser came in the 78th minute, when Saito committed a foul inside the box to give the Qatari side a penalty kick. By converting this spot kick, Qatar equalised the match to finish the match in a 1-1 draw.
After the match, coach Moriyasu mentioned, "We were planning on playing through six matches at this tournament to gain precious game experience that would help us strengthen the team. However, we were not able to finish the tournament as we wished. We must accept this result and implement the experience we gained through these three matches to reach a higher level."
The U-23 Japan National Team is now scheduled to play in an international friendly match in March. The players will now return to their clubs and continue to train towards the next match.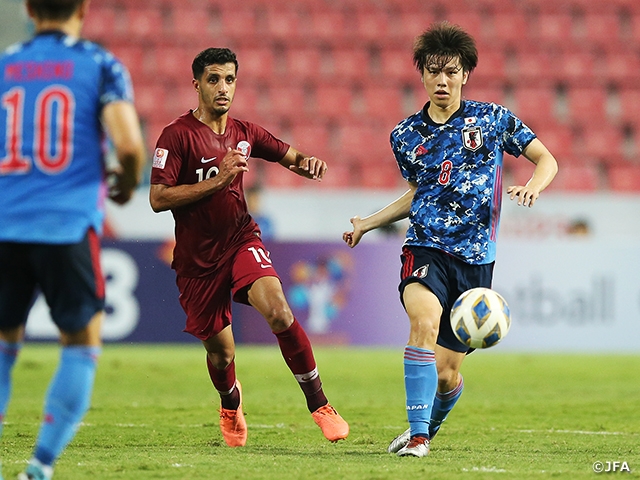 Coach and Players' Comments
MORIYASU Hajime, Coach
After suffering two consecutive losses at the group stage, the players were in a tough mental state, but they showed great enthusiasm at the training sessions to prepare for this match. It must have been tough for them both physically and mentally, but they kept communicating with each other to keep a positive vibe to win this match. After losing a player at the end of the first half, we had to play with a numerical disadvantage throughout the second half, but the players continued to motivate each other to showcase their strong determination towards this match. Their positive attitude led us to take the lead in the second half, but it was unfortunate to see us concede that equaliser. Despite the disappointing result, the team showcased great mentality, attitude, and pride throughout the tournament, and I hope the players can learn from this experience to become a better player.
MF #10 MESHINO Ryotaro (Heart of Midlothian FC)
Not limited to this tournament, but I feel like I have been holding onto the ball too long to spoil my opportunities. I was only able to strike one shot today, but there were plenty of more chances to take shots. I strongly feel that I must be more aggressive in those situations. In our match against Saudi Arabia, I managed to score a goal from no angle, and that is the type of play I must polish when I return to Scotland.
MF #16 SOMA Yuki (Nagoya Grampus)
This tournament gave us the opportunity to experience the difficulties playing in Asia, while it also made us realise our lack of offensive variations when facing a defensive team. We must polish up our combinations and we saw plenty of room for improvements in our overall performance. Although we were striving to play six matches at this tournament, we might have gained a more precious experience through this losing result. We must learn from this experience to become a better team.
MF #19 HATATE Reo (Juntendo University)
The team is now eliminated, and I was not able to score any goals. This tournament has made me realise that I still have long ways to go. In this match against Qatar, we entered the match with a strong determination to keep ourselves on the same page, and in that aspect, I feel like we were able to stick together as a team. However, the result did not reflect our performance. As a team representing our country, this was a shameful result and I am very disappointed for our performance. Each player must learn from this experience to bring the team to a higher level.
FW #9 OGAWA Koki (Jubilo Iwata)
Our performance in the two matches were poor, and I feel like the forwards had to score more goals. Although I was able to score a goal today, I am very disappointed with this result. This tournament really showed that we are a weak team. We must do something to change. Our past victories over Brazil and other strong teams mean nothing if we continue to perform like this.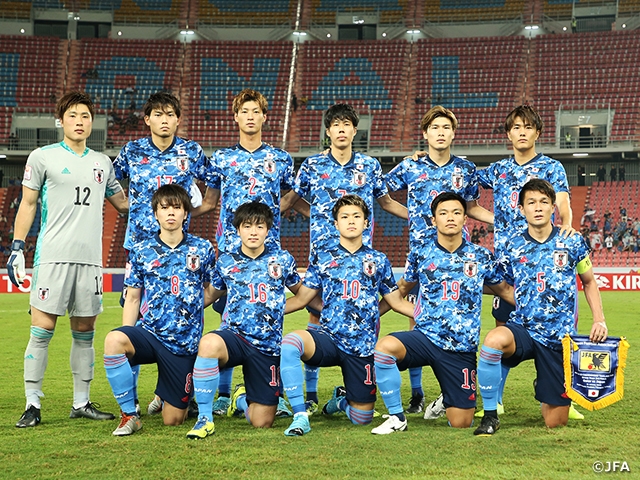 Schedule
AFC U-23 Championship Thailand 2020
Wed. 8 January
PM
Official Press-conference/Training
Thu. 9 January
1-2
1st Group Stage Match
vs U-23 Saudi Arabia National Team
(Thammasat Stadium, Bangkok)
Fri. 10 January
PM
Training
Sat. 11 January
PM
Training
Sun. 12 January
1-2
2nd Group Stage Match
vs U-23 Syria National Team
(Thammasat Stadium, Bangkok)
Mon. 13 January
PM
Training
Tue. 14 January
PM
Training
Wed. 15 January
1-1
3rd Group Stage Match
vs U-23 Qatar National Team
(Rajamangala Stadium, Bangkok)
Sat. 18 January
17:15/20:15
Quarterfinals (Thammasat/Rajamangala Stadium)
Wed. 22 January
17:15/20:15
Semi-Finals (Rajamangala/Thammasat Stadium)
Sat. 25 January
19:30
3rd Place Match (Rajamangala Stadium)
Sun. 26 January
19:30
Final (Rajamangala Stadium)
*Local time.
*The schedule is subject to change.
AFC U-23 Championship Thailand 2020
Tournament Dates: Wed. 8 - Sun. 26 January 2020
Tournament Venue: Thammasat Stadium, Rajamangala Stadium, Tinsulanon Stadium, Buriram Stadium (Thailand)