NEWS
U-23 Japan National Team seeking for victory against Qatar in final group stage match - AFC U-23 Championship Thailand 2020
15 January 2020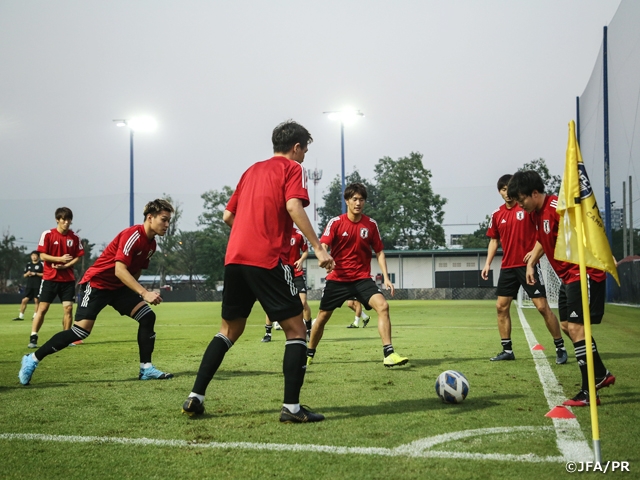 One day ahead of their final group stage match of the AFC U-23 Championship Thailand 2020 against the U-23 Qatar National Team, the U-23 Japan National Team held their final training session on Tuesday 14 January.
Despite feeling the fatigue from the tight match schedule, players remained focused and showed great enthusiasm ahead of their third group stage match. During the first 15 minutes where the session was opened to the media, players thoroughly went through their warmup routines to work up a sweat before conducting more sophisticated drills.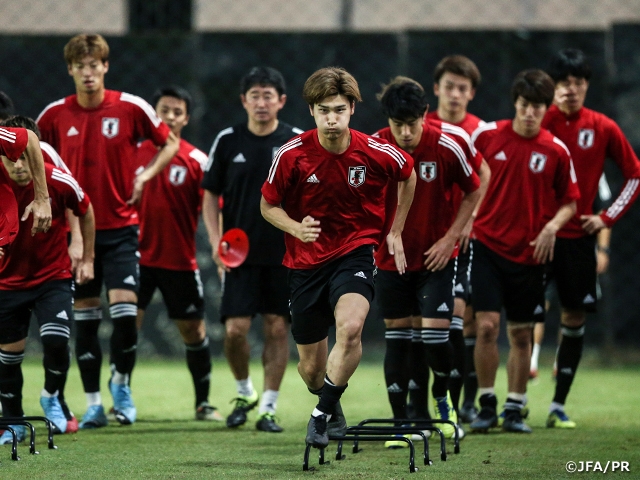 Following their two losses, Japan is out of contention for this championship, but coach MORIYASU Hajime remains focused on winning the final group stage match against Qatar, as he mentioned, "I have been selecting players that will give us the best chance of winning. That is why I will be monitoring the physical and mental conditions of our players during today's training session." The Japanese coach continued by sharing his aspiration for the match, "I would like to see our players convert this bitterness into energy to motivate themselves to win the next match."
The U-23 Qatar National Team is led by coach Felix SANCHEZ BAS, who also leads the Qatari senior national team. At the AFC Asian Cup UAE 2019, the Spanish coach has led the senior team to their first AFC Asian Cup title, where they defeated Japan at the final. The U-23 team has earned their spot through the AFC U-23 Championship Thailand 2020 qualifiers where they competed against Nepal, Afghanistan, and Bangladesh. Coach Moriyasu shared his approach against the Qatari team, who has drawn their first two group stage matches thus far, "Although they have played with a three-back formation in the previous two matches, they have a completely different system. We must make the necessary adjustments on the pitch to showcase our strengths."
The U-23 Japan National Team will seek to earn their first win of the championship when they face the U-23 Qatar National Team on Wednesday 15 January. The match will take place at Rajamangala Stadium with a kick-off time of 20:15 (22:15 Japan time).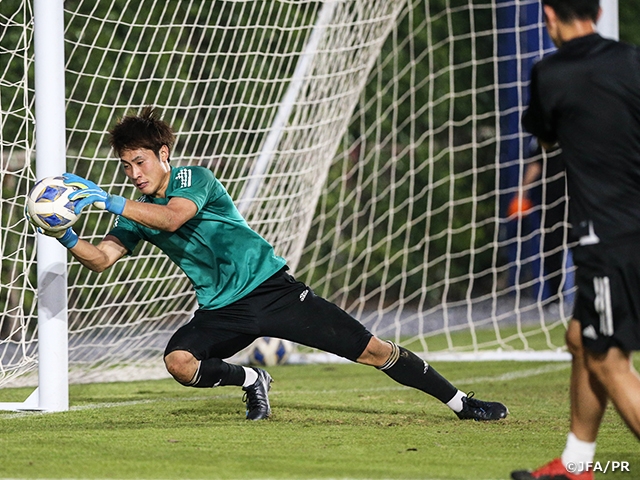 Coach and Players' Comments
MORIYASU Hajime, Coach
Although we have lost our previous two matches, the players have given their best efforts to prepare for each match and worked their hearts out on the pitch. We will continue to do the same for tomorrow and try to showcase our full potential. This tournament will come to an end for us, but our path to the Tokyo Olympics has just begun. More than anything, these players are still on a long journey of their football career. I hope to emphasise the importance to focus on the match ahead of us and giving our utmost efforts for each and every match.
DF #22 HASHIOKA Daiki (Urawa Red Diamonds)
Of course, there is a mixed feeling about this match, but we can't be whining about it for too long. Although we are eliminated from the championship, we still have a match to play. We must play with the pride of representing our country and strive to win the match. Being scared of mistakes will not help the team, so I will continue to challenge myself and make the most of this match ahead of the Tokyo Olympics.
MF #6 SAITO Mitsuki (Shonan Bellmare)
This will be our final match of this tournament with this squad. As everyone has said, we must finish on a high note by winning this match. At this point, result is more important than the process. Regardless of the circumstance, it's still an official match and we are representing Japan. Tomorrow, we will be tested on how we execute our job.
FW #9 OGAWA Koki (Jubilo Iwata)
This third match will require the team to be more focused than any other matches we played thus far at this championship. It is important that we finish off the tournament with a positive performance. In order for the team to win, the forwards must score goals, so I will focus on scoring goals tomorrow. We want to showcase our pride in this final match, so we will make sure to prepare ourselves well ahead of the match.

Interview of HASHIOKA Daiki (Urawa Red Diamonds)

Interview of OSAKO Keisuke (Sanfrecce Hiroshima)
Schedule
AFC U-23 Championship Thailand 2020
Wed. 8 January
PM
Official Press-conference/Training
Thu. 9 January
1-2
1st Group Stage Match
vs U-23 Saudi Arabia National Team
(Thammasat Stadium, Bangkok)
Fri. 10 January
PM
Training
Sat. 11 January
PM
Training
Sun. 12 January
1-2
2nd Group Stage Match
vs U-23 Syria National Team
(Thammasat Stadium, Bangkok)
Mon. 13 January
PM
Training
Tue. 14 January
PM
Training
Wed. 15 January
20:15
3rd Group Stage Match
vs U-23 Qatar National Team
(Rajamangala Stadium, Bangkok)
Sat. 18 January
17:15/20:15
Quarterfinals (Thammasat/Rajamangala Stadium)
Wed. 22 January
17:15/20:15
Semi-Finals (Rajamangala/Thammasat Stadium)
Sat. 25 January
19:30
3rd Place Match (Rajamangala Stadium)
Sun. 26 January
19:30
Final (Rajamangala Stadium)
*Local time.
*The schedule is subject to change.
AFC U-23 Championship Thailand 2020
Tournament Dates: Wed. 8 - Sun. 26 January 2020
Tournament Venue: Thammasat Stadium, Rajamangala Stadium, Tinsulanon Stadium, Buriram Stadium (Thailand)