NEWS
U-22 Japan to play against Vietnam on 29 March at AFC U-23 Championship 2016 Qualifiers (Olympic 1st qualifying round)
29 March 2015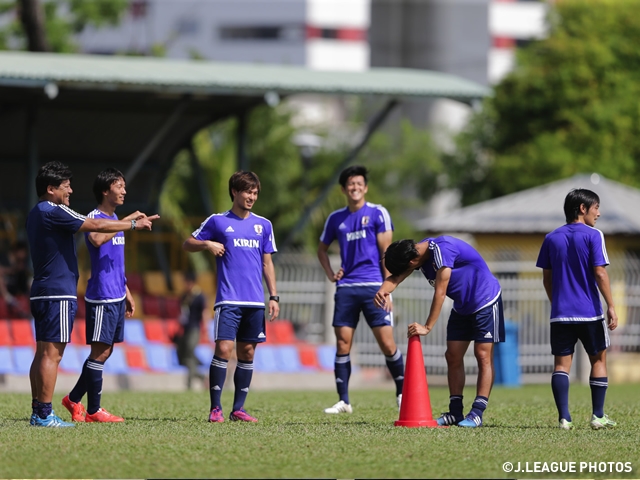 The day following Japan's victory over Macau, the U-22 Japan National Team held a training session in two groups on Saturday 28 Match. The eleven players, who had been on the pitch more than 45 minutes in yesterday's game, did some recovery training, while the other 12 players did some practice on the ground.
The temperature was 35 degrees C and the humidity was 47% at 10:00 in the morning. Under the scorching sun, the players were divided into groups of six to practice passing and controlling, and trained to keep possession in four-on-two + two-on-four formation. Then they practiced from the combination move to the shot, finishing their 60-minute practice session.
The team will meet an opponent who has also gained three points, on Sunday 29 March. If Japan beat Vietnam, who is lead by head coach MIURA Toshiya, and Malaysia either lose to or draw with Macau, Japan can get a place in the Olympic 1st qualifying round.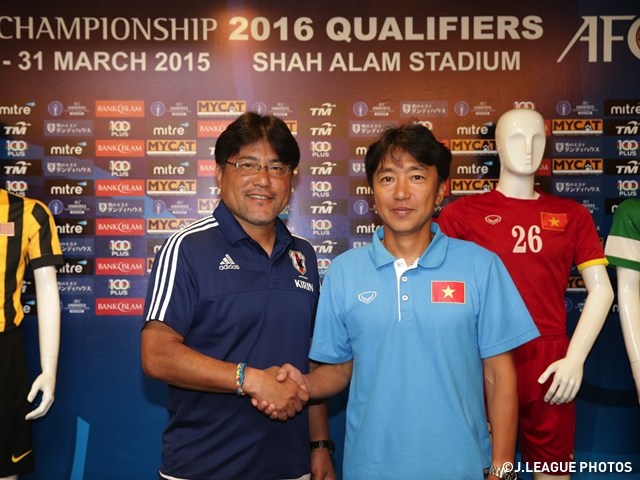 Comments
TEGURAMORI Makoto(Head Coach U-22 Japan National Team)
I went to watch the match between Malaysia and Vietnam, which was held after Japan's game. I received the impression that the head coach MIURA Toshiya taught the players systematic tactics as well. At the same time, under pressure the players showed their aggressive and swift play up and down the pitch. I told my players to expect an aggressive game. I also told them that the speed of play and judgment, and positioning would be vital in tomorrow's game. We need to keep up a strong spirit near the ball and keep playing better combination and positioning to avoid a struggle near the ball. I think Vietnam might focus on defence so as not to concede a goal, rather than winning against us, because they have already won one match. Having said that, they might start hankering after a victory after scoring one goal and show their aggressive play just like yesterday. Even if we have acclimatised to the heat, Vietnam's players tend to be better in this climate. Although I'll use some other players from the starting line-up of our first match, I'd like to show that Japan can keep our quality up even if we change the players.
FW 13 MINAMINO Takumi(Salzburg/Austria)
I came to Malaysia, hoping to contribute to the team, so that we can achieve our goal of getting through the qualifying round. Although the climate in Malaysia is very tough, as there is quite a temperature difference from Europe, we have prepared to acclimatise to the heat for a week and we got used to it. Yesterday's match was the first one of three consecutive games. So I was pleased that we won it. Having said that, we made many mistakes before we scored the sixth of seven goals. I'd like to fix it before the next match. If we increase our quality, I believe we can get through this qualifying round. As I'm an attacking player, I'd like to score myself or assist a goal to contribute to my team.
DF 50 ANZAI Kazuki(Tokyo Verdy)
I learned a lot about the team's concept through this long-term activity, as I hadn't spent much time in the U-22 Japan National Team before. I think I got used to this heat a little compared to when I just arrived in Malaysia. I came off the bench in the 77th minute in yesterday's match. The situation wasn't bad at all, as we kept a good lead. I think I carried out the combinations smoothly just like we did in our practice session. We must win the coming two consecutive games. So I'd like to contribute to the team in order to get a good result and to play well as a team. As my strength is my left foot, I'd like to show that.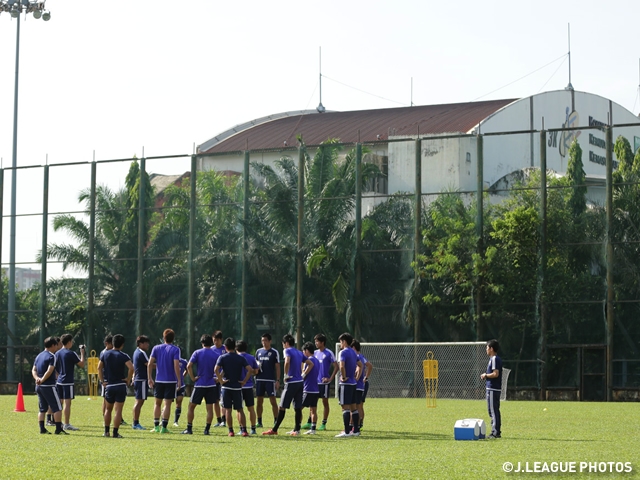 Schedule
Mon. 9 March

PM

Training
Tue. 10 March

PM

Official Training
Wed. 11 March
9-0
International Friendly vs. Myanmmar U-22 National Team
(@Fukuda Denshi Arena)
Tue. 17 March

AM

Training

PM

Training
Wed. 18 March

AM/PM

Training
Thu. 19 March

AM/PM

Training
Fri. 20 March

PM

Training
Sat. 21 March

4-1

vs Sime Darby FC (Selayang Stadium / Malaysia)
Mon. 23 March

AM/PM

Training
Tue. 24 March

AM/PM

Training
Wed. 25 March

PM

Training
Thu. 26 March

PM

Official training(@Shah Alam Stadium)
AFC U-23 Championship 2016 Qualifiers
Fri. 27 March
7-0
1st Match vs.Macau U-22 National Team(@Shah Alam Stadium)
Sat. 28 March

AM

Training
Sun. 29 March

20:15

2nd Match vs.Vietnam U-22 National Team (@Shah Alam Stadium)
Mon. 30 March


PM

Training
Tue. 31 March

20:45

3rd Match vs. Malaysia U-22 National Team (@Shah Alam Stadium)
Local time