NEWS
With win over Vietnam, U-22 Japan one step away from qualifying for next round!
30 March 2015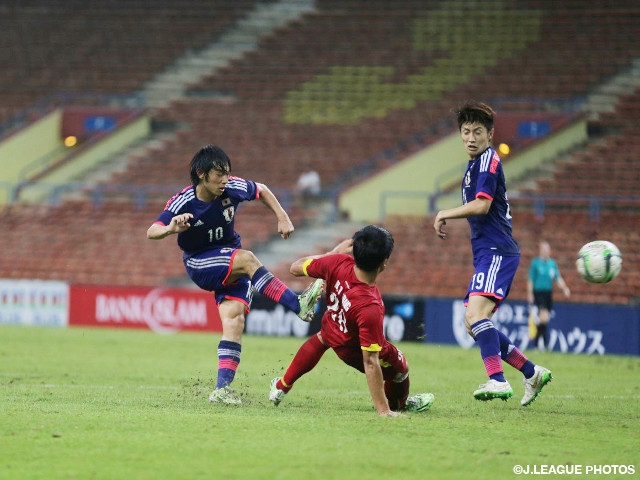 AFC U-23 Championship 2016 Qualifiers (Rio 2016 Olympic Qualifiers Round 1)
2nd match: vs. Vietnam U-22 National Team
Kick-off: Sun. 29 March 2015, 8:15 p.m.
Playint time: 90 min (45 halves)
Venue: Shah Alam Stadium (Malaysia)
U-22 Japan National Team 2-0 (1st 1-0, 2nd 1-0) U-22 Vietnam National Team
Scores
43' NAKAJIMA Shoya (U-22 Japan)
90+3' NAKAJIMA Shoya (U-22 Japan)
Line-ups
GK: KUSHIBIKI Masatoshi
DF: MATSUBARA Ken, UEDA Naomichi, NISHINO Takaharu, YAMANAKA Ryosuke
MF: YAJIMA Shinya, ENDO Wataru, NAKAJIMA Shoya, OHSHIMA Ryota, MINAMINO Takumi
FW: KUBO Yuya
Substitutes
GK: NIEKAWA Ayumi, NAKAMURA Kosuke
DF: IWANAMI Takuya, NARA Tatsuki, MUROYA Sei
MF: HARAKAWA Riki, NOTSUDA Gakuto, ANZAI Kazuki, TOYOKAWA Yuta
FW: ARANO Takuma, ASANO Takuma, SUZUKI Musashi
55' KUBO Yuya → SUZUKI Musashi
67' YAJIMA Shinya → TOYOKAWA Yuta
81' MINAMINO Takumi → ASANO Takuma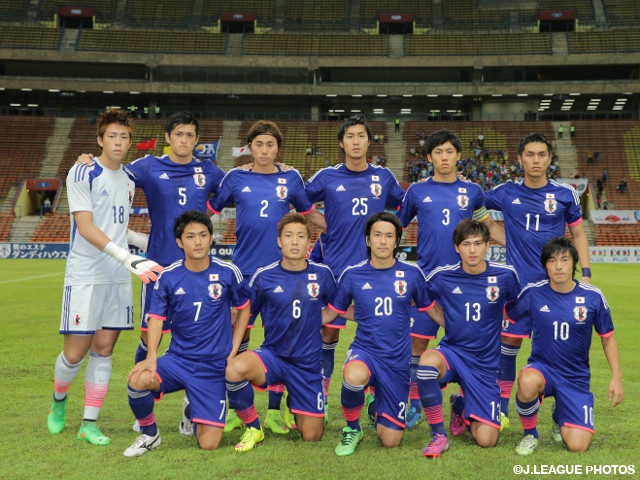 Match Report
In their second match of the AFC U-23 Championship 2016 Qualifiers (Olympic Asian Qualifiers Round 1), U-22 Japan National Team took on Vietnam, who are led by Japanese head coach MIURA Toshiya.
Japan played a 4-2-3-1 just as the opening Macau match. As the day had torrential rain with thunder storm before the match, the first half kicked off on a muddy pitch. Against Vietnam starting defensively with five defenders, Japan tended to make controlling and passing mistakes in the attacking third early in the match. Attacking midfielders NAKAJIMA Shoya and MINAMINO Takumi ran behind the defensive line and attempted shots through individual efforts, but Japan struggled to break down the Vietnamese nine-man defence. Yet in the 43rd minute, Nakajima, who got close to goal after combinations with Minamino, netted the long-awaited opener with his left foot to end the first half 1-0.
During the break, head coach Teguramori gave a pep talk, saying "We are one goal up. Let's keep them from scoring, keep the match in control, and go for the second and third goals."
As the match got further heated up in the second half, fighting spirit of both teams went head-to-head. Japan's bench took action after a long scoreless spell. They went on attacking to break down the opposing five-man defensive line as forward SUZUKI Musashi replaced forward KUBO Yuya in the 55th minute, and midfielder TOYOKAWA Yuta replaced YAJIMA Shinya in the 67th minute. Toyokawa created openings with moves behind the defence, combinations with Nakajima and a cross to Suzuki, but they all did not come through. There was also a stretch when Vietnam went on attacking close to Japanese goal, and the match turned into a seesaw battle. In the closing minutes, Nakajima fired his second goal of the day to seal the win for his side. Japan U-22 outplayed Vietnam in a tough match for a victory and now are one step away from advancing out of the Round 1.
The squad will have training together in the evening of 30th to tune up for the important Malaysia match with the final qualifiers berth at stake.
AFC U-23 Championship 2016 Qualifiers (Rio 2016 Olympic Qualifiers Round 1)
3rd match: vs. U-22 Malaysia National Team
Kick-off: Tue. 31 March 2015, 8:45 p.m.
Live TV Broadcasting on Fuji TV
Head Coach and Players' Comments
TEGURAMORI Makoto, Head Coach
First I'm glad to win the match. I was planning to win through the tournament as I keep paying attention to our condition. Actually giving it a try, I can experience this severe series of matches with only one day break in between. The pitch poached by rain was one of the reasons our passing accuracy was not good enough. We had some spell when we weren't able to score the second goal, but I can give credit to my squad taking the match in control not to give away a goal. We struggled but were able to strengthen ourselves. The Malaysia match will be also not easy. We will take them on with tenacious efforts. We will first spend the whole day recovering and think about how we will play. Malaysia also won today. So they know they have a possibility to advance to the final qualifying round if they win against Japan, and they will come out with the determination to take us on. Here is their home and it's going to need plenty of caution.
MF #10 NAKAJIMA Shoya (FC Tokyo)
As expected, it was a very difficult match today. Getting a goal in the first half was big for our mentality and match flow. But we definitely wanted to score more goals and overwhelm the opponents. I'm glad I was able to score two goals as a result and really happy to help the team with them. In the next match, I want to enjoy the away atmosphere to face Malaysia on their homeland. We will improve what we can out of what we found to improve today, having discussions with my teammates in tomorrows practice.
DF #2 MATSUBARA Ken (Albirex Niigata)
We had three matches with only one day break between matches in the first round. That's hard physically but is going to be a good experience. In today's match, the opponents stayed back at their end, so we weren't able to play our football. We got close but lacked passing and controlling accuracy. We struggled to score a goal, but it's good we won the match with two goals in the end. To get through Round 1 in a sweep, we will adjust our form and work hard to win the last match.
DF #4 IWANAMI Takuya (Vissel Kobe )
I'm very disappointed that I ended up leaving the team at this point. But I want my teammates to win the next two matches to keep the momentum for the final qualifying round. I also want to make myself better to play well for the team in the next round. I wish I could've shown my good stuff in the three matches though. The season is far from over. I felt I needed to grow more in various aspects for the final qualifying, so I will improve myself and come back to the U-22 team.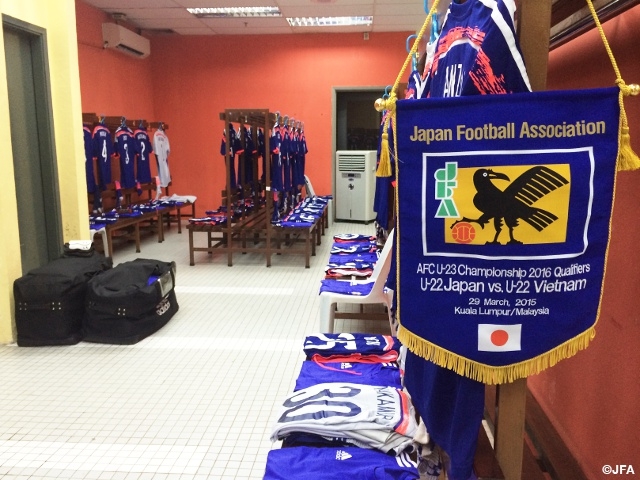 Schedule
AFC U-23 Championship 2016 Qualifiers
Fri. 27 March
7-0
1st Match vs.Macau U-22 National Team(@Shah Alam Stadium)
Sat. 28 March

AM

Training
Sun. 29 March
2-0
2nd Match vs.Vietnam U-22 National Team (@Shah Alam Stadium)
Mon. 30 March


PM

Training
Tue. 31 March

20:45

3rd Match vs. Malaysia U-22 National Team (@Shah Alam Stadium)
Local time