NEWS
Japan U-22 team maul Macau in AFC Under-23 Championship qualifier
28 March 2015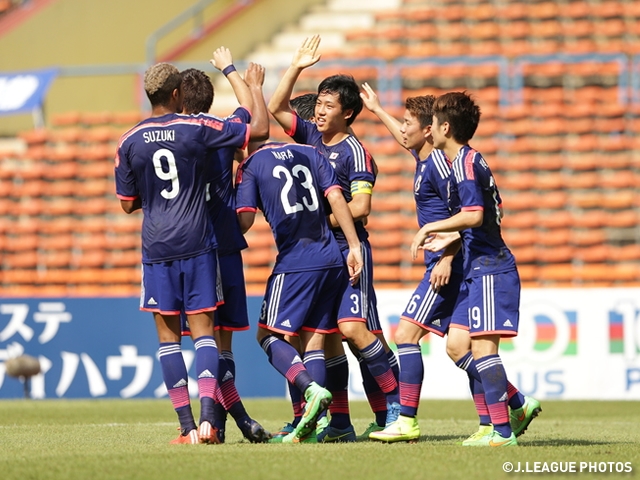 AFC U-23 Championship (Olympic Qualifiers Asia Area)
First Match vs U-22 Macau National Team
Fri 27 March 2015 KickOff 16:00 90min(45mins×2)
Japan U-22 Team 7-0 (4-0 1st, 3-0 2nd) Macau U-22 Team
Scores
22min ENDO Wataru(U-22 Japan )
26min TOYOKAWA Yuta(U-22 Japan )
31min NOTSUDA Gakuto(U-22 Japan )
33min Own Goal(U-22 Japan )
66min SUZUKI Musashi(U-22 Japan )
90+2min NOTSUDA Gakuto(U-22 Japan )
90+3min MINAMINO Takumi(U-22 Japan )
Starters
GK:KUSHIBIKI Masatoshi
DF:MATSUBARA Ken、NARA Tatsuki、IWANAMI Takuya、YAMANAKA Ryosuke
MF:NOTSUDA Gakuto、HARAKAWA Riki、ASANO Takuma、ENDO Wataru、TOYOKAWA Yuta
FW:SUZUKI Musashi
Substitutes
GK:NIEKAWA Ayumi、NAKAMURA Kosuke
DF:UEDA Naomichi、NISHINO Takaharu、MUROYA Sei、ANZAI Kazuki
MF:OHSHIMA Ryota、NAKAJIMA Shoya、YAJIMA Shinya
FW:ARANO Takuma、KUBO Yuya、MINAMINO Takumi
60min ENDO Wataru → YAJIMA Shinya
63min TOYOKAWA Yuta → MINAMINO Takumi
77min SUZUKI Musashi → ANZAI Kazuki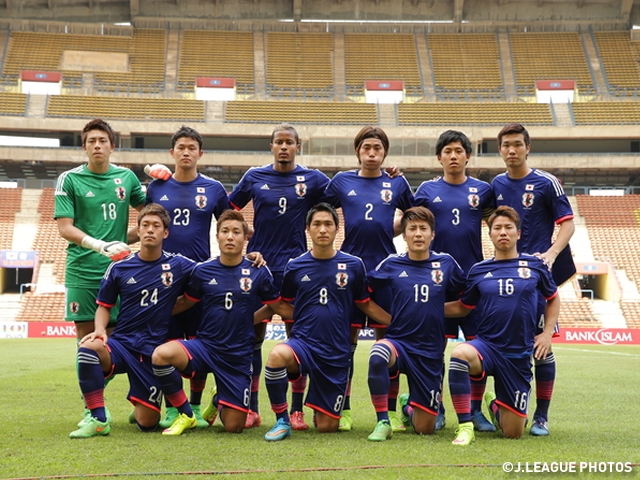 Match Reports
The Japan national Under-22 team have begun their 512-day long journey towards Maracana, the site for the gold medal match of the Rio de Janeiro Olympics. After a 10-day training in Malaysia, they entered their first game in the AFC Under-23 Championship qualifying (first Olympic qualifier).
Against their opponents, Macau, Japan took the pitch with a 4-2-3-1 formation. Under a severe climate with a temperature of 33 degrees and humidity of 57 percent, Japan struggled to have proper distances between their own players and failed to exhibit their combinations, which is one of their strengths, early. While Japan had a hard time finding a way to attack against the opponents who were playing in their own territory, they finally scored the first goal of the game on 22nd minute. Midfielder Toyokawa Yuta kicked a free kick from the left side and midfielder Endo Wataru spiritedly put it into the net with a head. After that, Japan had their own pace and Toyokawa headed a cross of defender Yamanaka Ryosuke into the goalmouth on 26th for the second goal. On 31st, midfielder fired a middle shot with his left foot for the third goal. Japan added another on the opponents' own goal on 33rd and entered halftime with a 4-0 score.
Japan tried to extend their lead in the second half, but instead had some mistakes and weren't able to do so. They substituted Endo with midfielder Yajima Shinya on 60th minute and Toyokawa with forward Minamino Takumi. And then Yajima sent a blazing through pass to Suzuki and Suzuki netted it on 66th. Japan received a threatening moment when defenders Nara Tatsuki and Yamanaka Ryosuke were nearly surpassed by an opposing player, but goalkeeper Kushibiki Masatoshi made a good save to avoid a goal. Japan used their last substitution spot when defender Anzai Kazuki came in for Suzuki on 77th. Japan wouldn't loosen their attacking attitude, and added a pair of more goals from Notsuda on 92nd and Minamino on 93rd. Japan beat Macau 7-0 in the end, taking the significant first game of their three consecutive games in front of their supporters who came all the way from the home country.
The players who were on the pitch for a long time in the game would go through a recovery training while the others would have a regular training on the next day. The team will prepare for a game against Vietnam, who defeated Malaysia.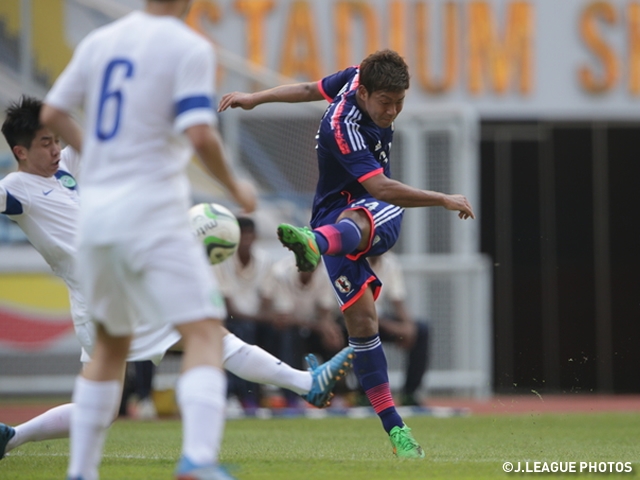 Comments
Teguramori Makoto(Japan Under-22 head coach)
It was going to be a game that we needed to deal with the highest temperature among the three games we are scheduled to play, so we came in it trying to split our energy throughout it. As a result, we scored four goals and three in the second, but until the sixth goal, we lacked some precision on our plays. Also, we had some players who managed to change their speed well and some others who struggled to show their quickness at the right timing. We had a good balance as a group, but we didn't have much diversity in terms of the distances between our players and it made it difficult for us to create a rhythm when we tried to overtake the opponents. After today's game, I think that we will be able to correct our ball feeling and distances between the players, and we should be better in the next game. I imprinted our players that our battles toward the Rio de Janeiro Olympics have begun today. The disappointment we experienced through the AFC Under-22 Championship in Oman and last year's Asian Games were all what we needed for what we will do from this point on, and we can't afford to lose a single game after today. In terms of taking a good start to eventually achieve our goal, it was great for us to win our first game 7-0.
Endo Wataru(Shonan Bellmare midfielder)
In an important first one of our three consecutive matches, we won scoring seven goals against opponents we must beat, and we should take it positively. We have practiced a lot on plays from set plays, and coach Teguramori has told us that set plays would be important both offensively and defensively, so it was great I was able to score one from a set play. I think that it has added another dimension for our offensive variation. Some of the players who came in as substitutes scored and I feel that the depth of our team has gotten better. We have been able to play the same quality of football no matter who play, so we want to keep it up and increase higher quality of plays. We will have to play our next game against Vietnam with only one day of rest, but we want to take better rest and get in the game in a perfect condition.
Notsuda Gakuto(Sanfrecce Hiroshima midfielder)
We struggled with our connection early in the game, so when the plays stopped, we talk to each other and made some adjustments, as forward Suzuki Musashi would run into a space behind the opponents. If we can get better in rotating the ball and having more rhythm in our plays, we are going to be a lot better. As for myself, it was great to score two goals. On the first goal, I was wide open so I tried to be careful only on my trapping and kicked it hard. I was relieved to win the very important first game of our three games, and winning it 7-0 will give us boost. In order to win a game against Vietnam with our own brand of football, which is to play our offence with everybody and our defence with everybody, and I would like to contribute to it.
Schedule
Mon. 9 March

PM

Training
Tue. 10 March

PM

Official Training
Wed. 11 March
9-0
International Friendly vs. Myanmmar U-22 National Team
(@Fukuda Denshi Arena)
Tue. 17 March

AM

Training

PM

Training
Wed. 18 March

AM/PM

Training
Thu. 19 March

AM/PM

Training
Fri. 20 March

PM

Training
Sat. 21 March

4-1

vs Sime Darby FC (Selayang Stadium / Malaysia)
Mon. 23 March

AM/PM

Training
Tue. 24 March

AM/PM

Training
Wed. 25 March

PM

Training
Thu. 26 March

PM

Official training(@Shah Alam Stadium)
AFC U-23 Championship 2016 Qualifiers
Fri. 27 March
7-0
1st Match vs.Macau U-22 National Team(@Shah Alam Stadium)
Sat. 28 March

AM

Training
Sun. 29 March

20:15

2nd Match vs.Vietnam U-22 National Team (@Shah Alam Stadium)
Mon. 30 March


PM

Training
Tue. 31 March

20:45

3rd Match vs. Malaysia U-22 National Team (@Shah Alam Stadium)
Local time