NEWS
U-20 Japan Women's National Team beat Paraguay 6-0, advance to quarterfinals in FIFA U-20 Women's World Cup France 2018
14 August 2018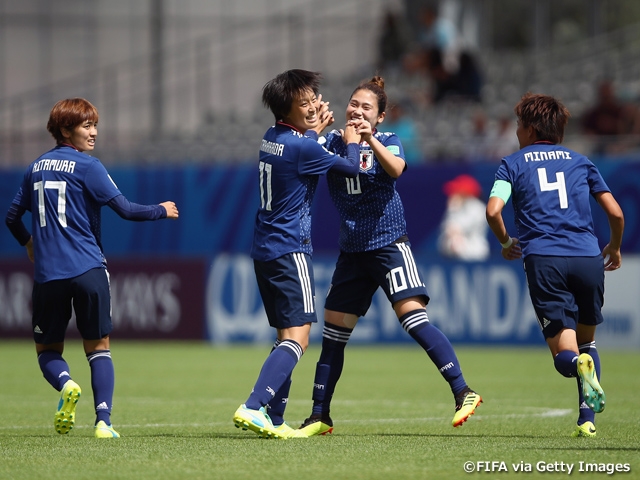 U-20 Japan Women's National Team beat Paraguay 6-0 on Monday 13 August in their third match of the group stage in the FIFA U-20 Women's World Cup 2018, advancing to its quarterfinals.
Japan opened the scoring just into the 5th minute when forward TAKARADA Saori met a cross from midfielder ENDO Jun. Then in the 18th minute, Takarada doubled the lead by extending her leg for midfielder HAYASHI Honoka's floated pass. Japan extended the lead to 3-0 in the 44th minute with forward UEKI Riko's header through Takarada's set-up. In the closing minutes of the first half, Ueki tapped in the ball after Hayashi and Endo connected well. Japan ended the first half 4-0.
Japan continued to create chances for goals into the second half. Midfielder NAGANO Fuka's a 58th-minute spot kick was denied by the opposing goalkeeper, but Ueki added a goal in the 60th minute for a hat-trick through Endo's dribbling to make it 5-0. Soon after that, Takarada found space behind the Paraguay defenders to score the sixth goal, making a hat-trick herself. Japan allowed a penalty kick to the opponents then, but goalkeeper STAMBAUGH Hannah made a superb save before her side defeated Paraguay 6-0.
Japan's Group C sees Spain finish top of the group with seven points, with Japan sealing a spot in the quarterfinals with six points. Japan will face U-20 Germany National Women's Team out of Group D on Friday 17 at 7:30 p.m. local time.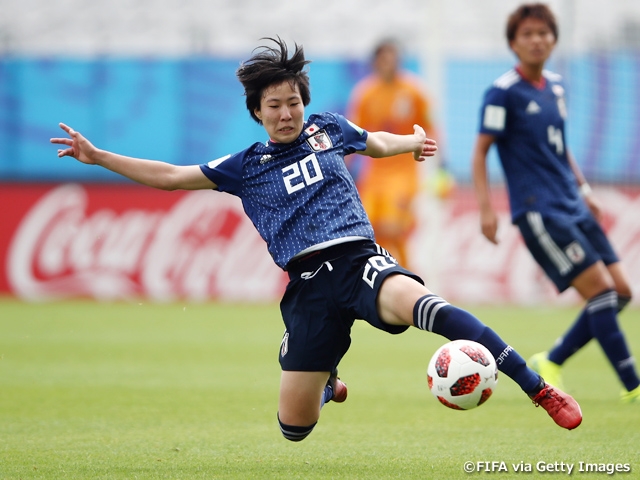 Coach and Players' Comments
IKEDA Futoshi, Coach (U-20 Japan Women's National Team)
First, I am happy that we advanced out of the tough group stage. I am proud that our players showed what they could do from the kickoff under all the different pressure on them. The concept is that we don't do anything special this time, but we just keep doing what we have piled up. I think what was good was that our intention to attack the space behind defenders and attack from the sides was very clear. For next three days, we will do all the necessary preparations such as physical recovery, analysing the opponents and our training, and move on to one stage at a time.
DF #17 KITAMURA Nanami (CEREZO OSAKA SAKAI LADIES)
We knew that the opponents would keep coming to chase our ball, so we wanted to attack from the sides and attack the space behind the defenders. We will keep taking good care of our body and get ready well for next matches.
FW #11 TAKARADA Saori (CEREZO OSAKA SAKAI LADIES)
It was good that we were able to score early. I am glad that I scored, but at the same time I made some passing mistakes. I want to minimize that. There start more important matches from next one. We want to attack the opponents off guard and the space behind defenders in order to make sure that we keep winning.
FW #19 UEKI Riko (NIPPON TV BELEZA)
I had a few chances that I couldn't take advantage of. That made me feel uneasy, but my teammates kept feeding me, so I could get inside and keep playing there. Takarada and I talked before the match that both of us should score a hat trick for ourselves. Now it gets more intense, but this is where we can show our true teamwork. We want to do our best as a team.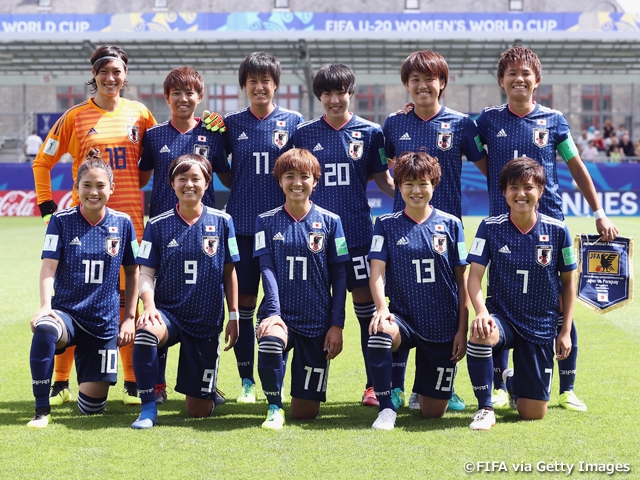 Schedule
FIFA U-20 Women's World Cup France 2018
Sun. 5 August
AM/PM
Training
PM
Official press-confrence
Mon. 6 August
1-0

1st Match of Group League vs U-20 USA
@Stade Guy-Piriou
Tue. 7 - Wed. 8 August
AM/PM
Training
Thu. 9 August
0-1
2nd Match of Group League vs U-20 Spain
@Stade Guy-Piriou
Fri. 10 - Sun. 12 August
AM/PM
Training
Mon. 13 August
6-0
3rd Match of Group League vs U-20 Paraguay
@Stade de la Rabine
Tue. 14 - Thu. 16 August
AM/PM
Training
Fri. 17 August
19:30
Quarter-final vs U-20 Germany
@Stade de la Rabine
Sat. 18 - Sun. 19 August
AM/PM
Training
Mon. 20 August
16:00/19:30
Semi-finals @Stade de la Rabine
Tue. 21 - Thu. 23 August
AM/PM
Training
Fri. 24 August
16:00/19:30
3rd Place Match/Final @Stade de la Rabine
*Local Time, Japan time indicated within the parentheses
*The schedule is subject to change due to the team condition, the weather, etc.
FIFA U-20 Women's World Cup France 2018
Tournament Dates: Sun. 5 August - Sat. 24 August 2018
Live broadcasting for all of the Japanese matches scheduled on Fuji Television NEXT
Information on live broadcast(Japanese website)
Tournament Information