NEWS
U-19 Japan Women's National Team advance to Semi-finals with win over China PR - AFC U-19 Women's Championship Thailand 2019
04 November 2019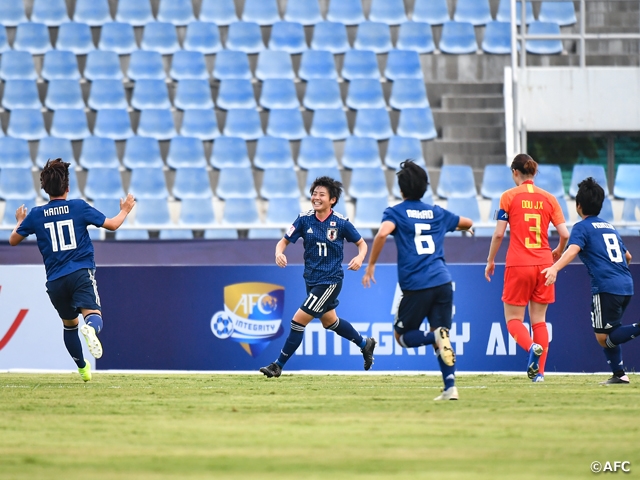 On Sunday 3 November, the U-19 Japan Women's National Team played their third group stage match of the AFC U-19 Women's Championship Thailand 2019, against the U-19 China PR Women's National Team.
With their advancement to the final round at stake, Japan started INO Maya in goal with the defence line of FUNAKI Nodoka, GOTO Wakaba, TAKAHASHI Hana, and TOMIOKA Chihiro. While NAKAO Momo and KANNO Oto played as the defensive midfielders, TAKIZAWA Chise and MORITA Misaki were placed in the flanks. OSAWA Haruka and KATO Momo were named as the two forwards playing upfront.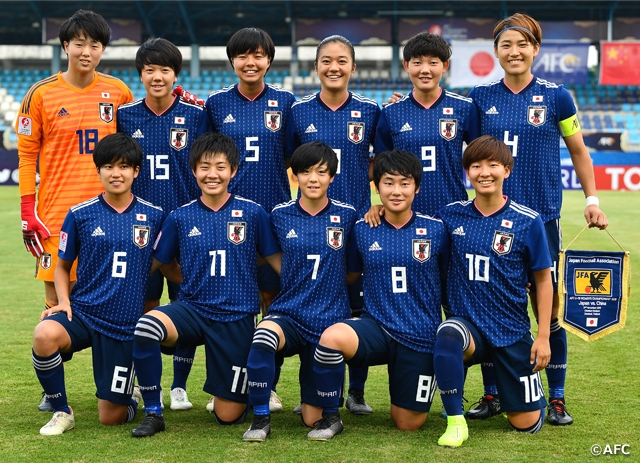 The opening goal was scored by Japan in the 10th minute, when Morita delivered a pass towards Kato, who made a run towards the goal and calmly converted the opportunity to make it 1-0 for Japan.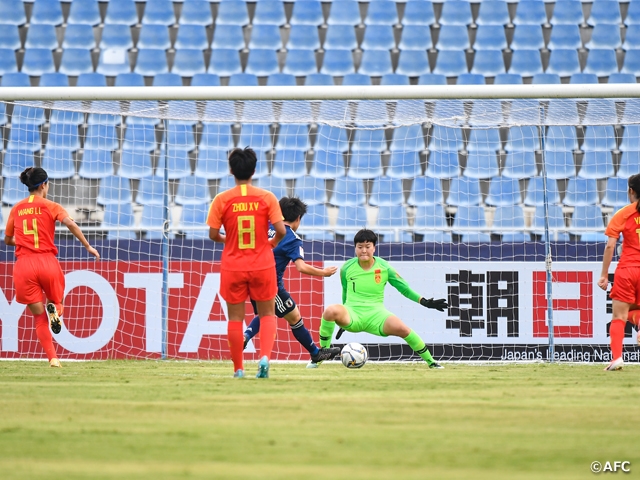 Following the opener, Japan showed great composure in defence to take control of the match. In the 29th minute, China PR's attacker ZHANG Linyan struck a shot, but her attempt was saved by the Japanese goalkeeper Ino.
During halftime, Japan brought ITO Sara and TAKEDA Nanako onto the pitch, shifting Morita to a defensive midfield role. In the 70th minute, Morita received the ball from Takizawa, before carrying the ball towards the open space and struck a shot that pierced the left hand corner of the Chinese goal.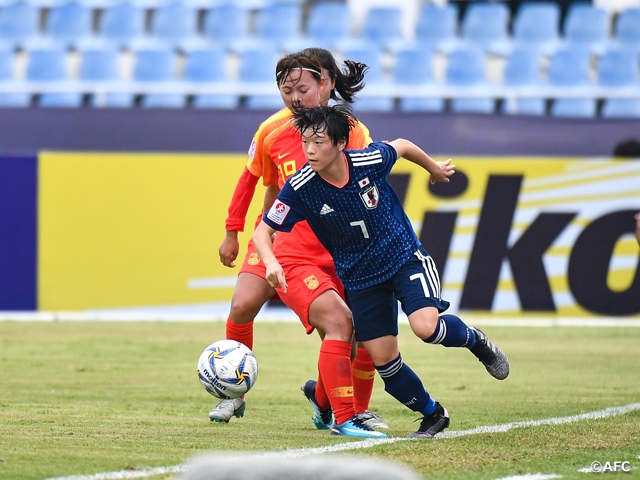 However, just two minutes later, China PR's SUN Pingwei converted a deflection created by a shot taken by DOU Jiaxing, to make it 2-1. For Japan, this was the first goal conceded at this tournament.
The goal gave China PR great momentum, but with the help of the persistent performance showcased by WATANABE Mai in the midfield, Japan managed to preserve their lead, as the match ended with a final score of 2-1.
As a result, Japan finished the group stage with three consecutive victories and advanced through to the final round as the leader of Group B.
The U-19 Japan Women's National Team will face the runners-up of Group A, the U-19 Australia Women's National Team at the semi-finals, scheduled to take place on Wednesday 6 November. A win at this match will secure the team's spot into the FIFA U-20 Women's World Cup 2020.
Coach and Players' Comments
IKEDA Futoshi, Coach
The match was played under a very humid weather, but our players performed well to earn three points from this match. I am glad that we were able to advance through to the final round as the group leaders, and I am very proud of my players. We knew this was going to be a tough match for us, but we managed to keep our focus until the final whistle. We had to organise ourselves to defend against the opponent's build-up plays and we have prepared ourselves through out training sessions to come up with a collective approach. With just two days remaining before the next match, we must priorities our players' conditions and get ourselves prepared for the semi-finals.
GK #18 INO Maya (Nittaidai FIELDS Yokohama)
I was really nervous at first, but I played with the intention to enjoy the moment. Although we saw our team dominate the opponent in ball possession, we still gave up the ball from our own mistakes. I feel like those mistakes could have been avoided if I communicated with my teammates more. We often saw our opponent penetrating the space in front of our defence line, so we had to be careful to make sure who was marking who. In our next match against Australia, we will be facing bigger players with great physical strengths, so we hope to improve our performance while increasing the intensity of our plays.
DF #15 TOMIOKA Chihiro (JFA Academy Fukushima)
Our advancement to the final round was at stake, and I am glad we were able to clinch the semi-finals. With our opponent playing a 3-4-3 formation, we knew we would have holes in our coverage, so we focused on managing those holes. We have now managed to win three consecutive matches at the group stage, and we will continue to strive to win each match at the final round to win the tournament title. Australia is a team with great speed and power. We hope to showcase a positive performance against them.
MF #8 MORITA Misaki (Okayama Sakuyo High School)
We faced some tough stretches during this match, but we manged to showcase a persistent effort in our defence to win this match. In the scene where we scored the opening goal, I saw (Kato) Momo unmarked, so I delivered the ball into the space behind the defence line. When I scored the team's second goal, we were facing less pressure from our opponent, so I took a firm strike from distance. Our next match is a crucial steppingstone ahead of the FIFA U-20 Women's World Cup 2020, so we hope to give our best efforts to win the match.
Match Highlights
Schedule
AFC U-19 Women's Championship Thailand 2019
Sun. 27 October
AM/PM
Training
Mon. 28 October
5-0
1st Group Stage Match
vs U-19 Myanmar Women's National Team
(IPE Chonburi Stadium)
Tue. 29 - Wed. 30 October
AM/PM
Training
Thu. 31 October
2-0
2nd Group Stage Match
vs U-19 Korea Republic Women's National Team
(Chonburi Stadium)
Fri. 1 - Sat. 2 November
AM/PM
Training
Sun. 3 November
2-1
3rd Group Stage Match
vs U-19 China PR Women's National Team
(Chonburi Stadium)
Mon. 4 - Tue. 5 November
AM/PM
Training
Wed. 6 November
20:00
Semi-Final vs U-19 Australia Women's National Team
(Chonburi Stadium)
Thu. 7 - Fri. 8 November
AM/PM
Training
Sat. 9 November
16:00/20:00
3rd Place Match/Final (Chonburi Stadium)
*Local Time
*The schedule is subject to change due to the team condition, the weather, etc.
AFC U-19 Women's Championship Thailand 2019
Tournament Dates: Sun. 27 October - Sat. 9 November 2019
Final Round:
Wed. 6 November 2019 22:00 (Japan time)
vs U-19 Australia Women's National Team