NEWS
U-19 Japan Women's National Team defeats Korea Republic to mark second win - AFC U-19 Women's Championship Thailand 2019
01 November 2019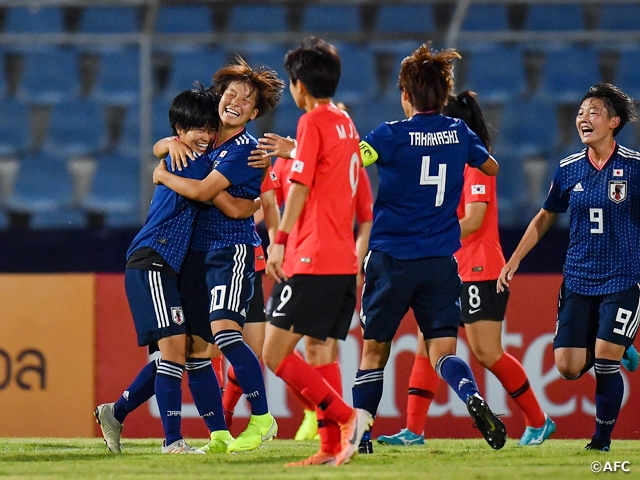 On Thursday 31 October, the U-19 Japan Women's National Team played their second group stage match of the AFC U-19 Women's Championship Thailand 2019 against the U-19 Korea Republic Women's National Team.
In the match between two teams who have won their first group stage match, Japan started TANAKA Momoko in goal, with a defence line of FUNAKI Nodoka, GOTO Wakaba, TAKAHASHI Hana, and MATSUDA Shino. While NAKAO Momo and KANNO Oto played the defensive midfield role, MORITA Misaki and ITO Sara were positioned in the flanks. YAMAMOTO Yuzuki and OSAWA Haruka were the two strikers named upfront.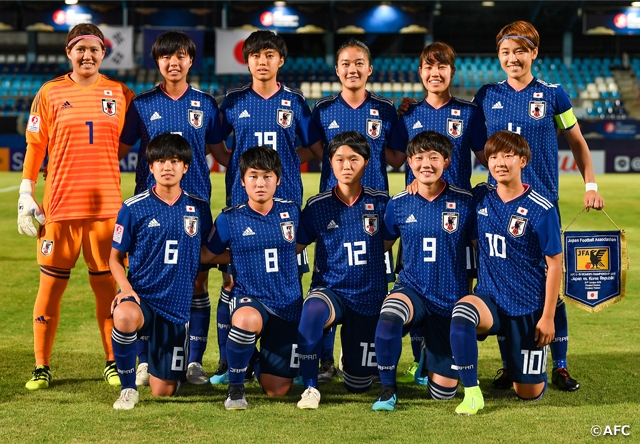 The first shot of the game was taken by Yamamoto, just 10 second into the first half. Although the shot went wide of the target, Japan showed great aggression to start the match.
Japan took the lead in the 16th minute, when Kanno received a pass from Morita before striking a powerful shot that pierced the net. In the 27th minute, Takahashi came close to making it 2-0, when she connected with a corner kick delivered by Kanno, but her header went off the cross bar.
In efforts to level the match, Korea Republic collected the ball to their ace KANG Ji-Woo, who scored a brace in their first group stage match, but the team lacked quality in their final shots to score any goals during the first half, as the match entered halftime with Japan leading 1-0.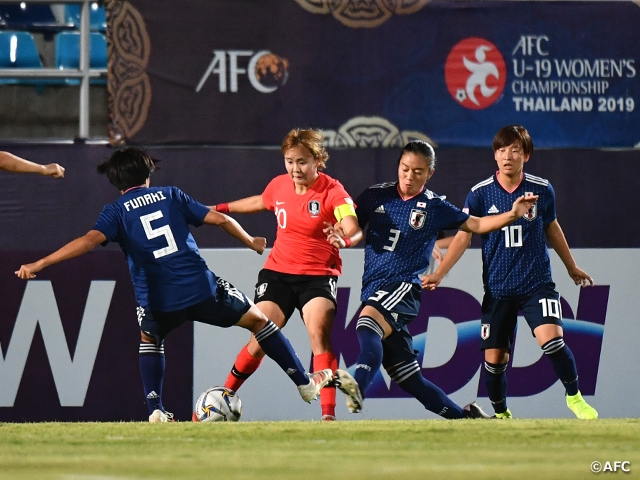 While Korea Republic made changes to their line-up to score the equaliser, Japan responded with Takahashi's defensive coverage and Nakao's quick ball movements. Despite the efforts made by the two sides, the match entered a deadlock, as both sides struggled to create major opportunities.
Japan's second goal came in the 85th minute, when Funaki delivered an early cross from the right side that found Yamamoto inside the box. The Japanese striker converted the cross with her left foot to make it 2-0 for Japan. With time running out, Japan earned their second consecutive victory in Group A.
The U-19 Japan Women's National Team will face the U-19 China PR Women's National Team as their third group stage match of the AFC U-19 Women's Championship Thailand 2019 on Sunday 3 November.
Coach and Players' Comments
IKEDA Futoshi, Coach
We knew this was going to be a very tough match for us, but the players did a great job to maintain their focus and play with great organisation. Our opponent had many powerful players and we were especially worried about their #10 (KANG Ji-Woo), #11 (CHOO Hyo-Joo), and #9 (CHO Mi-Jin). We really focused on denying them from creating chances from their long balls and crosses. Although we occasionally allowed our opponent to break through in one-on-one situations, I think we were able to showcase a solid overall performance as a team. Ahead of our third group stage match against China PR, I will focus on my players' conditions and try to select players who can put up a strong fight. China PR will have the height advantage over us, so we must find ways to cope against them.
DF #4 TAKAHASHI Hana (Urawa Red Diamonds Ladies)
Korea Republic entered today's match with great momentum, so we had to play very carefully. It was great that we managed to keep a clean sheet despite facing some very tough stretches during this match. Although we made some changes to our line-up, our strategy remained the same and with the players all on the same page, we were confident that we can showcase our usual performance. Everybody kept their focus until the end and that has allowed us to keep this clean sheet. There was a scene in the first half where I allowed a player to beat me and almost conceded a goal. That play has made me realise that I need to broaden my perspective and make better decisions on the pitch. There are so many aspects I need to improve as a player, but for now, I will focus on helping the team achieve our goal of advancing through to the next round as the group leader.
MF #10 KANNO Oto (Nippon TV Beleza)
This was a very tough match and I am just glad that we were able to win. The opposing goalkeeper was not very tall, so we told each other to take shots from distance. In the scene where I scored the goal, I was able to take a great first touch and strike the ball really hard. From our scouting reports on Korea Republic, we knew they were going to utilise long balls and apply aggressive pressure to win the ball, so we focused on playing with aggression and to put up a strong fight to win the ball. We have now won back to back matches with a clean sheet. We hope to continue with this trend and advance to the final round with another shutout victory.
Schedule
AFC U-19 Women's Championship Thailand 2019
Sun. 27 October
AM/PM
Training
Mon. 28 October
5-0
1st Group Stage Match
vs U-19 Myanmar Women's National Team
(IPE Chonburi Stadium)
Tue. 29 - Wed. 30 October
AM/PM
Training
Thu. 31 October
2-0
2nd Group Stage Match
vs U-19 Korea Republic Women's National Team
(Chonburi Stadium)
Fri. 1 - Sat. 2 November
AM/PM
Training
Sun. 3 November
16:00
3rd Group Stage Match
vs U-19 China PR Women's National Team
(Chonburi Stadium)
Mon. 4 - Tue. 5 November
AM/PM
Training
Wed. 6 November
16:00/20:00
Semi-Finals (Chonburi Stadium)
Thu. 7 - Fri. 8 November
AM/PM
Training
Sat. 9 November
16:00/20:00
3rd Place Match/Final (Chonburi Stadium)
*Local Time
*The schedule is subject to change due to the team condition, the weather, etc.
AFC U-19 Women's Championship Thailand 2019
Tournament Dates: Sun. 27 October - Sat. 9 November 2019
Group Stage:
Mon. 28 October 2019 18:00 (Japan time)
vs U-19 Myanmar Women's National Team
Thu. 31 October 2019 21:00 (Japan time)
vs U-19 Korea Republic Women's National Team
Sun. 3 November 2019 18:00 (Japan time)
vs U-19 China PR Women's National Team