NEWS
U-17 Japan National Team hold U-17 Mexico National Team, finish 2nd at 18th International Youth Soccer in Niigata
22 July 2014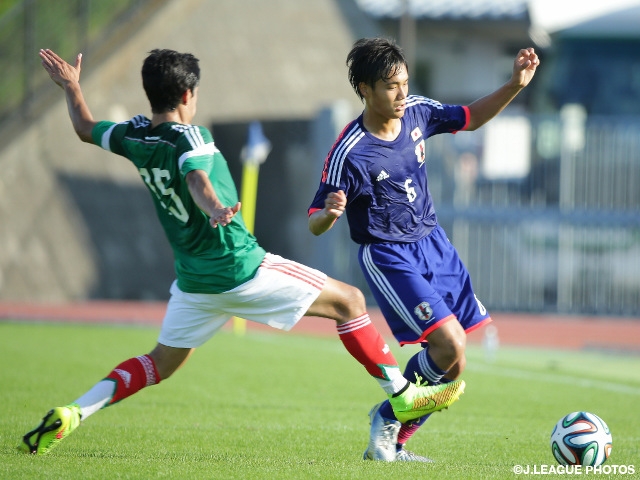 The 18th International Youth Soccer in Niigata
Monday, 21 July 2014 16:30 Kick Off 90minutes(45minutes halves)
Niigata City Athletic Stadium(Niigata/Niigata City)
U-17 Japan National Team 2-2(1st 1-0、2nd 1-2) U-17 Mexico National Team
Scores
19min KATO Mutsuki(U-17 Japan National Team)
52min Goal Against(PK)(U-17 Mexico National Team)
63min Goal Against (U-17 Mexico National Team)
65min KOBAYASHI Hayate(U-17 Japan National Team)
Starters
GK:MATSUMOTO Kenta
DF:MURAMATSU Kota、TOMIYASU Takehiro、MACHIDA Koki、URATA Itsuki
MF:TAKAGI Akito、SUZUKI Tokuma、ONOZAWA Toshiki、INOUE Shion
FW:KATO Mutsuki、KOBAYASHI Hayate
Substitutes
GK:OBI POWELL OBINNA
DF:KAMIJIMA Takumi、ITO Katsuhisa
MF:NEMOTO Keisuke、OHNISHI Ryotaro
FW:NAGANUMA Yoichi、ITO Ryotaro
HT TOMIYASU Takehiro → ITO Katsuhisa
HT ONOZAWA Toshiki → OHNISHI Ryotaro
64min INOUE Shion → NAGANUMA Yoichi
86min KATO Mutsuki → ITO Ryotaro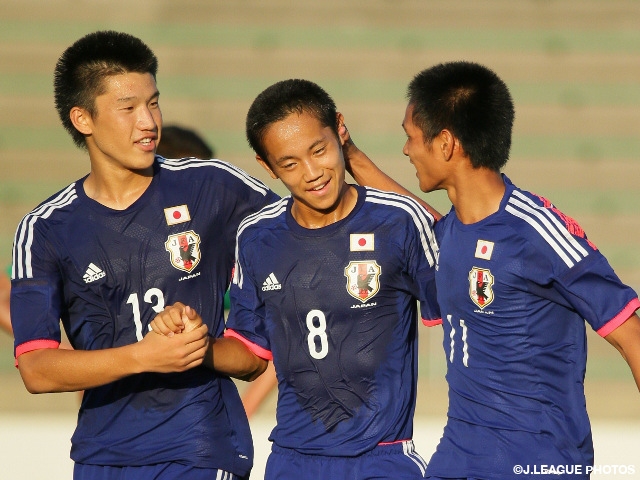 Match Report
Fatigue had mounted for the both teams as this was the last match of the three-match series. Early in the match Japan put pressure on Mexico's aggressive attacking end and created shooting opportunities. In the 19th minute, after Japan moved the ball to the right side from a goal kick, the right fullback Muramatsu delivered a precise cross into the box, which was put into the net by Kato with great composure to give Japan an opener.
The both sides attacked tightly back and forth to show battles in each other's penalty box. The match became a close contest. In the 43rd minute, Japan began their attack at the left frank. Urata fed a cross which was once kept by Takagi and then Inoue fired a left-footed shot. But it was denied by the crossbar and failed to widen the lead. The first half finished with Japan's one-goal lead.
After the break, Mexico started to make intensive attacks for a comeback. In the 51st minute, Japan's defensive end conceded a penalty kick by fouling in the box, which. Mexico put into the net to level the match. In the 64th minute, Mexico broke down Japan's right side with superb individual dribbling past defenders and scored a go-ahead goal. But one minute later, Naganuma skipped through and pulled in defenders to set up the final pass to Kobayashi in the centre of the box, who found the back of the net at the right corner to equalise the score. Japan continued to attack afterwards. Kobayashi in the 70th minute, Naganuma in the 74th and again unmarked Naganuma in the 80th attempted shots in the box, but could not turn them to a goal. The match remained at 2-2 until the end.
As Niigata Selection won the first match of the day over Serbia, Japan finished the tournament as runners-up.
The U-17 Japan National Team will resume its activity with an international trip in August.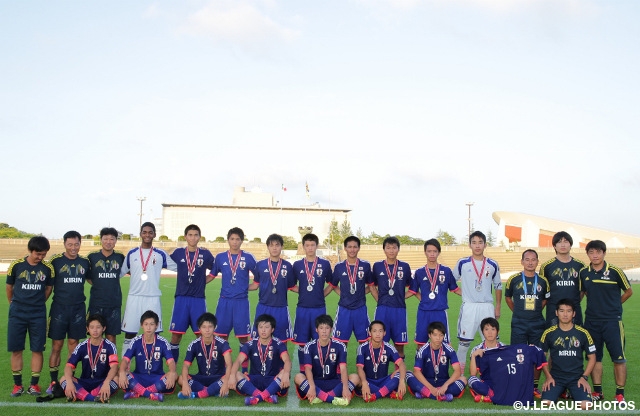 Comments
UCHIYAMA Atsushi, Head Coach
Unfortunately, we knew before the match that it wasn't for the championship. We could not snatch a win as a result, but I'm glad our players made great efforts mentally and physically. Even after allowing a lead, we stay focused and coming back right away. It was great that we had an opportunity to play Mexican players, whose playing styles are rare to be found in Japan. During the week including the training sessions, the trip has turned out to be a great experience for players, who did a very good job.
SUZUKI Tokuma(Maebashi Ikuei High School)
I'm disappointed at my performance in the final match because I could not show all I have against Mexico. They were such a great team to play against. I did well in terms of battling for the ball and positioning myself, but made mistakes because the quality of my low skills wasn't good enough. I will work on that after getting back to my team. I want to get better by continuously challenging and making adjustments. I am very grateful that I could participate in this trip. I would like to express many thanks to everyone who supported us.
ITO Katsuhisa(Sanfrecce Hiroshima Youth)
I was given an opportunity to play in the second half today against Mexico. Allowing two goals was not acceptable as a defender. But it was a good experience that I was able to think about what I should have done. This time, in various situations and against various opponents, I had to think about what to do. Some of them I could do well and others I couldn't. I will work hard every day to make use of those experiences for the future.
KATO Mutsuki(Sanfrecce Hiroshima Youth)
I was disappointed at the fact we couldn't win the championship. But I'm simply glad to score goals in the three consecutive matches, which was my goal. I found lots of individual assignments throughout the national team matches. I will work on them one by one after getting back to my team, and will work hard to achieve what I'm aiming for and make use of that for my future. I will always be thankful for people around me more than before and try to get better.
KOBAYASHI Hayate(Yokkaichi Chuokogyo High School)
I became strongly aware of one-on-one intensity and physical strength in the matches against overseas teams throughout this tournament. Because they had strength that Japanese don't have, it made me think how we can break them down. That turned out to be a great experience. I will make use of the experience for my future football career. When I'm selected for the team again, I will put in my effort to be able to show myself more improved than this time.
Schedule
Tuesday, 15 July
PM
Training
Wednesday, 16 July
 
Training
Thursday, 17 July
PM
Training Match vs U-17 Hokushinetsu Selection Team
Friday, 18 July
AM
Training
The 18th International Youth Soccer in Niigata
Saturday, 19 July
5-2
vs U-17 Serbia National Team
Sunday, 20 July
2-3
vs U-17 Niigata Selection Team
Monday, 21 July
2-2
vs U-17 Mexico National Team
Future Schedule
| | |
| --- | --- |
| Sat, 16 August~Mon, 25 | Trip to Czech Republic |