NEWS
U-17 Japan National Team held training match with U-17 Hokushinetsu Selection Team before International Youth Soccer in Niigata
18 July 2014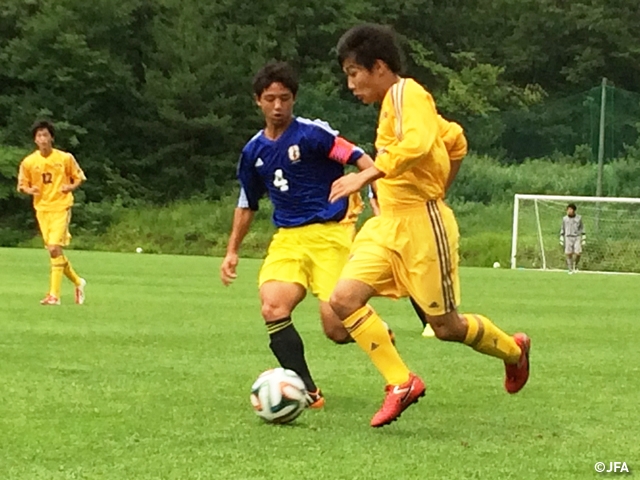 Training Match
Thursday, 17 July 2014 16:00 Kick Off Local Time 60minutes(30minutes halves)
Ijimino Park Stadium(Niigata/Shibata City)
U-17 Japan National Team 2-0(1st 2-0、2nd 0-0) U-17 Hokushinetsu Selection Team
Scores
27min KATO Mutsuki(U-17 Japan National Team)
29min SUZUKI Tokuma(U-17 Japan National Team)
Starters
GK:KOJIMA Ryosuke
DF:ITO Katsuhisa、TOMIYASU Takehiro、MACHIDA Koki、URATA Itsuki
MF:TAKAGI Akito、SUZUKI Tokuma、OHNISHI Ryotaro、INOUE Shion
FW:NAGANUMA Yoichi、KATO Mutsuki
2nd(30min-45min)
GK:MATSUMOTO Kenta
DF:MURAMATSU Kota、KAMIJIMA Takumi、MACHIDA Koki、URATA Itsuki
MF:TAKAGI Akito、NEMOTO Keisuke、SUZUKI Tokuma、ONOZAWA Toshiki
FW:KOBAYASHI Hayate、KATO Mutsuki
3rd(45min-60min)
GK:MATSUMOTO Kenta
DF:MURAMATSU Kota、KAMIJIMA Takumi、TOMIYASU Takehiro、ITO Katsuhisa
MF:INOUE Shion、NEMOTO Keisuke、OHNISHI Ryotaro、ONOZAWA Toshiki
FW:KOBAYASHI Hayate、NAGANUMA Yoichi
Substitutes
FW:ITO Ryotaro
Match Report
Training match against U-17 Hokushinetsu Selection Team was 30 minute half.
In the first half, U-17 Japan National Team moved the ball well and took control of the game but sometimes they were on defensive for making mistake in pass and the ball was taken. Even in that situation in the 27th minute, they moved the ball in left side and player Kato gets the ball after breaking out a space behind the defense line and got a chance for one-on-one with goal keeper. Scored the opener calmly with his right foot.
In the 29th minute, player Suzuki, running up from volante position as accelerating speed to break out to a space behind the defense line for receiving the pass. He deflected defense players skillfully although he was surrounded by many defense players and fired the shoot. It found the net for an additional goal, finishing the first half 2-0.
U-17 Japan National Team continued to control the game in the second half, there were scenes they broke down the right side with combination but failed to score an additional goal. Conversely, they made more mistakes than in the first half and lost ball easily in their own side of the pitch and was shot quite often. But the game ended as it is without conceding goal for the other side. U-17 Japan National Team managed to win the game but apparently it revealed many things to improve.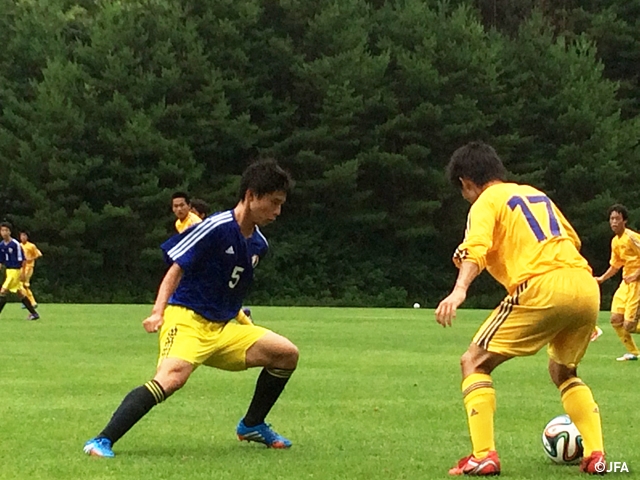 Comments
INOUE Shion (Tokyo Verdy Youth)
Finishing third day of the training, we could share what we are trying to do. I am looking forward to playing with Serbia and Mexico, I can't wait it. I want to play a good football not only focusing on the outcome. I want to have a closer communication with my teammates for enhancing combination. I hope to get a good experience for something beneficial for the future.
ONOZAWA Toshiki (Cerezo OsakaU-18)
After three days, I feel we have much communication among team. We noticed things to improve including the positioning and the angle of body before receiving the ball in the training or the game. Realizing so many things to learn in this trip after three days, I am committed to make it mine and do my best in every game at Niigata International and hopefully that will give me chance to develop myself.
MURAMATSU Kota (Shimizu S-pulse Youth)
I am really pleased to get an opportunity to join this trip. I learned many things in playing with all the skillful players. I realized I have to take position facing front and should be careful about playing a good football when the game is on. As this should be a rare occasion to meet with international team, I hope to know how much we can play as a team and as a player. I want to take advantage of this experience and make the most of it in my football career in the future.
KOJIMA Ryosuke (Nagoya Grampus U18)
Completing three day training of national team, I think we are gradually sharing the common goal of how we play football. I should be conscious about taking better position and anticipating the next play for building a better linking among team members. As this tournament gives us a chance to play against competitive countries, I want to do our best as a team for winning the championship. Would appreciate to give us a big support.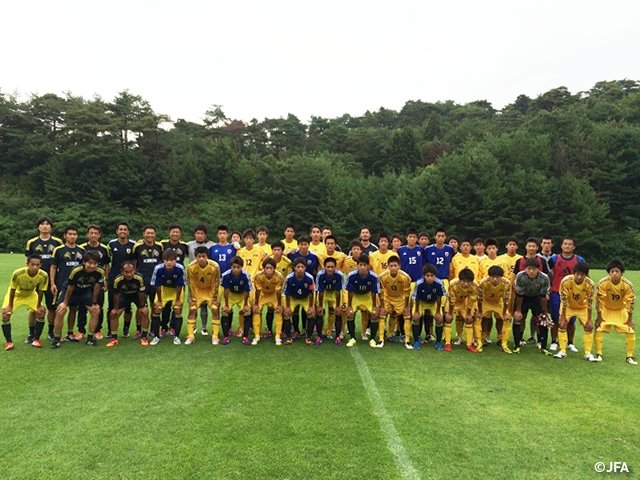 Schedule
Tuesday, 15 July
PM
Training
Wednesday, 16 July
 
Training
Thursday, 17 July
2-0
Training Match vs U-17 Hokushinetsu Selection Team
Friday, 18 July
AM
Training
The 18th International Youth Soccer in Niigata
Saturday, 19 July
16:30
vs U-17 Serbia National Team
Sunday, 20 July
14:10
vs U-17 Niigata Selection Team
Monday, 21 July
16:30
vs U-17 Mexico National Team
Future Schedule
| | |
| --- | --- |
| Sat, 16 August~Mon, 25 | Trip to Czech Republic |