NEWS
U-17 Japan National Team, International Youth Soccer in Niigata Activity Report(15 July)
16 July 2014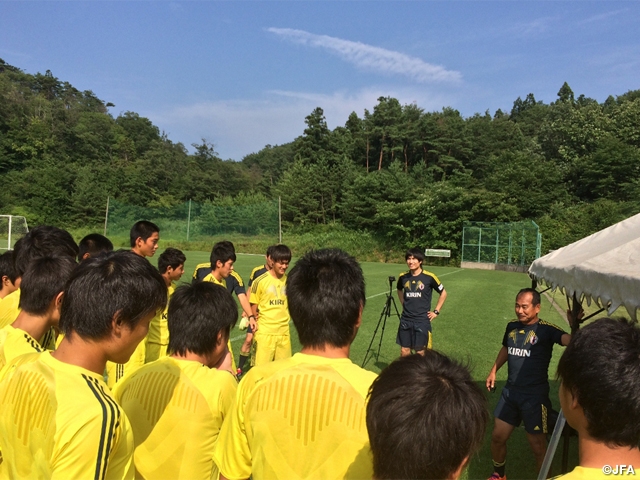 Japan national under-17 team, who will compete in the 18th international youth football in Niigata, have begun their activities at Ijimino Park football field in Shibata, Niigata Prefecture.
On the first day, they started their training at 3:30 p.m. After warmups, they were divided into two groups and got to work on pass and control trainings. And then they did some 3-on-2 passing game with a touch limit, and finally played a half-court 9-on-9 game to wrap it up.
During the training, head coach Uchiyama occasionally stopped the players' plays to give them instructions, saying, ''Let's always play like you are playing in an actual game even during trainings. You are not going to get better if you just play not thinking of anything. Let's be players that are always aware of your teammates and opponents even when you don't have the ball and think of your positioning on your own.''
It was the first activity for the squad since March's Sanix Cup in Fukuoka Prefecture and the team have a lot of first-time players. So it gave some tense atmosphere in the first-day training, yet they would speak to each other, and show concentration chasing the ball seriously in the practice-end mini game.
The team are scheduled to have the camp until 18th July, while they will play a training match against Hokushinetsu under-17 selective squad in the afternoon of the 17th. The Japan team look to raise their play level as individuals, groups and team in the short time before the tournament that kicks off on the 19th.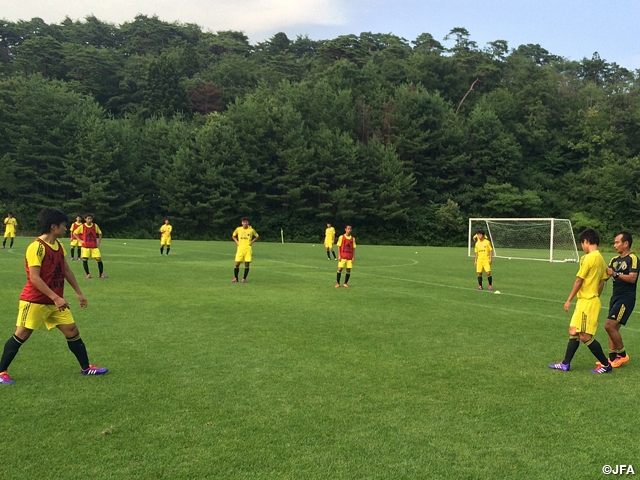 Comments From Players
SUZUKI Tokuma(Maebashi Ikuei High School)
I feel pleased for having been called up for the trip and have nothing but grateful feelings. I'm playing with nearly a half of the players for the first time, so I would like to deepen our communications with them and make this activities fruitful. We have three matches to play during this trip, and would like to make the time we are given valuable so we will be more experienced through each match. I would like to get in those games in the best condition to find out what I can do and what I cannot do and covert them into my growths. I hope everybody gives us some support.
MACHIDA Koki(Kashima Antlers Youth)
It's been a while since March's Sanix Cup that we got called up. In today's training, we tried to be aware of be better prepared when we didn't have the ball so we would have more options when we had it. We will get to play against great teams in this tournament, so looking for qualifies, we would like to compete as one and hope to finish with the championship in the end.
NEMOTO Keisuke(Yokohama F・Marinos Youth)
We have begun our activities as the national team today. During the training, I thought that we had to play being conscious of putting the ball right on our foot. The locations you feed passes are especially important because you teammates' next plays could depend on it, so it's a detailed thing, but I thought I wanted to play like that even without being conscious of it.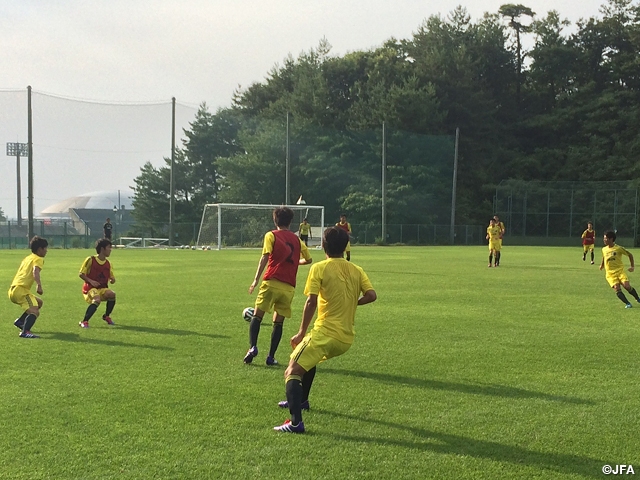 Schedule
Tuesday, 15 July
PM
Training
Wednesday, 16 July
 
Training
Thursday, 17 July
PM
Training Match vs U-17 Hokushinetsu Selection Team
Friday, 18 July
AM
Training
The 18th International Youth Soccer in Niigata
Saturday, 19 July
16:30
vs U-17 Serbia National Team
Sunday, 20 July
14:10
vs U-17 Niigata Selection Team
Monday, 21 July
16:30
vs U-17 Mexico National Team
Future Schedule
| | |
| --- | --- |
| Sat, 16 August~Mon, 25 | Trip to Czech Republic |