NEWS
Japan National Under-16 Team in Delle Nazioni Tournament, Activity report (1st - 2nd May)
03 May 2014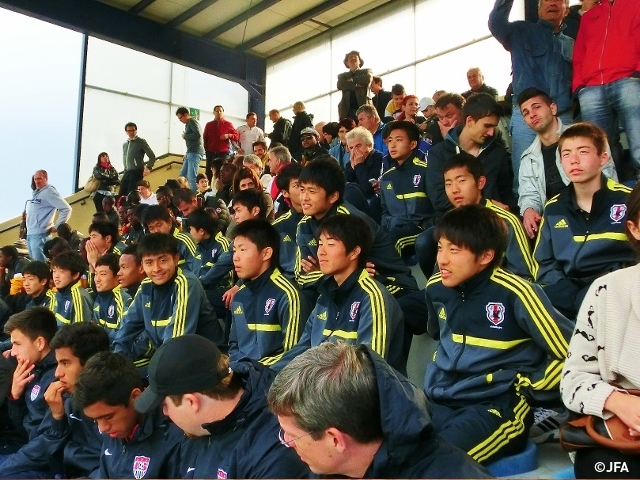 Thursday, 1 May, 2014
The Japan national Under-16 squad, who earned their first championship in their fisrt attempt in the 10th Delle Nazioni Tournament last year and surprized those who observed their contests with their developments, came back to the the annual tourney in Italy for the second consecutive year as the reigning champions.
But this time, Japan wound up exiting the tournament with a 0-1-2 record being eliminated in the group stage.
While you earn confidence and growth through victories, the Japanese players, nicknamed ''98Japan,'' got to learn so many different things through their defeats and mistakes this time. They came to understand as theier battles wrapped up that they could not develop the team had they neglected on their daily life, not just their performances on the pitch.
Friday, 2 May, 2014
On the final day of their trip, while there were so many visitors from all over Italy at the beach in front of the hotel, the Japan team held a practice session at a field near the hotel before the final match between Slovenia and Mexico, which would start at 4 p.m.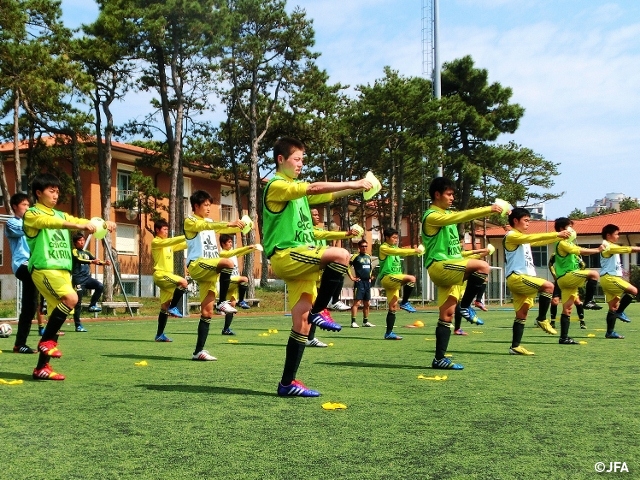 The Japan Under-16 team have wrapped up their 12-day trip through the day and were now headed back home. We hope that ''98JAPAN'' will make further progress based on their experience on the trip. The team plan to make another trips to Azerbisian for the 2014 Caspitan Cup in late May, and then to Thailand, which is the host for the AFC Under-16 Championships, for a simulation trip in July.
*''98JAPAN'' is the nickname for the Japan national Under-16 team, who aim to compete in the 2015 FIFA Under-17 World Cup
Comments From Head Coach & Players
YOSHITAKE Hirofumi,Head coach
o many differnet things after all. We had a lot of issues that were away from our performances on the pitch. Some of our players left their jerseys, they would not recognize the kickoff times, they would not understand the meaning of taking walks in the mornings, they would neglect on measuring their weights. Those dissapointing actions took place so many times and made me think that they did not recognize themselves as football players well enough.
We came in this trip trying to get rid of all the problems that we had before we enter the final qualifier, so in terms of that it was an valuable experience. I believe that all of us, including our players and staff, will have to remember what we went through in Delle Nazioni, making it something they would have to go through to make growths for themselves.
OSAKO Keisuke (FELICIDOD FOOTBALL CLUB)
I got to keenly realize that everything that happens on our daily life is related to football through this trip. Now I would like to seriously spend my everyday life, including at school and home, so I will improve my football skills. In terms of training, I would like to have the awareness to start preparing myself quicker than others and clarify on what I really need to do, such as improving on plays that will initiate offensive plays, such as feeding passes to teammates more accurately.
ASADA Shogo (Kyoto Sanga F.C. U-18)
I have gradually been able to decide on the next plays by looking around the field better than I used to. But in the game today, I made a mistake on decision making and got our team into a trouble and I was so dissapointed about myself. When I go back to the team, I would like to reduce the number of mistakes and have more concentration on my decision making for the next plays. Also in my ordinary life, I had been busy for himself too much and could not afford to think about the team and my teammates. Now I would like to be a presence to lead the team, taking advantage of the experience through the activities on the national team.
NISHIMOTO Takanobu (Kashima Antlers Youth)
We had mistakes after mistakes, including of mine, this time. I think that they happened because we did not have the real desire to win and the attitudes to seriously fight as the whole team. If we won't make any improvements, I think it will be tough for us to qualify through the final qualifier in the AFC Championships, so we have got to work on our training as if there is no way out for us while we will improve ourselves, including our daily life, so we will be able to become ones that can compete at any levels at any circumstances in the world.


Schedule
The 11th Delle Nazioni Tournament
(Fri) 25th April
0-1
VS U-16 Croatia National Football Team

Kotschach-Mauthen/Austria
(Sat) 26th April
1-2
VS U-16 Chile National Football Team
Hermagor/Austria
(Sun) 27th April
1-1
VS U-16 Azerbaijan National Football Team
Amoldstein/Austria
Training Match
(Tue) 29th April
3 - 1
VS U-16 United States National
Savogna
(Wed) 30h April
1 - 3
VS Zambia National Team
Terzo D'aquileia