NEWS
U-16 Japan National Team Italy rip: Training match report against Zambia National Team
01 May 2014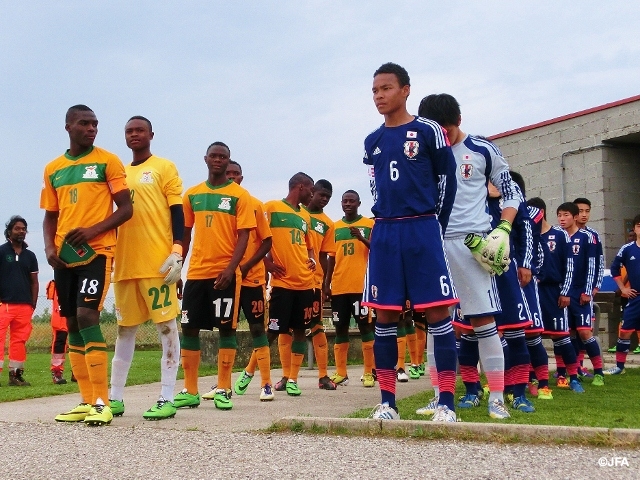 Training Match
Wednesday30 April 2014 17:30Kick Off 90minutes(45minutes half)
Terzo D'aquileia(Italia)
U-16 Japan National Team 1-3(1st Half 0-3 2nd Half1-0) U-16 Zambia National Team
Scores
15min Goal Against(U-16 Zambia National Team)
30min Goal Against(U-16 Zambia National Team)
39min U-16 Zambia National Team(U-16 Zambia National Team)
39min SASAKI Takumi(U-16 Japan National Team)
Starters
GK:TANII Hiroki
DF:KATO Jun、KAJIYAMA Kanta、ITO Ryoya 、ASADA Syogo
MF:SASAKI Takumi、SATO Sota、SUGA Daiki
FW:IYOHA Osamu Henry、NISHIMOTO Takanobu、KANDA Ryotaro
Substitutes
GK:OSAKO Keisuke
DF:ABE Masashi、ONOZAWA Toshiki、YOSHIDA Shun、WATANABE Kota
MF:IKEDA Taisei
FW:HANYA Yoshuke
Substitutes
30分 KAJIYAMA Kanta → ONOZAWA Toshiki
43分 KATO Jun → HANYA Yoshuke
HT TANII Hiroki → OSAKO Keisuke
HT IYOHA Osamu Henry → YOSHIDA Shun
HT KANDA Ryotato → ABE Masashi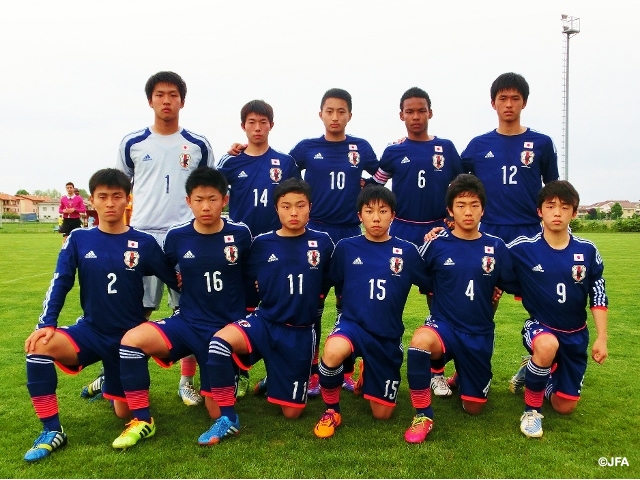 Match Report
The last match during the Italy trip was a training match against the Zambia National Team held at a small stadium in Terzo d'Aquileia, about one-hour away by bus from Lignano.
Zambia was in the group A of the Delle Nazioni Tournament and played against Brazil, Italy and Israel. The Zambian players with bigger bodies and better athleticism gave a very tough time for Japan right after the start of the match.
Finishing the first half 0-3, Head Coach Yoshitake gave a fiery speech to players during the halftime. Even in the second half, Japan couldn't create offensive opportunities and decisive moments to score, although the defenders barely kept managing to match Zambia's quickness, power and aggressive pressure to the Japan's ball.
Finally at the 82nd minute, Sasaki Takumi (Vegalta Sendai Youth) scored a goal, but it was too late and too little. Without any more comeback effort, the match ended 1-3.
The team does not have much time before the upcoming AFC Championship Thailand in September. Players, however, are expected to make efforts to tackle the assignments missed in this trip both on and off the pitch, setting their sights on a spot in the U-17 World Cup in 2015.
Comments from Head Coach and Players
YOSHITAKE Hirofumi, Head Coach
As the 98-JAPAN, this was our first match against an African team. Their athleticism, instinctive playing style, and joyful attitude to football are something good that we don't see in Japanese players. But at the same time, I realised the importance of good characteristics that Japanese players uniquely have, such as seriousness and cooperativeness. That being said, I want players to fully understand that we can't play good football if we don't express our good characteristics and our strength on the pitch. I want to believe playing such a bad game as our last match will positively lead players to a better direction and improvements.
YOSHIDA Shun(Shimizu S-Pulse Junior Youth)
After arriving at the stadium we didn't think much about warming-up. So our bodies didn't react well early in the match, and our defence couldn't put good pressure on them. Also we couldn't do well in basic skills, such as receiving the ball, stopping it and kicking it again. All those things led to losing three goals in the first half. In the second, I couldn't figure out well when to "run up the pitch as a side back and join the attack". I couldn't get the ball in good situations either. When we play against such athletic players as the Zambia national team, I think we need to anticipate and make judgments more quickly. We need to work harder to gain as much possession as possible.
SASAKI Takumi(Vegalta Sendai Youth)
We made a mistake before the opening of the match and couldn't prepare for the match well, so we let them get the momentum in the first half. I think that's why we lost three goals in the first. Every one of us has to be more responsible for what we do off the pitch, because that affects what we do on the pitch, too. We have to take it more seriously and improve our behaviours.
ITO Ryoya (FC Bayern Munich U-16(Germany))
We couldn't do enough preparation before the match, and that led to our three lost goals in the first. In the first half, we couldn't attack the space behind their defenders and we couldn't create enough space between their last line of defence and their midfielders. So we couldn't feed good passes to the front. Our defence couldn't move up their line, either. Their second goal was my fault. In the second half, it was good that our defence started to figure out Zambia's offence and covered up each other better. We had more action up front. I thought it's very important for all of as to keep communicating throughout the match about things like "when to move up our line", "whether we need to cover our teammate" and "whether we attack behind their defensive line or in front of the line".
KANDA Ryotaro(FC・SFIDA2007)
In the first half, I played the role of the free-man, but I didn't understand what to do very well. So I couldn't attack behind the defenders and couldn't come back to the open space in the middle and receive the ball. I couldn't create our offensive rhythm. I think I need to get better fundamentally at receiving the ball and passing it to my teammate, and I need to do those more accurately.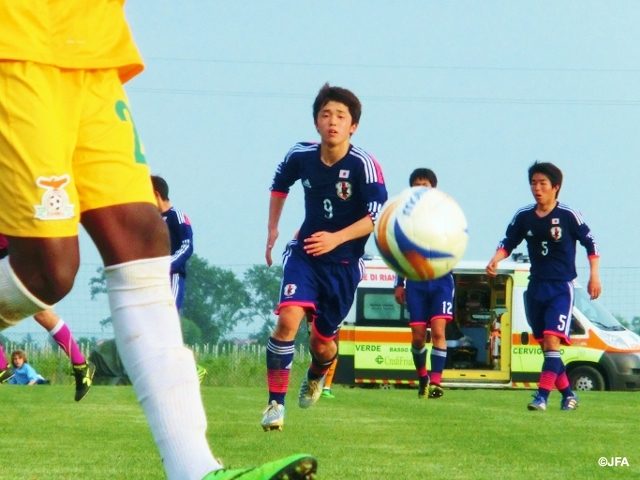 Schedule
The 11th Delle Nazioni Tournament

(Fri) 25th April

0-1

VS U-16 Croatia National Football Team


Kotschach-Mauthen/Austria

(Sat) 26th April

1-2

VS U-16 Chile National Football Team

Hermagor/Austria

(Sun) 27th April

1-1

VS U-16 Azerbaijan National Football Team

Amoldstein/Austria
Training Match
(Tue) 29th April

3 - 1

VS U-16 United States National

Savogna

(Wed) 30h April

1 - 3

VS Zambia National Team

Terzo D'aquileia