NEWS
U-22 Japan National Team had the 7th day of their training camp in Ishigaki
29 December 2015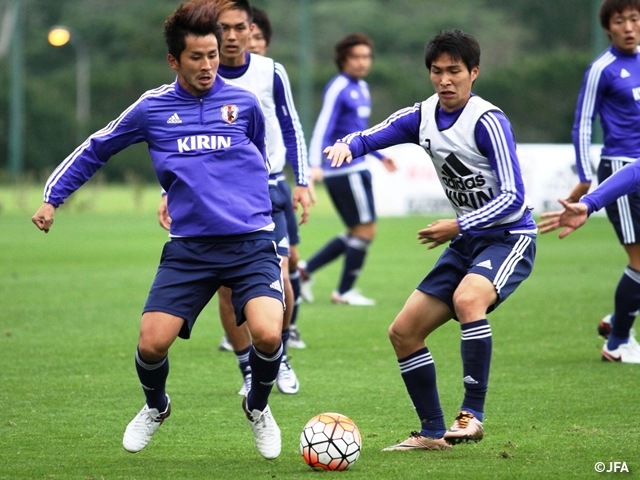 28 December was the 7th day of the training camp on Ishigaki Island.
Overcoming the hardest day yesterday, they only had sessions in the afternoon.
The training kicked off in chilly weather with light rain. After their routine aerobic run and interval running, they had pass & control with groups of 7 people, and ball possession exercise. At the session called "4 server + 5-on-5 + 4-on-5", the players had intensive competition especially at raising crosses. At the end the day, they had "2 server + 10-on-10."
Right before the AFC U-23 Championship Qatar 2016, which is also the Rio de Janeiro Olympics Asian Qualifiers Final, all the players including the ones who have been officially chosen for the squad team and another group who have not been selected for the team, keep high motivation throughout the camp on Ishigaki. They have only 2 days until the camp finishes. On 29 December, they will have a one-day training session and an internal match, one of the highlights of the camp, will take place in the afternoon.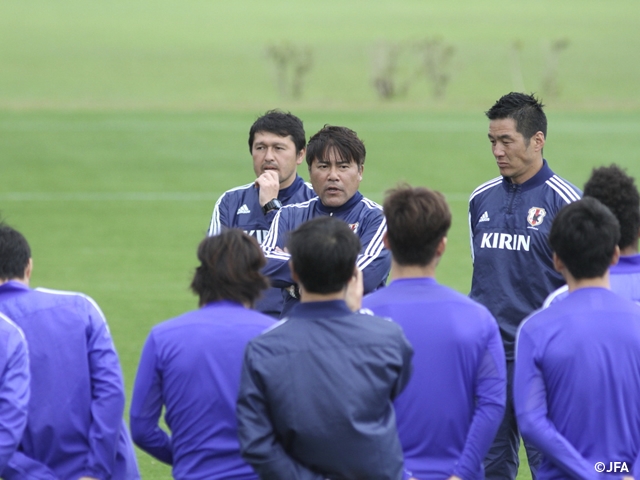 Players' Comments
DF MUROYA Sei (Meiji University)
We have spent a very fulfilling time so far because we all work very hard. I am the only university student player of the team and because of this I have a sense of responsibility. Since my advantage is assisting offence, I want to contribute to the team by doing this well. What is most important is to win, so we are desperate to get the victory to then be able to go to the Olympic Games.
DF IWANAMI Takuya (Vissel Kobe)
This is the last training camp before the qualifier, so I came with a feeling of excitement. As a team member, I want to get ready well to qualify for the Olympic Games. I am satisfied the fact that we could keep clean sheets in our previous 2 matches in Qatar and in UAE; we have done better in defence. Another thing of importance is to score; if we can score, we can win. We have improved line control, so we have to improve other aspects at the same time such as heading and competition at the moments with long balls, and being more competitive to steal the second ball.
The chance to play in the Olympic Game is given only once in your life basically, so I have to be there. I know that it is not easy for us to qualify from Asia, after 2 official match experiences in Asia. However, I have very strong motivation to break through this competition. There are many players who couldn't be selected for the U-20 FIFA World Cup. I was selected after the U-17 FIFA World Cup and now I want to see how much I can do. As a team, we want to unite well for the upcoming competition.
MF OHSHIMA Ryota (Kawasaki Frontale)
To improve our condition, we have had a series of fitness training sessions and it's very hard. However, we have encouraged each other even in the very tough sessions and I feel we have been in a good mood. I still remember the bitter experience of the AFC U-19 Championship in 2012, so I am sure that this frustration will be blasted away effectively in the qualifier. If we can win the first match, that can be a good starter so we will get united well, making each other's roles clear, and face each matches with a calm mentality.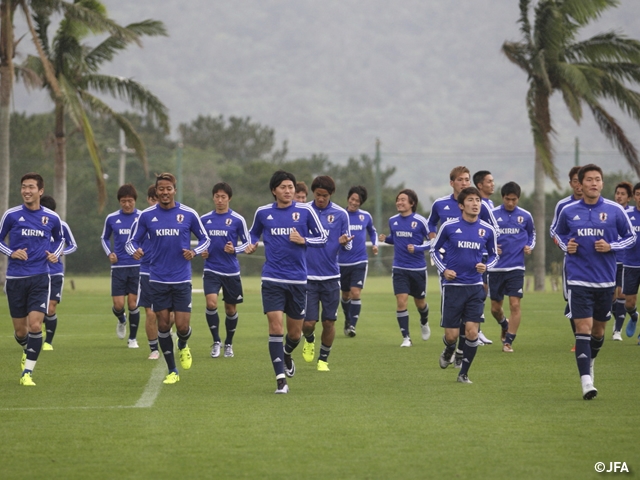 Schedule
| | | |
| --- | --- | --- |
| Wed. 23 December | AM/PM | Training |
| Thu. 24 December | AM/PM | Training |
| Fri. 25 December | AM | Training |
| Sat. 26 December | AM/PM | Training |
| Sun. 27 December | AM/PM | Training |
| Mon. 28 December | AM | Training |
| Tue. 29 December | AM/PM | Training |
| Wed. 30 December | AM | Training |