NEWS
Nadeshiko Japan had training for the match against Cameroon
11 June 2015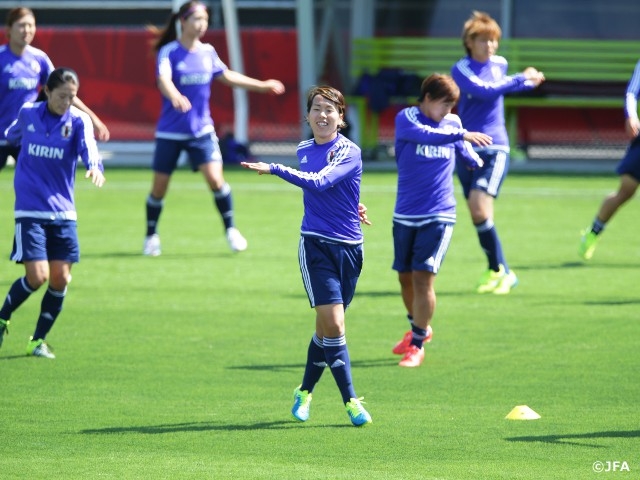 Nadeshiko Japan had its training in the afternoon of 10 June in Vancouver, where there has been strong sun light shining for several days.
Nadeshiko Japan's next match against Cameroon of FIFA Women's World Cup Canada 2015 will kick-off on 12 June, 4 days after their previous match against Switzerland. Cameroon is now in the top position of the Group C after beating Ecuador by 6 goals in their first match. Japan will play against the team with positive mood, but MIYAMA Aya tries to concentrate on the match saying "if we don't pay too much attention to the fact that they have already got 6 goals and we can keep our level of play, we can take a good lead in the next match"
Nadeshiko Japan has a chance to move on to the next Round of 16 if they win the next match depending upon the result of the match between Switzerland and Ecuador.
Today the team opened their training to the public for the first 40 minutes and then moved on to closed-door sessions to prepare well. Even though the players had some smiles on their faces, they still looked very concentrated on each session such as strategy checks for defense and set-plays especially for Cameroon.
After the training, the team's Head Coach SASAKI said "there should be some players who are tired, so tomorrow we'll spend time mainly for physical conditioning. We have to assume that Cameroon will use different approaches than in the previous match against Ecuador, and they can be flexible. To tackle different opponents, I choose the players whom I think are best for each matches".
He also said about ANDO Kozue who left the team due to injury that the other players are even more motivated to play well for her throughout the rest of the World Cup.
On the same day, FIFA announced that there were more TV watchers for the first matches of this Group Stage in North America, Europe and Asia, compered to that of previous World Cup in Germany, 2011.
In Canada, for instance, 1.8 million people watched the match between Canada and China on TV which was broadcasted on 3 Canadian domestic channels. This is the largest number of watchers of the World Cup history. In Japan, 4.2 million people watched the Nadeshiko Japan's match against Switzerland on Fuji TV and this is more than the number of watchers in the semi-final between Japan and Sweden in 2011.
All the first matches of the Group Stage are now played and from 11th the second matches of each Group will kick-off.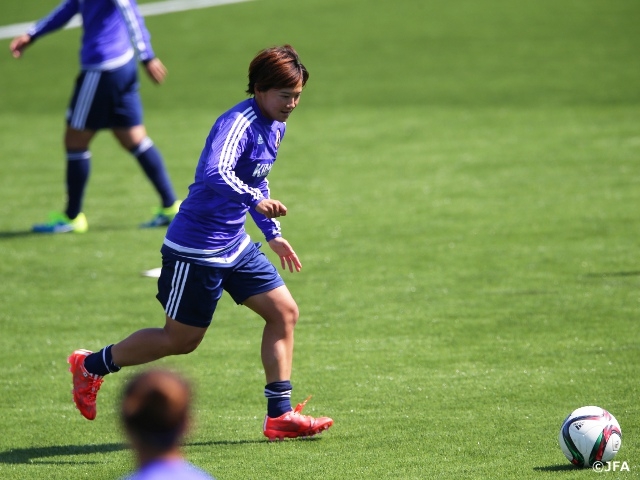 Players' Comments
FW #11 OHNO Shinobu(INAC Kobe)
We have to think about how we will play against Cameroon's defense, but I believe that we can get a good result if we can keep up our level of play. This is very important and we should never be swayed by any opponents, so we want to break through both in offense and defense. Our advantage is we can always keep our level of play with any teammates. It is such a shame that Ando has to leave the team now, but we keep ourselves highly motivated doing our best.
FW #17 OGIMI Yuki(VfL Wolfsburg/Germany)
Today we have had a good amount of time to get ready for the next match; we checked strategy, combination, and set-plays customised for Cameroon. Cameroon has skillful players in the front line. In the match, I'll try to move well to make their defense line lower and to steal the ball between middle and DF line. Also I want to keep good positioning for the opponent's midfielders to play as high as possible.
DF #4 KUMAGAI Saki(Olympique Lyonnais/France)
By watching their match on TV, I felt Cameroon players are very physically fit. As a defender, I usually pay attention to reducing risk especially at the moment of offense, but this time we must particularly keep it in mind as a team. Our line-controlling play could work well for the first line, but I think we always have to be careful about any players that could jump out from the second line. I think good line control competing positioning will be very important.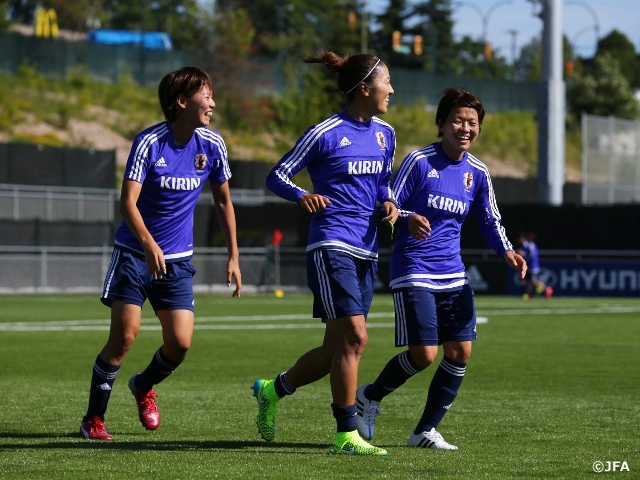 FIFA Women's World Cup Canada 2015
Nadeshiko Japan (Japan Women's National Team) vs Cameroon Women's National Team
Sat. 13 June Kickoff 11:00 (subject to change)