NEWS
Nadeshiko Japan aim for three points ahead of Cameroon match
12 June 2015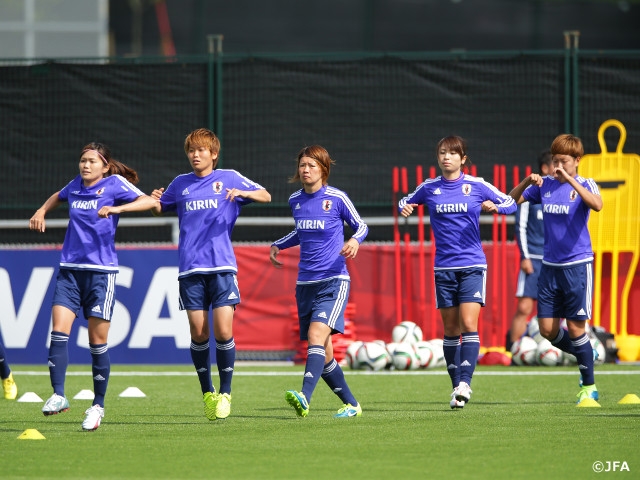 Nadeshiko Japan, who will play their second match of the group stage against Cameroon in 2015 FIFA Women's World Cup in Canada tomorrow, held 90-minute training session in Vancouver in the morning of Thursday 11 June. In the afternoon, SASAKI Norio, the head coach, and IWASHIMIZU Azusa appeared at the press conference in the BC Place Stadium (Vancouver).
Nadeshiko Japan have not played against Cameroon before. Over the past three days, the players have watched video of the opponent's match against Ecuador in the group stage to learn each player's physical advantage and attacking style, so that they could get themselves ready. They have also been working on some issues, which came out of the match against Switzerland, ahead of the game against Cameroon.
SASAKI Norio, the head coach, noted about the attack and the defence against Cameroon: 'we have to focus on getting shots away while passing the ball around aggressively.' IWASHIMIZU at centre back commented: 'we'd like to adopt a defensive style that suits us, depending on what the opponent is doing and the stage of the game.'
Gabrielle ONGUENE (#7), the Cameroon forward described Japan's defence as 'the Berlin Wall with vast experience' and said that they would like to play strategically to tear down the wall. For Japan, it is essential to defend the Cameroonian attackers as much as possible before getting through their defensive line.
The second match against Cameroon, which will decide who goes through to the Round of 16, will kick-off at 11:00 on Saturday 13 June Japan time (19:00 12 June local time). The other match in Group C between Switzerland and Ecuador will kick-off at 16:00 local time on the same day.
Head Coach and Players' Comments
SASAKI Norio, Head Coach, Nadeshiko Japan (Japan Women's National Team)
I've found that the quality of each Cameroonian player is very high. As we have played friendlies against countries in Africa, we'd like to play carefully tomorrow based on these experiences, and get three points. Cameroon played a comfortable game against Ecuador, scoring a lot of goals.
I expect they will start well in tomorrow's match. However, we'd like to play in a tough manner against Cameroon to stifle their strategy, so that our forwards can play well to score.
DF #3 IWASHIMIZU Azusa (Nippon TV Beleza)
The opponent's speed could be a threat in the match against Cameroon. As there are many forwards, who we need to keep an eye on, the defensive line needs to collaborate well with the goalkeeper to keep a clean sheet.
In terms of risk management, we defenders will get ready for the second attack, so that the opponent can't play how they want to. When the ball is up front, the defenders can get ready well. So I'd like to instruct other players from the back as to whether to counter-attack or to pass the ball around to wait for an opportunity.
MF #9 KAWASUMI Nahomi (INAC Kobe)
I think we are in very good condition. While we keep possession, I expect we can pass the ball to and from the wings. So I'd like to prepare well to receive the ball up front in order to initiate an attack from the side. I would also like to start an attack near the penalty area whenever possible. If we had scored any additional goal, we would have been able to feel slightly relaxed. Having said that, I think it's good to feel that all of us playing around our defensive line have to focus on defence to play hard.

Enow NGACHU, the head coach (Cameroon Women's National Team)
It's dreamlike to be able to play against the previous champions. It will be a new experience for the Cameroonian women's national football team. I know it will be a tough game, but whichever team puts in the best performance will win the match.
I not exactly over the moon to hear that Japan's defenders have taken precautions against our forwards. Japan organises their defensive line well and they know what to do. Their attack, of course, is excellent as well. Japan is after all one of the best teams in the world. The players look forward to meeting Japan.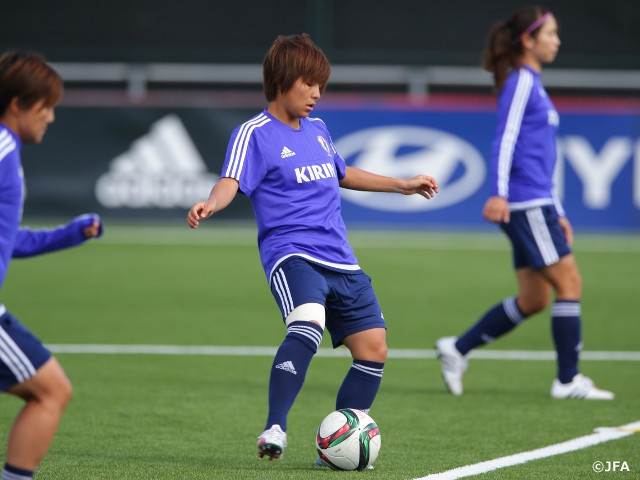 FIFA Women's World Cup Canada 2015
Nadeshiko Japan (Japan Women's National Team) vs Cameroon Women's National Team
Sat. 13 June Kickoff 11:00 (subject to change)