NEWS
Nadeshiko Japan use limited time to improve teamwork
20 July 2021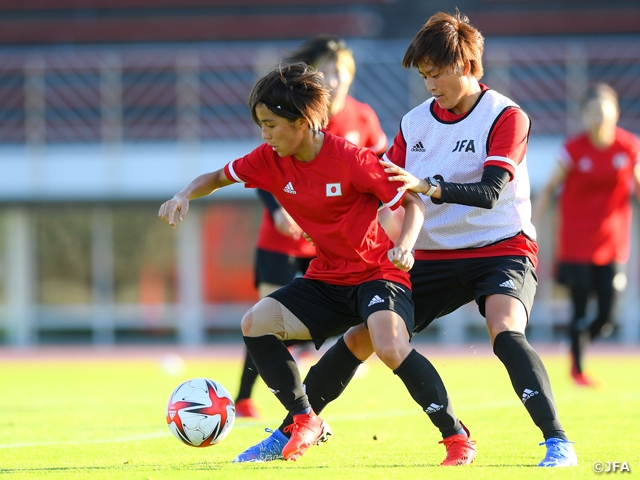 On Monday 19 July, two days ahead of their first group stage match against the Canada Women's National Team, the Nadeshiko Japan (Japan Women's National Team) held another training session in Sapporo. Coach TAKAKURA Asako, who was feeling under the weather on the day before, made her return to the pitch.
Following their final prep match against the Australia Women's National Team on Wednesday 14 July, the team travelled from Osaka to Sapporo, where their first two group stage matches will take place. It has been five days since the team arrived in Hokkaido, and the players are getting used to the environment specially setup for the Olympics.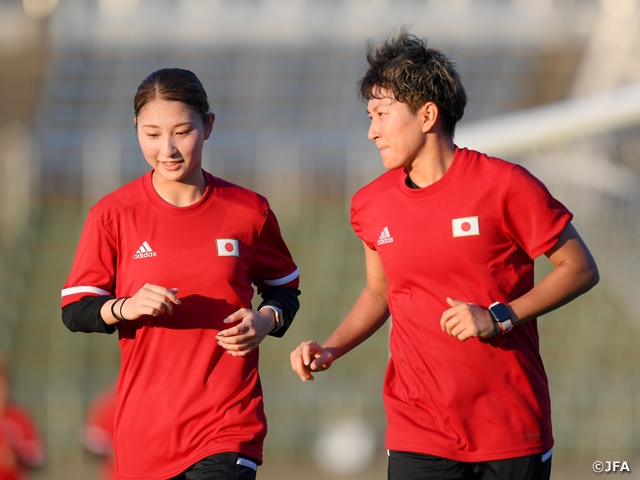 The team held a meeting during the day, as they went through the team concept and play model. In order to polish up their collective plays, the team spent about an hour on the pitch working on their combination plays.
A banner with messages written by the Hokkaido football family was delivered to the team, giving the players extra motivation ahead of their first group stage match against the Canada Women's National Team on Wednesday 21 July.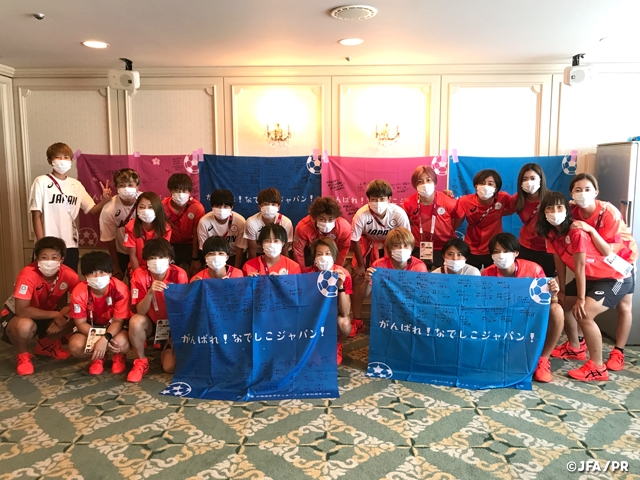 Players' Comments
FW #9 SUGASAWA Yuika (Mitsubishi Heavy Industries Urawa Reds Ladies)
We can really sense that the tournament is about to start. The first match is going to be an important match, so we will try to showcase a solid performance to start off with a win. We are expecting the opponent to play aggressively in the first half, so we will need to evade the pressure and try to win the match in the second half. We need to capitalise on the few opportunities and focus on winning the match in 90 minutes. I am not sure how I am going to be used in the match, but I will try to fulfil my duty as a forward and give my best effort to score a goal to help the team win the match. In terms of their height and speed, Canada is similar to Australia, so we will try to create opportunities through our passing game.
FW #10 IWABUCHI Mana (Arsenal/England)
The team is in great condition, and we have been able to play with a positive vibe. With just two days left ahead of our first match, we will give our utmost effort to prepare ourselves in the best way possible. After reviewing our match-footage against Australia, it was evident that we need to close down the gap between each other. If each player can make more runs, we can keep a closer distance between each other, so that is something we need to keep in mind at the individual level. The Tokyo Olympics is taking place in an unprecedented fashion, and it could be said that the value of sports is being tested. We hope to showcase our best performance to all of our fans and supporters, especially to the small girls aspiring to play football, and I am feeling the responsibility more than ever.
FW #11 TANAKA Mina (INAC Kobe Leonessa)
We are just two days away from our match against Canada. Once it starts, I am sure it is going to fly by us, but I am in great condition and the team is surrounded with a positive vibe, so I am looking forward for this match. I entered the match against Australia as a substitute, and I am sure there will be situations like that in the Olympics as well. That is why I need to be prepared at all times and try to execute what I am asked to do at any given moment. It's important that I understand whether I am being brought to accelerate or decelerate the play speed upfront. I personally would like to score goals, so I will always be anticipating for my opportunity. With this Olympics being held in Japan, we have been able to prepare ourselves without any stress or hardship. We are sharing the training facility with other opponents, so every time we see them, it makes me brace myself for the upcoming match.
Games of the XXXII Olympiad (Tokyo 2020)
Football competition: Wed. 21 July - Sat. 7 August 2021