NEWS
Introduction of the referees in charge of the match between Nadeshiko Japan and Australia Women's National Team at the MS&AD CUP 2021
14 July 2021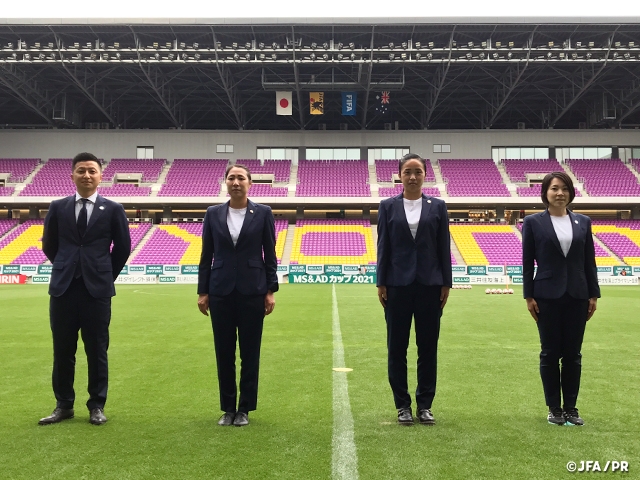 The referees in charge of the match between the Nadeshiko Japan (Japan Women's National Team) and Australia Women's National Team in the MS&AD CUP 2021 at Sanga Stadium by KYOCERA (Kyoto) on Wednesday 14 July shared their aspiration ahead of the match.
Referees in charge
Referee: SUGINO Azusa
Assistant referee 1: OGATA Mio
Assistant referee 2: HIRAMA Ryo
Fourth official: KANEMATSU Haruna
Referee's Comment
Ms. SUGINO Azusa
We are honoured to be given the opportunity to officiate this match, which is an important test match for both sides with the Tokyo Olympics just around the corner. We are also grateful to all the people who have made this match possible, so we will give our utmost efforts to fulfil our duties as referees.
MS&AD CUP 2021
Nadeshiko Japan vs Australia Women's National Team
Date: Wed. 14 July [19:20]
Venue: Sanga Stadium by KYOCERA (Kyoto)