NEWS
Nadeshiko Japan rout Jordan 7-0, earn Women's World Cup berth
19 May 2014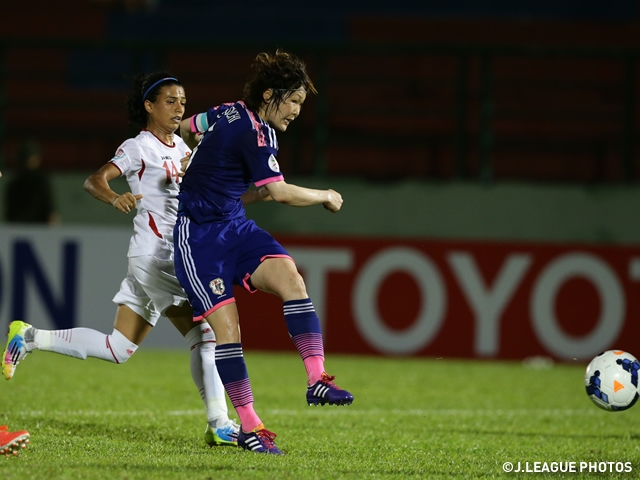 Nadeshiko Japan defeated Jordan 7-0 in their final group stage match in the AFC Women's Asia Cup, punching a ticket in next year's FIFA Women's World Cup. Japan have clinched the World Cup for their seventh consecutive time.
Before the kick-off, Miyama, who did not start in the game, told her Japan teammates before the bench, ''Let's clinch the World Cup with the whole team.'' Japan entered the contest with a completely different lineup from their first two games, as they had some players that made the national team for the first time, such as Kohata and Norimatsu in the defensive line, Obara in the right side back, Naomoto in the defensive midfielder position.
Nadeshiko controlled the game from early on and boldly attack the opponents' goal. After a series of scoring chances, Kira netted a cross from Utsugi for her first goal as a national team player to give Japan a 1-0 lead on 25th minute. In the injury time, Sakaguchi's shot hit a goal post, but Nakajima composedly fired the deflected ball into the goal mouth.
In the second half, Nadeshiko Japan moved Utsugi to a defensive midfielder, while Naomoto switched to the left side-back position. Japan scored their third score on a Sagaguchi shot on 49th minute, and added another when Nakajima's shot led to an own goal by the opponents on 69th minute. Afterwards, Japan added some more on a Nakajima free-kick, goals from Sakaguchi and Kira, and ended the game with a 7-0 victory.
In Group A, Japan and Australia are tied with seven points and both advanced to the semifinals, while obtaining tickets to the World Cup. Japan will play their semifinal game at 5:15 p.m. on Thursday, against either China or South Korea, both of whom have also qualified for the World Cup. The Japanese side will get to work on their preparation for the semifinal match after a recovery period.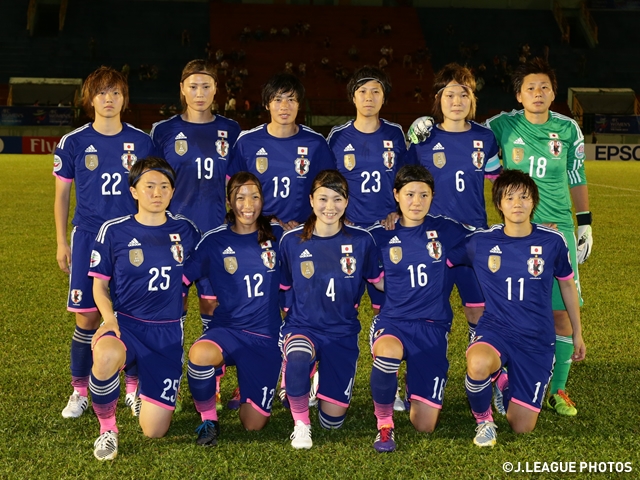 Click here for detailed match report
Comments
SASAKI Norio, Head Coach
We set goals to win three points in order for a World Cup berth and score as many as we could in order to qualify the group stage atop for the game. And we had a good preparation and our young players were a big part of it. Now in the three matches in the group stage, we have played all the 25 members that we registered on the pitch. Ogimi is going back to England, but we are going to decide on our lineups for the semifinals and final by observing the conditions of our players and their performance during our practice sessions. We could face China in the semifinals, and this is a team, whose players have a lot of power. South Korea is a team that has a team chemistry with balance while they have forward players with high physical and skill abilities. We have three days until the game, so we will get in it with better preparation.
MIYAMA Aya(Okayama Yunogo Belle)
We have so many new players now, and I thought it's our role to make them feel comfortable playing. It's good that we could score a lot. We got the World Cup spot now, but we are here to win this championship, so this team still has some work to be done. We will keep fighting as one team for the Asian Cup title.
SAKAGUCHI Mizuho(Nippon TV Beleza)
I was aware that the World Cup spot was at stake, but during the match I was into playing so much that I didn't realize at first that we got it. Our goal is to win the championship, so we are still at the midway. We save celebration for later. Today we had many players on the pitch who hadn't had much national team experience. So I wanted to support them and help them to play pressure-free. In the World Cup, too, it's very hard for only eleven starters to keep playing. So if we get young players to grow with us, the whole team will be much better.
KIRA Chinatsu(Urawa Reds Ladies)
Before the match Sawa advised me saying "Be confident, and you fill be just fine. You can't score unless you shoot it." My first goal was also the first for the team, so it got us going. We wanted at least one goal in the first half, so I am glad that I did just that. Even after that, as we had many more opportunities, I kept attacking the goal very aggressively for all 90 minutes. I always kept that on my mind, so it led to my second goal. Ogimi came in down the road, and I was so happy and excited to play next to her. By playing next to her, not only it made me happy, but also I learned some.
OGIMI Yuki(Chelsea FC Ladies/England)
I felt this team could keep getting better, and there were so many lessons for more improvements to come. This time I came here only for three matches, and that was my mindset. I think I could show what I had in that limited time.
SAWA Homare(INAC Kobe Leonessa)
We had some player who got on the pitch with the national team for the first time, but we could still manage to get three points. That gave us confidence, I think. When they were starting to feel tired, I went in with Ogimi, and from there we could start getting some more goals again. I am happy about that. All of us kept playing for our goal, and we could make plays one after another. We performed well, I think. We still have the semi-final and the final. We will stay in good shape and keep playing together.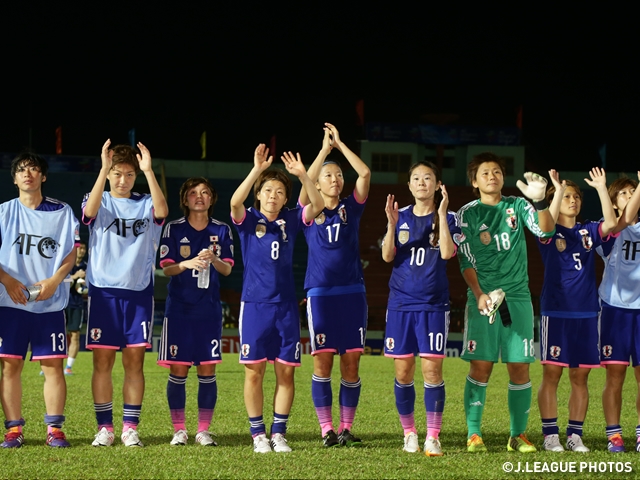 Schedule
Wed. 14 May
2 - 2
AFC Women's Asian Cup 2014 in Vietnam
vs. Australia Women's National Team
LIVE
TV Asahi Wed. 14 May 22:05 - 25:15
NHK-BS1 Wed. 14 May22:00 - 25:15
Fri. 16 May
4 - 0
AFC Women's Asian Cup 2014 in Vietnam
vs. Vietnam Women's National Team
(Thong Nhat Stadium)
LIVE
TV Asahi Fri. 16 May 22:05 - 25:15
NHK-BS1 Fri. 16 May 22:00 - 25:15
Sun. 18 May
7 - 0
AFC Women's Asian Cup 2014 in Vietnam
vs. Jordan Women's National Team
(Binh Duong Stadium)
LIVE
TV Asahi Sun. 18 May 21:00 - 23:12
NHK-BS1 Sun. 18 May21:00 - 23:15
Thu. 22 May
17:15/20:45
AFC Women's Asian Cup 2014 in Vietnam Semifinal
(Thong Nhat Stadium)
 
Sun. 25 May
16:45/20:15
AFC Women's Asian Cup 2014 in Vietnam
Third-place Match/Final
(Thong Nhat Stadium)
 
※All match time is local time.