NEWS
Yokohama FM thrash Premier League debutant Kiryu Daiichi with seven-goal haul - Prince Takamado Trophy JFA U-18 Football Premier League 2022
11 April 2022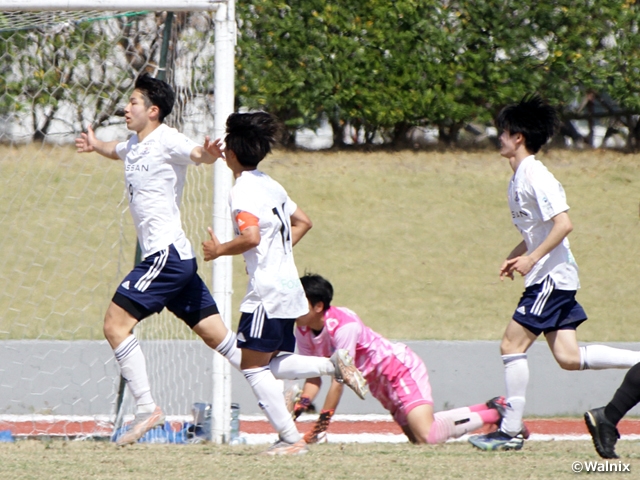 The second sec. of the Prince Takamado Trophy JFA U-18 Football Premier League 2022 EAST took place on Saturday 9 and Sunday 10 April. At Ota City Sports Park Stadium, Kiryu Daiichi High School (Gunma) faced Yokohama F.Marinos Youth (Kanagawa).
Featured Match
Kiryu Daiichi High School 0-7 (0-3, 0-4) Yokohama F.Marinos Youth
After seeing their season opener being postponed, Premier League debutant Kiryu Daiichi entered their first match of the season at home. The visitors, Yokohama FM, came into the match on the back of a 3-1 victory over Yokohama FC Youth (Kanagawa) in the Yokohama Derby, and were looking to build on their momentum.
"I have continued to reinforce the importance of moving forward towards the goal," said Yokohama FM's coach OKUMA Yuji, as the visitors showcased great aggression from the start of the match. Their aggression was paid off in the 15th minute, when UCHINO Kotaro (#9) broke through the right flank before sending a cross towards the middle, as the attacker later reflected, "I wanted to take a shot, but I had no angle, so I decided to send the ball towards the far side." The delivery was met by IIMURA Taiki (#47) who struck a header into the goal to give the Yokohama side the lead.
Kiryu Daiichi also had their chances to score, with OKAMURA Aoi (#7) going one-on-one with the goalkeeper in the 23rd minute, followed by a shot taken by SUWA Kota (#10) in the 27th minute, but both attempts fell short from finding the back of the net. The team's inability to covert these chances would haunt them later, as coach NAKAMURA Hiroyuki later recalled, "We had to capitalise on our chances there."
Yokohama FM continued to apply pressure against Kiryu Daiichi, who tried to construct their offence by connecting passes from the defence line, as Suwa commented, "It was more than we expected. They applied pressure a lot faster than the teams we have faced in the past."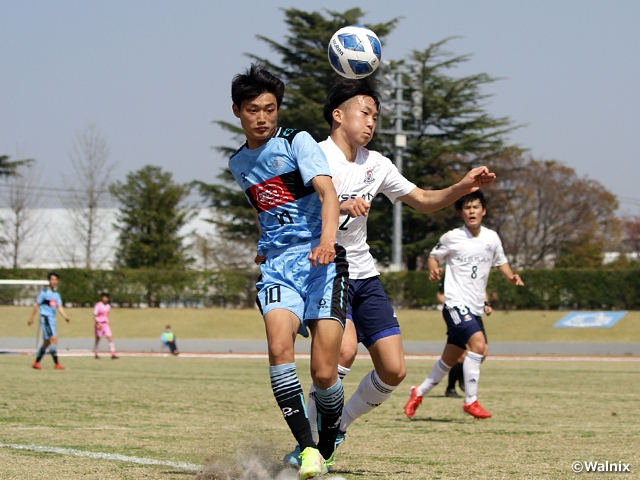 "I have been consciously working on my individual plays during our training sessions," said Uchino, who showcased a wonderful individual effort to score the team's second goal in the 32nd minute, before converting a PK in the 45th minute to make it 3-0 at halftime.
With momentum on their side, Yokohama FM went onto a goal spree in the second half, as Uchino completed his hat-trick in the 56th minute, followed by a FK converted by SHINOHARA Yudai (#8) in the 63rd minute. After a Kiryu Daiichi player was sent off, second half substitutes MOCHIZUKI Kohei (#40) and KAWAMURA Maiya (#17) each added to the tally to make it 7-0.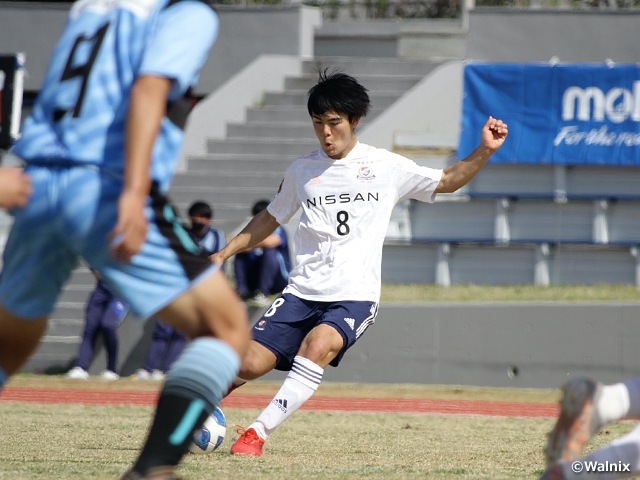 "Yokohama FM played very well," said coach Nakamura, as he continued to share his take, "It was a game in which we saw things we wouldn't have seen if we hadn't experienced them, and for that we should be grateful. Now we can play Kashiwa Reysol U-18 (Chiba) next. We will try to embrace this whole experience and prepare ourselves for the next match.
Coach Okuma on the other hand, commented, "We managed to demonstrate what we have been working on in certain aspects," but continued by pointing out, "We should be able to play at a higher pace and with more quality."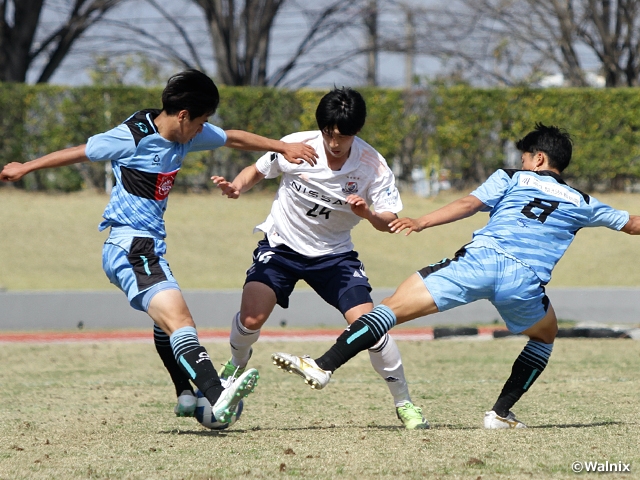 Coaches and Players' Comments
NAKAMURA Hiroyuki, Coach (Kiryu Daiichi High School)
We played a lot of preparatory matches with J-youth teams and university teams, but I felt that playing in a practice match is different from playing in an official match. I think this was a great learning experience which allowed our players to realise that we need to be able to control the game for a longer stint in order to compete at this league. The fact that the players of Yokohama FM continued to fight hard until the end made the learning experience even deeper, and I am truly grateful for that.
MF #10 SUWA Kota (Kiryu Daiichi High School)
We had our chances in the first half, and we can't win matches if we can't capitalise on those opportunities. I was hoping to score a goal, but I was only able to take one shot, so this was a disappointing result. We must try to make the most out of this experience. As a team, we must not get too defensive, but rather play with a challenger's spirit.
OKUMA Yuji, Coach (Yokohama F.Marinos Youth)
The players played very hard, but we are not satisfied with our overall performance. I know we can do better and considering that these players are striving to make the top team, they still have plenty of room for improvements. The players have improved their speed and endurance, but they need to get better. We must work even harder to reach a higher level.
FW #9 UCHINO Kotaro (Yokohama F.Marinos Youth)
I was very disappointed to finish second in last year's top scorers ranking, so I am determined to win the title this year. I knew I had to be more versatile to score more goals, and my first goal came from a play I had been working on, so I am very happy with the outcome. However, even though I scored three goals, I feel like I should have scored more, so I will continue to work hard so that I can be more critical in the attacking third.
Results of other matches
JFA Academy Fukushima U-18 1-2 (1-0, 0-2) Omiya Ardija U18
Aomori Yamada High School 1-0 (0-0, 1-0) FC Tokyo U-18
Maebashi Ikuei High School 5-1 (0-0, 5-1) Funabashi Municipal High School
Kawasaki Frontale U-18 2-1 (1-1, 1-0) Ryutsu Keizai University Kashiwa High School
Yokohama FC Youth 3-1 (1-1, 2-0) Kashiwa Reysol U-18
Despite conceding the opening goal to JFA Academy Fukushima U-18 (Shizuoka), Omiya Ardija U18 (Saitama) managed to come from behind in the second half, thanks to the brace of MAEZAWA Hiroki (#9). The 48th minute goal scored by KOBAYASHI Koto (#15) turned out to be the decisive goal in the match between Aomori Yamada High School (Aomori) and FC Tokyo U-18 (Tokyo), as the Aomori side booked their second win of the season. The fixture between two high school powerhouses, Maebashi Ikuei High School (Gunma) and Funabashi Municipal High School (Chiba) saw Maebashi Ikuei score five goals in the second half to register their first win in the Premier League. Kawasaki Frontale U-18 (Kanagawa) have started the season with back-to-back wins, after they defeated Ryutsu Keizai University Kashiwa High School (Chiba) 2-1 at home. Yokohama FC Youth (Kanagawa) scored two goals in the second half to rally past Kashiwa Reysol U-18 (Chiba).
%F0%9F%8F%86#高円宮U18 プレミアリーグ 2022%F0%9F%8F%86
%E2%9A%BD第2節 試合結果%E2%9A%BD

%F0%9F%94%B4EAST%F0%9F%94%B4%F0%9F%9F%A2WEST%F0%9F%9F%A2
両リーグの対戦結果はこちら%E2%98%9D#高校サッカー pic.twitter.com/FYoycRbQKM

— 高円宮杯 JFA U-18サッカープレミアリーグ (@jfa_u18) April 11, 2022
%F0%9F%8F%86#高円宮U18 プレミアリーグ 2022%F0%9F%8F%86
%E2%9A%BD暫定順位表%E2%9A%BD

%F0%9F%94%B4EAST%F0%9F%94%B4%F0%9F%9F%A2WEST%F0%9F%9F%A2
両リーグの順位表はこちら%E2%98%9D

延期試合が発生したため、EAST・WEST共に暫定順位となります。#高校サッカー pic.twitter.com/bkWMOgQn6j

— 高円宮杯 JFA U-18サッカープレミアリーグ (@jfa_u18) April 11, 2022
Prince Takamado Trophy JFA U-18 Football Premier League 2022
League Duration: Sat. 2 April - Sun. 4 December 2022