NEWS
Iwata come from behind to claim bragging rights in the Shizuoka Derby! - Prince Takamado Trophy JFA U-18 Football Premier League 2022
11 April 2022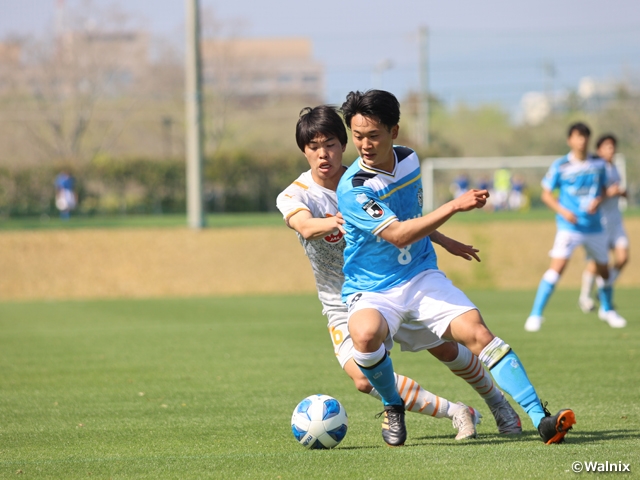 The second sec. of the Prince Takamado Trophy JFA U-18 Football Premier League 2022 WEST took place on Saturday 9 and Sunday 10 April. In Iwata, two teams from Shizuoka, Jubilo Iwata U-18 (Shizuoka) and Shimizu S-Pulse Youth (Shizuoka), clashed in the Shizuoka derby.
Featured Match
Jubilo Iwata U-18 2-1 (0-0, 2-1) Shimizu S-Pulse Youth
The first ever Shizuoka derby to take place in the Premier League WEST turned out to be a closely contended match with plenty of action. The match started with Shimizu taking the initiative, as coach SAWANOBORI Masaaki later reflected, "Iwata played with a style in which they laid a block and aimed for counterattacks, rather than aggressively applying pressure from the front, so we thought we could break them down with our build-up plays, which is our forte." Despite seeing their ace YAMADA Riku (#10) getting subbed off due to an injury in the 10th minute, the Shimizu side constructed their offence by connecting passes from their defence line.
Iwata on the other hand, kept their focus on defence, as GOTO Keisuke (#17) mentioned, "I tried to cover a wide range to prevent the opponents from creating chances." Once winning the ball, Iwata made efforts to utilise the width of the field, as ITO Ryosuke (#25) made runs down the line to add layers to their offence, but their only opportunity came in the 23rd minute, when Goto responded to a pass delivered by ITO Takeshi (#9). After being kept scoreless in the first half, Iwata's coach MAEDA Ryoichi commented, "The players struggled to adjust to the natural turf and hot weather. They made great efforts but our performance in the first half was not good."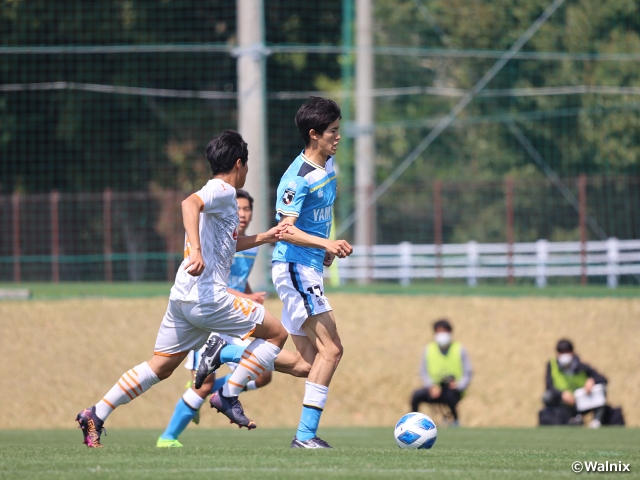 The deadlock was broken in the 49th minute, when Shimizu's TANAKA Jigen (#8) carried the ball in the left side before sending the ball to ISHIKAWA Seita (#6), who delivered a low-driven cross towards the centre. HOSHITO Naru (#20) was there to convert the cross to give Shimizu the lead, as the striker later mentioned, "I wasn't reacting well to the crosses at first, but once I started making conscious efforts to get in front of the goal, just as my coach told me, I was able to get a favourable cross to score that goal."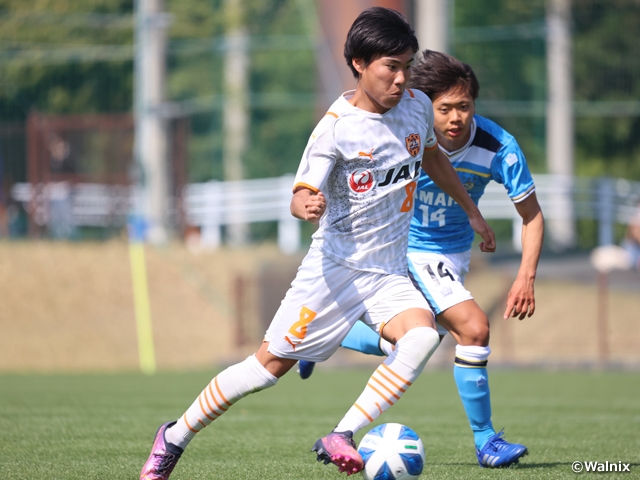 After the two sides went back and forth for a while, Iwata managed to level the match in the 80th minute, when Ito (Takeshi) forced a turnover deep in the opposing end before scoring the equaliser. With the home side gaining momentum from this goal, Shimizu seemed to be overpowered in the remainder of the match, as coach Sawanobori mentioned, "We played well until scoring the opener, but we lost our composure after conceding the equaliser from our own mistake." Just as the match was coming to an end, Iwata's LEE Gyeon-su (#2) initiated an attack from the right flank in the fourth minute of additional time. "I knew that our opponents were exhausted just like we were, so I thought I could make something happen if I continued to make runs until the end," said Lee, as the defender played a pass-and-go with KAWAI Yuki (#33) before slotting the ball into the left-hand corner of the Shimizu goal, giving Iwata a 2-1 victory in the Shizuoka derby.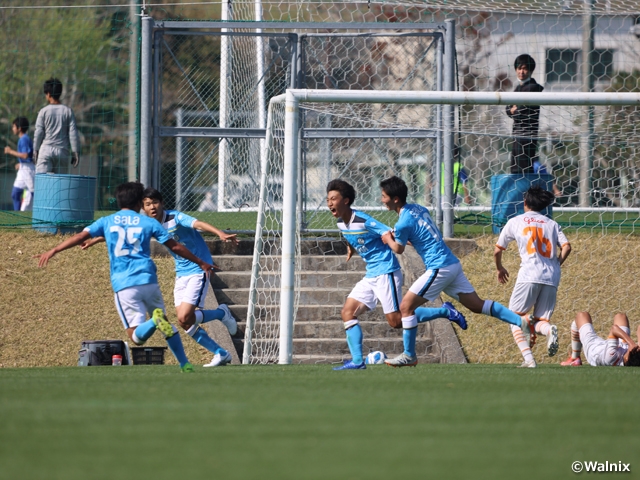 Coaches and Players' Comments
MAEDA Ryoichi, Coach (Jubilo Iwata U-18)
S-Pulse was a tough opponent with a number of talented players, but I wanted our players to demonstrate what we had been practicing even against such opponent. Before the match, I told my players to play aggressively while also being careful to keep possession of the ball. The players worked very hard to earn this win, so it was a fun match to coach. After playing two matches, we are confident that the team is heading towards the right direction.
MF #17 GOTO Keisuke (Jubilo Iwata U-18)
Today, I was given the start not as a forward, but as a defensive midfielder, so rather than trying to win, I focused on keeping a clean sheet, which meant that I had to make more runs to support the defence line and prevent the opponents from creating chances. I feel like I was able to contribute to the team with my endurance and defence, which are my forte. Under the leadership of coach Maeda, we have become more conscious of keeping the ball to our fee than last year. We have been able to execute what he asks us during practice, which has led us to two consecutive victories.
SAWANOBORI Masaaki, Coach (Shimizu S-Pulse Youth)
We must accept this result and try to learn from this experience. The fact that we lost our rhythm from our own mistakes is an aspect we must improve ahead of our next match. We have been able to create opportunities from our build-ups, so we now need to polish our finishing skills. At the same time, we need to reset our minds. Despite losing back-to-back matches, we cannot keep our heads hanging. We must reset our focus towards the next match and fight to earn points next week.
FW #8 TANAKA Jigen (Shimizu S-Pulse Youth)
Having been a member of S-Pulse since U-12, my sense of rivalry against Jubilo is strong. Our staff members were really fired up for this match, too. It becomes more mental than anything, when facing Jubilo. I am not a physical player, but with this being a derby match, I tired extra hard to win the ball and made efforts to initiate our offence from the defensive end. However, I feel like I was not able to make my presence felt towards the end of the match, so I must work even harder and try to make fewer mistakes.
Results of other matches
Cerezo Osaka U-18 Postponed Gamba Osaka Youth
Higashi Fukuoka High School 0-1 (0-1, 0-0) Nagoya Grampus U-18
Vissel Kobe U-18 1-2 (1-1, 0-1) Ozu High School
Shizuoka Gakuen High School 2-0 (0-0, 2-0) Sagan Tosu U-18
Riseisha High School 2-1 (1-0, 1-1) Sanfrecce Hiroshima FC Youth
The derby match between Cerezo Osaka U-18 (Osaka) and Gamba Osaka Youth (Osaka) was postponed after one of the Gamba Osaka Youth officials was found to have a fever before the match. An alternative date will be announced as soon as it is decided. Nagoya Grampus U-18 (Aichi) won their away match against Higashi Fukuoka High School (Fukuoka), thanks to the goal scored by KOJIMA Kensho (#3) in the early minutes. Ozu High School (Kumamoto) scored a goal apiece in both halves to win over Vissel Kobe U-18 (Hyogo). Shizuoka Gakuen High School (Shizuoka) defeated Sagan Tosu U-18 (Saga) 2-0 to start the season with back-to-back victories. Riseisha High School (Osaka) welcomed Sanfrecce Hiroshima FC Youth (Hiroshima) to their home, where they earned their first win of the season, thanks to the decisive goal scored by OTA Mutsuki (#13).
%F0%9F%8F%86#高円宮U18 プレミアリーグ 2022%F0%9F%8F%86
%E2%9A%BD第2節 試合結果%E2%9A%BD

%F0%9F%94%B4EAST%F0%9F%94%B4%F0%9F%9F%A2WEST%F0%9F%9F%A2
両リーグの対戦結果はこちら%E2%98%9D#高校サッカー pic.twitter.com/FYoycRbQKM

— 高円宮杯 JFA U-18サッカープレミアリーグ (@jfa_u18) April 11, 2022
%F0%9F%8F%86#高円宮U18 プレミアリーグ 2022%F0%9F%8F%86
%E2%9A%BD暫定順位表%E2%9A%BD

%F0%9F%94%B4EAST%F0%9F%94%B4%F0%9F%9F%A2WEST%F0%9F%9F%A2
両リーグの順位表はこちら%E2%98%9D

延期試合が発生したため、EAST・WEST共に暫定順位となります。#高校サッカー pic.twitter.com/bkWMOgQn6j

— 高円宮杯 JFA U-18サッカープレミアリーグ (@jfa_u18) April 11, 2022
Prince Takamado Trophy JFA U-18 Football Premier League 2022
League Duration: Sat. 2 April - Sun. 4 December 2022