NEWS
JFA Sports Managers College in Miyagi
29 January 2015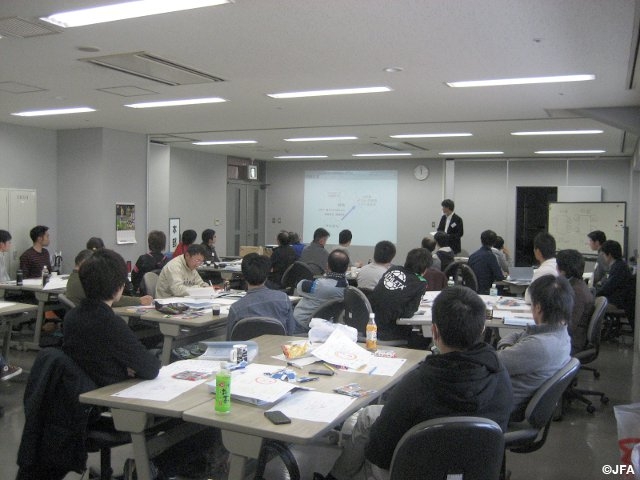 The sessions of the JFA Sports Managers College (SMC) were held for 3 days on 17, 18 and 24 of January in Miyagi.
This was the third satellite SMC session in Miyagi. 30 participants not only from Miyagi but also from neighboring prefectures (19 people from Miyagi, 3 from Akita, 1 from Iwate, 3 from Fukushima, and 1 from Kanagawa) spent a total of 18 hours across 6 sessions to learn vision, environment analysis, community design, SWOT analysis, activity planning and managing purpose. Participants, who varied in age from 21 to 65 years old and in career, expanded their perspectives and approaches by talking through learning skills and knowledge with each other in these sessions. It was also a great chance for all of the participants to know each other well in this occasion.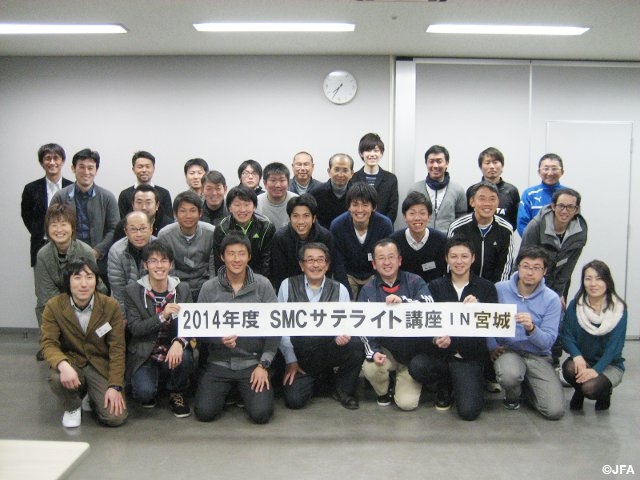 Comments From Participants
Mr. HASHIMOTO Hayato
In this session of SMC, I learned the importance of "having vision", "having good colleagues", and "making action plans". I had had a dream for long time but it had been vague, this time I organised some ideas to set feasible goals and now I can see what I need to do for these goals. It was a good opportunity for me to meet with many people; I could extend my perspectives by discussing with them during the sessions. These sessions are for sports managers, but I think what we learned here is applicable to our daily work and other aspects of our life. I appreciate all people who supported this SMC for giving me a very meaningful opportunity.
Mr. SATO Ryutaro
It was my very first experience to join in this type of session and I didn't know what to do at first, but I had a very good time with other participants communicating with them. Each of these sessions was very stimulating through the group work which included participants from totally different professions and environments. We exchanged a lot of ideas to output our thoughts and visions during the group sessions. I want to keep what I have learned here in my mind and also keep in touch with the people I met at this occasion.
Ms. KUBOTA Asayo
I felt the strong passions of the participants by attending this SMC. I used to be a mother of a player of a local team, not a local team manager. However, my husband decided to launch a local football team and I had to shift myself from a mother to one of team managers and that made me come to this SMC. Most of the things I learned here was new to me such as having clear visions, managing plan & actions according to 'need', 'possibility', and 'future', and enjoying meeting with people through sports. I'm sure that we will have trials and errors, but I just want to move on and to contribute to the local community. I appreciate all the session trainers, staff and participants for giving me such a wonderful opportunity. Thank you very much.