NEWS
The session 3 of JFA Sports Managers College (SMC) held in Tottori
13 November 2014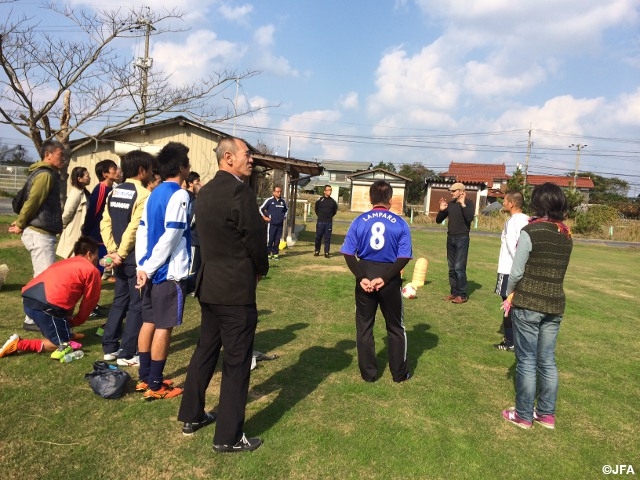 The session 3 of JFA Sports Managers College (SMC) was held from 7-10 November. This time, participants visited Tottori prefecture to learn mainly about the "place" where there is a local sports club, and "resources" which exist in their local area through a study tour, lectures and workshops.
At the beginning of the session, a lecture was given to the participants by Mr. Neal Smith who has worked for promoting the wider use of natural turf by a method called "Tottori Method". In his lecture, he talked about the approaches and processes on including local governments and people to create a place where people can enjoy themselves.
In the latter half of those 3 days session, participants made 20 wooden benches at "Tottori Football Centre", using scrap wood which was found locally. These benches were made with local kids and their parents from a sports club, and they were donated to the Football Centre.
The natural turf ground and the benches were indeed meaningful, but the method in regards to all of the processes and histories behind them are a meaningful asset for the club. The session also strengthened that "designing your club's asset" is important when clubs are managed.
The first half of all the sessions of SMC has now finished and the new phase of the College will start from the next session.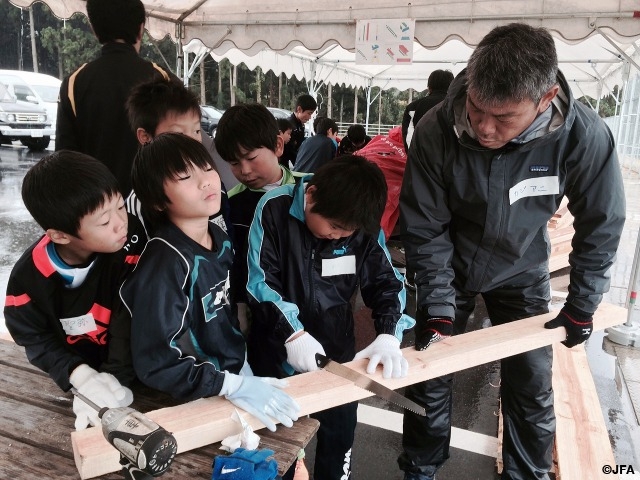 Comments from participants
Mr. OGISO Shinsuke
After receiving the lecture about "Sports Club", I understood that having more natural turf changes the future of sports and children's growth. I want to try to apply what I have learned in my local area.
Mr. IMAIZUMI Yukihiro
After participating in the lecture of "Making and designing your sports club", I was surprised to know that designing is not only about creating a product, but also about including everything behind what you are creating. I enjoyed the lecture and I now understand the importance of designing the goal of all the people who support what you are making.
Mr. TOZAKI Hiroki
After participating in the lecture of "Making and designing your sports club", I think I understood the idea of designing all of the occasions when you want to do something for the club like the benches we made: we had occasions from creating the benches through to using the benches and making positive atmosphere at each occasion is a good foundation to build upon when you make a local sports club.