NEWS
Class S Coach Training Course 2022 Module 4/Intensive Course (9) Participant's Report Vol. 11
04 November 2022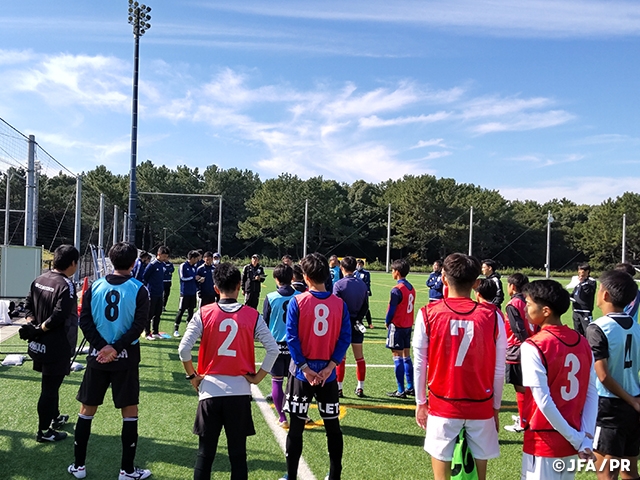 Class S Coach Training Course 2022 entered the second week of Module 4, with a series of lectures and practical exercises designed to simulate professional coaching situations.
Module4 Intensive Course ⑨
Duration: Mon. 24 - Thu. 27 October
Mon. 24 October
PM
Professional Coaching Theory: YOKOUCHI Akinobu (Japan National Team)
Professional Coaching Theory: UKISHIMA Bin/OKUNO Ryosuke (JFA Class S Instructor)
Tue. 25 October
AM
Coaching session
PM
Coaching session
Wed. 26 October
AM
Coaching session
PM
Professional Coaching Theory (Lecture): KANNO Atsushi (Physical Fitness Project)
Professional Coaching Theory (Demonstration): @Nippon Sport Science University
Thu. 27 October
AM
Coaching session
PM
Cooperation with medical staff: KATO Haruyasu (JFA Medical Committee)
Professional Coaching Theory: UKISHIMA Bin (JFA Class S Instructor)
Cooperation in dispatching support players: Edogawa University, Nippon Sport Science University, JEF United Ichihara Chiba (Academy Staff), Chiba SC, Wings, Chuo Gakuin University, Sakushin Gakuin University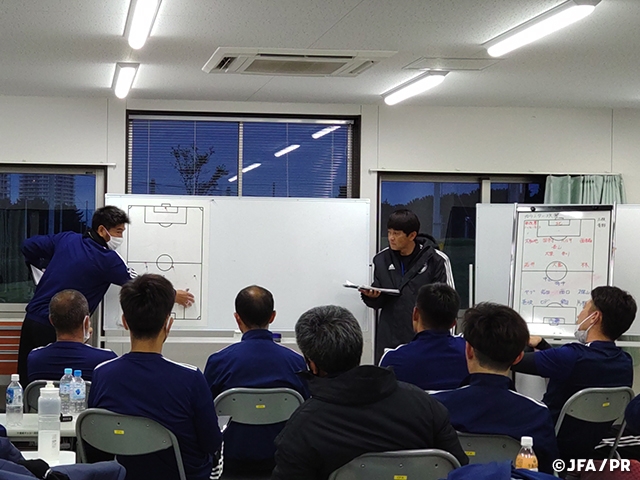 Participant's Comment
Mr. HASEGAWA Dai, Sports Director (International Christian University)
Module 4 is now in its second week. The first day started with a lecture on Professional Coaching Theory by Mr. YOKOUCHI Akinobu, assistant coach of the Japan National Team. The FIFA World Cup Qatar 2022™ will finally kick off in November. The lecture covered a wide range of subjects, beginning with the objectives of the Japan National Team for the World Cup, the criteria for evaluating players during national team activities, and the necessity of a diverse role-sharing structure to give the players in-depth support. I've learned a lot from his lecture, which gave us a glimpse of the amount of pressure he faces as the national team coach and from his meticulous work ethic, which is backed by his strong determination to represent his country. I sincerely hope that all those involved in Japanese football would join their efforts to achieve our goal at this World Cup, and it also reminded me that our mission for the time being is to have a vision of how we can contribute to the development and progress of Japanese football in the years to come.
In the afternoon of the third day, the participants moved to Nippon Sport Science University Yokohama Kenshidai Campus for a physical training course. The session was very intensive, with a lecture given by Mr. KANNO Atsushi of the JFA Physical Fitness Project, and practical exercises for each of the five physical training themes conducted in 10 groups. The desired intensity level and standards for each of the five trainings were explicitly defined, and the training was planned and practised so that the participants could reach these targets while fitted with a GPS to collect data. This training session served as a timely reminder that training is most effective when it combines precise instruction supported by sound reasoning with motivational coaching.
Modern professional coaches must maintain a firm emphasis on the yearly targets as well as the players' weekly peaks in terms of "periodisation" in order to build the physical fitness competency of the players. I want to be a coach with a broad perspective that examines things from a deeper perspective and a detailed eye for the physical and mental condition of each player I work with on a daily basis, as opposed to just training in a random, ad hoc manner.
In the afternoon of the fourth day, Professor KATO Haruyasu of Rikkyo University (College of Community and Human Services) was invited to give a lecture from the perspective of "Can injuries be prevented?" It was very interesting to see how a detailed analysis of the causal relationship between training load, fatigue and mental health could not only prevent injuries, but also reduce the severity of any injuries that do occur. At the end of the lecture, there was a lively discussion with the participants about the benefits and difficulties of communication between the coach, who decides whether to use players, and the doctor, who determines the severity of injuries, as well as the significance of "reporting and communication" for sharing information within the team, including trainers.
The closing lecture of the second week was on Professional Coaching Theory by JFA Class S Instructor Mr. UKISHIMA Bin. "Every day, a coach has to make a series of decisions." How do we navigate through a series of challenges? Through a case study, the participants examined how to be adaptive without compromising their coaching philosophy. The difference between strategy and tactics, meticulous scheduling, battling stress on and off the pitch, the necessity, quality, and timing of meetings. The process of creating, reducing and communicating. The selection of the squad, the match-day substitutions, and the results. "All of that depends on the decisions you make as a coach." This lecture has made me think about the responsibility and commitment I have as a coach, and it is something I will remember for the rest of my life.
Last but not least, we would like to express our sincere gratitude to all the people who participated as support players and to all those who have worked so hard to make this courses possible.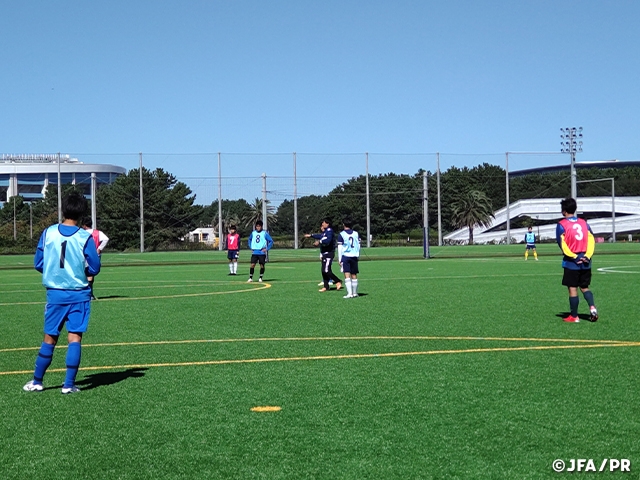 With only two weeks left in Module 4, we are getting closer to the examinations. Next time, we will share the report of Mr. HAYASHI Masato (FC Imabari).