NEWS
Class S Coach Training Course 2022 Module 4/Intensive Course (8) Participant's Report Vol. 10
28 October 2022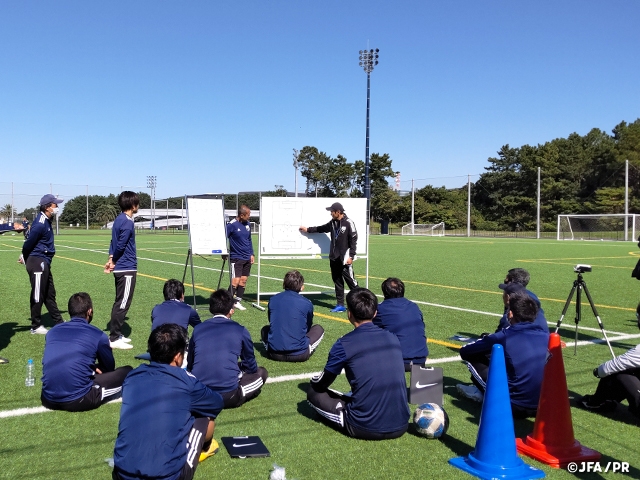 Class S Coach Training Course 2022 is now in its second half and Module 4 has started. This is the last four weeks where the participants can spend valuable time exchanging ideas, discussing and improving themselves through the coaching sessions.
The first lecture of Module 4 was given by Professor HIROKAMI Junichi of Tokyo College of Music, who has been lecturing on "Human Resource Management" since 2020. His lecture provided an opportunity for each participant to think about the similarities between a coach and a conductor who both support the growth of their "players" in football and music respectively.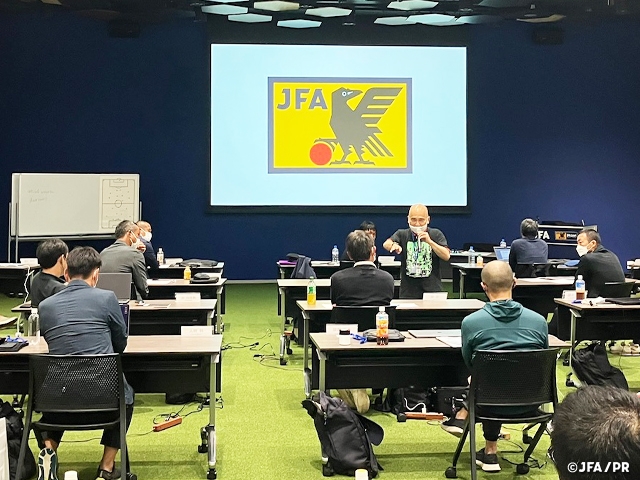 Module4 Intensive Course ⑧
Duration: Mon. 17 - Thu. 20 October
Mon. 17 October
PM
Guidance/Professional Coaching Theory:
UKISHIMA Bin (JFA Class S Instructor)
Human Resource Management:
Professor HIROKAMI Junichi (Tokyo College of Music)
Tue. 18 October
AM
Coaching session
PM
Mental Training: TANAKA OULEVEY Miyako
Analytical presentation group work
Wed. 19 October
AM
Coaching session
PM
Analytical presentation by the participants
Game Analysis: Andre VILLAS-BOAS
Thu. 20 October
AM
Coaching session
PM
Reconditioning: Physical Fitness Project
Professor HIROSE Norikazu (Waseda University)
Cooperation in dispatching support players: Edogawa University, Chuo Gakuin University, JEF United Ichihara Chiba (Academy Staff), Chiba SC, Wings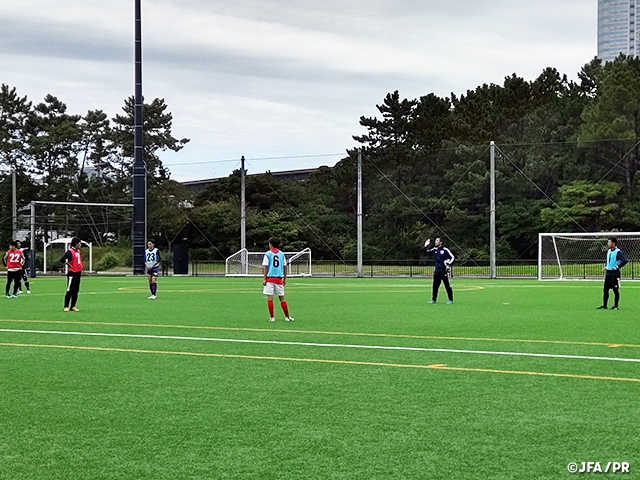 Participant's Comment
Mr. NAKAYAMA Genki (Renofa Yamaguchi FC)
After a monthlong in-between studies, which involved coaching sessions, national team analysis and training in both Japan and overseas, the first week of Module 4 started on 17 October. The course started with Mr. OSHIBA Katsutomo reporting his club's success at the Emperor's Cup, followed by a Professional Coaching lecture on "Relationship with the media." We then welcomed Professor HIROKAMI Junichi of Tokyo College of Music, who gave us a lecture on "Human Resource Management." His lecture was very informative and each of his words resonated with me. When I heard him say, "People in the top-tier are often humble and greet others with respect, while people in the second-tier tends to be stubborn and arrogant, so people in the third-tier have more potential to reach the top-tier," I recalled the words of my former teacher in high school: "Try to be the best in the third-tier." My interpretation of this is to "continue to give your best effort in doing what is considered to be routine work," which has been my motto and it felt like the two sayings were linked together.
On the second day, Ms. TANAKA OULEVEY Miyako gave her second lecture on Mental Training. At the end of the lecture, we conducted a drill where we asked ourselves, "Am I being useful here (in the Class S Coach Training Course)?" The words I received from the other three group members made me feel that I was being useful and that I belong here, which made me want to contribute even more.
On the third day, the participants presented an analysis of a match played by the Japan National Team and then listened to Mr. Andre VILLAS-BOAS's analysis. When the participants shared their own analyses with each other the day before, we learned that there are many different perspectives even when examining the same footage. Although the general idea seemed to be in line with that of the participants, his analysis was more precise and detailed.
On the fourth day, Professor HIROSE Norikazu was invited to give a lecture on reconditioning in football. Here we learned the importance of analysing why and how the injury occurs, what needs to be improved in cases of different injuries, such as a hamstring or the ACL, and what preventive measures can be taken to prevent the recurrence of an injury.
Module 4 will also be the last time we get to hold the coaching sessions. We can only thank our support players for their hard work and positive attitude towards our training sessions. I will try to make the most of the remaining coaching sessions and continue to give my utmost efforts to improve myself as a coach.
Next time, we will share the report of Mr. HASEGAWA Dai.