NEWS
Class S Coach Training Course 2022 Module 3/Short Course (2) Participant's Report Vol. 7
12 September 2022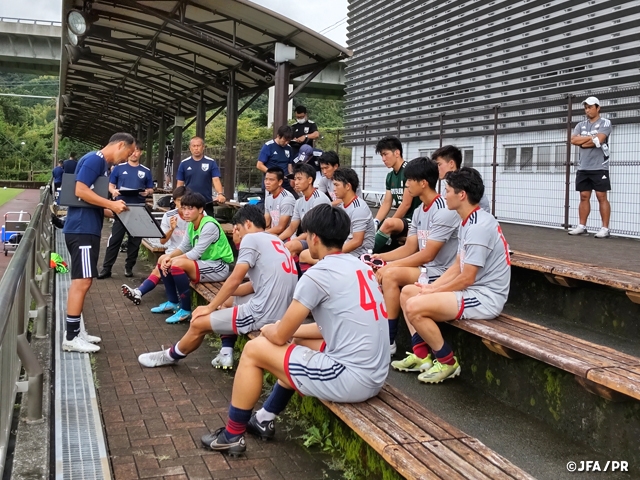 After a study period that lasted about two and a half months, Module 3 started with a short course.
In the short course, participants were divided into four groups, each responsible for one team, and were given two days to prepare a curriculum to improve the team's performance. In the match that took place on the final day, teams held pre-game meetings, submitted roster sheets, and held pre-game warmups to simulate an official match. Although they were not able to complete the match due to inclement weather, the participants were able to make good use of the coaching sessions to prepare for the match.
Module3 Short Course (2)
Dates: Mon. 29 August - Thu. 1 September
Mon. 29 August
PM
Guidance, Staff Meeting, Pre-game meeting, Game
Conditioning: KANNO Atsushi (JFA Physical Fitness Project)
Tue. 30 August
AM
Coaching session
PM
Coaching session
Professional Coaching Theory/Tactical Periodisation: Andre VILLAS-BOAS
Wed. 31 August
AM
Coaching session
PM
Coaching session/Set play
Periodisation in football: Raymond VERHEIJEN
Thu. 1 September
AM
Pre-game meeting, Game, Guidance
Cooperation in dispatching support players: Ryutsu Keizai University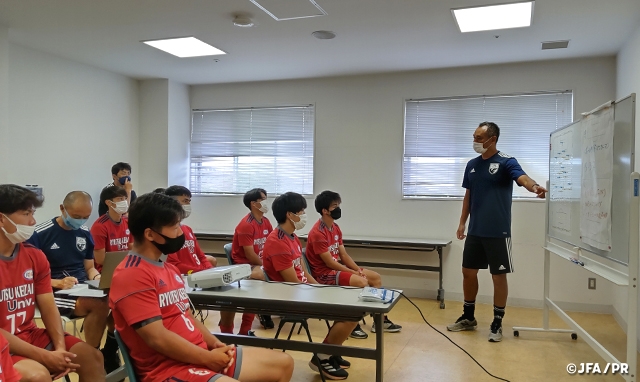 Participants' Comments
Mr. SHIBATA Shingo (Hokkaido Consadole Sapporo U-15)
After nearly two months since the conclusion of Module 2, Module 3 has started at J-STEP in Shimizu from 29 August to 1 September.
The main subjects of the short course were, "Coaching session," "Conditioning," "Tactical Periodisation," and "Periodisation in football."
The lecture on "Conditioning" was given by JFA instructor Mr. Kanno, who taught us the basic concepts of periodisation from the perspective of the physical elements in football. Based on the information we learned from this lecture, we worked in groups to come up with a "pre-season training plan" and presented afterwards. Each presentation contained vastly different training plans, and the whole activity reminded us once again that everyone thinks differently and that there are lots of different ways to achieve the same goal. What is important in this process is that we fully understand the concept and incorporate the knowledge into an original plan that suites our own team the most.
The lecture on "Tactical Periodisation" was given online by Mr. Villas-Boas, who has coached a number of European clubs, including Chelsea, and was manager of Marseille until 2021. He taught us the basic concepts of tactical periodisation and shared us with an actual weekly scheduled built based on the concept of tactical periodisation. This lecture gave us a precious opportunity to learn how to construct a training schedule, and the fact that we were learning from an active coach who has worked for numerous clubs in Europe made everything feel very realistic. I was also moved by the words of Mr. Villas-Boas, when he mentioned that the root of a coach is their "passion."
Mr. Raymond VERHEIJEN gave us an online lecture on "Periodisation in football," where he explained to us exactly why periodisation is necessary in football and that coaching is the key to solving most issues that occur in football. I was especially blown away when he mentioned that "individual tactics do not exist" in football from an academic perspective.
In the coaching session held at the end of this short course, participants were assigned with a J.League match, in which we analysed the play models of the two sides playing in the match, identified the issues, and built a training session based on this analysis. This coaching session was held differently than usual, and the entire process presented lots of challenges, but it gave us a very fulfilling time and a great learning experience. Knowing that we would be repeating such cycle on a daily basis when we actually become a coach, this gave us a taste of what it is like to be a coach. The match held on the final day was carried out like an actual match, from the pre-game meetings, to warmups, and the intensity level in which the game was played. It was a pity that the game had to be cut short in the second half due to torrential rain and lightning, but it was a very meaningful game to conclude the week.
We are now halfway through the Class S Coach Training Course and are now approaching the climax of the course. Together with the instructors who give us daily lessons and insights, with the support players who always give their all in our coaching sessions, and with the fellow participants who motivate and inspire each other with high aspirations, we will continue to give our all for the remainder of the course.
Last but not least, I would like to thank all the players and staff of Ryutsu Keizai University, staff of J-STEP, and the instructors and staff of JFA, for their support during this Module 3 short course.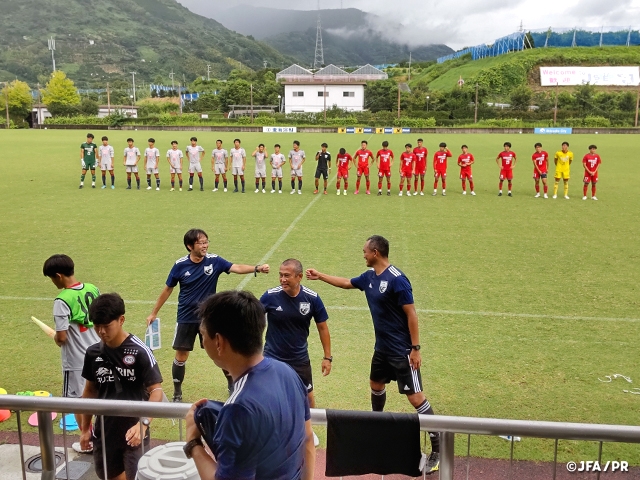 Mr. SUGAWARA Daisuke (JFA Technical House)
The Module 3 short course was held over four days at J-STEP in Shizuoka Prefecture, with around 50 Ryutsu Keizai University football club members as support players, in addition to the participants and instructors.
The course started after almost two months, with all students successfully completing all the assignments given during Module 2.
One of the tasks was to observe and analyse the match between Shimizu S-Pulse and Kashiwa Reysol played on the 26th game-week of the J1 season. The assignment required us to construct a play model from video footages and stat sheets of the match and to identify four aspects, including set-pieces, that could be improved on. Based on this analysis, participants were divided into four teams and assigned to coach whether Shimizu S-Pulse or Kashiwa Reysol, incorporate the play model and fix the issues over three days, and play a match on the fourth day. As the training progressed, the participants and support players gradually formed a bond, and although the match itself had to be called off in the middle of the second half due to thunderstorms, there were requests from the players to play until the end, making it much more than a simulated match. We held nightly discussions to come up with plans to help our assigned group win the match, and the entire process gave me an invaluable learning experience.
We took part in three evening sessions, including the lecture on "Conditioning" from JFA Physical Fitness Project leader Mr. KANNO Atsushi. The fact that football is evolving day by day and is closely related to our physical fitness, this lecture reminded us that we need to keep ourselves updated at all times. Each group also gave a presentation on how they would spend the pre-season (six weeks) if they became a coach, and each group's ideas provided useful insights for me.
We also took part in an online lecture held by Mr Raymond VERHEIJEN, who came up with the concept of "Periodisation in football." It gave us an opportunity to rethink how we plan our training sessions, the purpose of coaching, and the necessary action needed in football.
Mr. Andre VILLAS-BOAS also gave us a lecture on "Tactical Periodisation" from Portugal, which taught us how to construct a training session solely based on game-models. He disclosed material from his time at Porto and shared his philosophy as a manager, such as: "When you receive an offer, it is important to clarify [why you were chosen] rather than demanding something from the club. Because you have to share the same vision with the club." From his experience of winning the season treble with Porto, he also advised us: "in order to create a winning process, demand things when you are winning and don't change them when you are losing."
I would like to take this opportunity to thank once again the instructors, staff members, and the support players. The hard work and positive behaviour displayed by the support players helped us strive for a better training session.
Next time, we will share the report of Mr. TAMURA Yuzo (Iwaki FC).