NEWS
Cerezo Osaka and Vegalta Sendai advances to the 3rd Round of Empress's Cup JFA 40th Japan Women's Football Championship
25 November 2018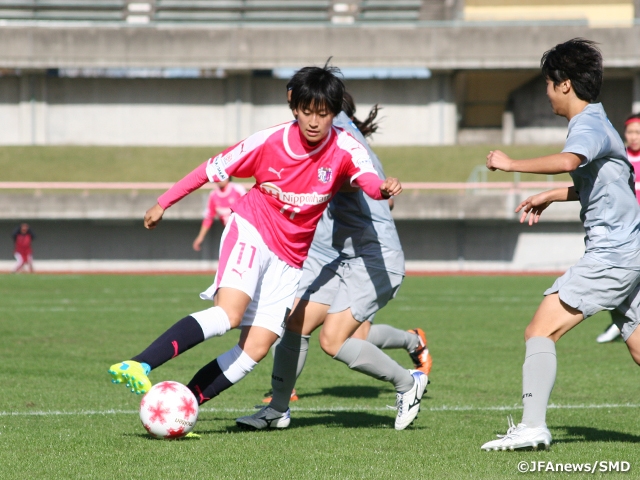 On Saturday 24 November, eight second-round fixtures of the Empress's Cup JFA 40th Japan Women's Football Championship were held nationwide, as two matches were played at Toyama Athletic Recreation Park.
Pick-up Match 1
Cerezo Osaka Sakai Ladies (Nadeshiko 1st Div./Osaka) 1-0 (1-0, 0-0) Nippon TV Menina (Kanto2/Tokyo)
The first match was played between Cerezo Osaka Sakai Ladies and Nippon TV Menina, which saw youthful talents clash as the Osaka side's starting eleven featured an average age of 18.7, while the Nippon TV side featured six players at the age of 14.
It was Menina who took the initiative of the match as they showcased quick ball movements while keeping a good distance between each player. The first big chance of the match came in the fifth minute when Menina's MINOWA Chisato received a pass at the lefts side of the box before firing a shot that struck the cross bar. Following this shot, Cerezo gradually gained back their composure and started to take advantage of their speed. In the 10th minute, TAKARADA Saori broke through and struck a shot that threatened Menina's goal. Just five minutes later, YAKATA Miyu's cross came close to creating an opportunity for the Osaka side. The opening goal came in the 27th minute, when Cerezo moved the ball around with great pace before sending a cross to Takarada, who struck a superb left-footed volley to capture the goal.
The second half saw Menina showing great ball movements while keeping quick transitions between their offence and defence to put up an equally matched battle against the senior side. With their mobility, Menina created numerical advantages in numerous situations and threatened the opposing goal. However, Cerezo showcased their rich endurance to battle against the youthful Menina side and held onto their one goal lead, advancing through to the third round.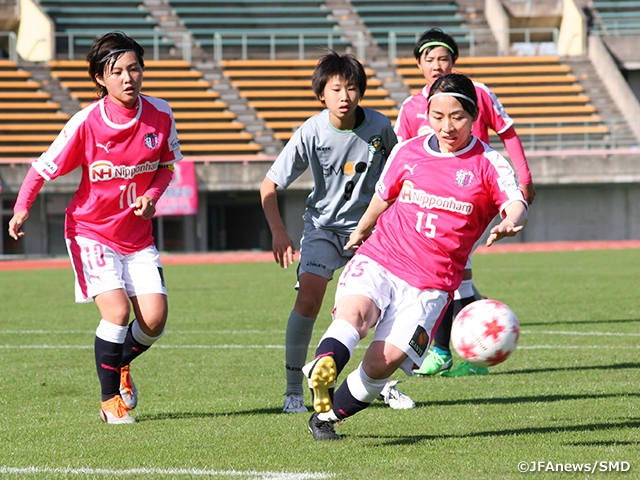 Pick-up Match 2
Mynavi Vegalta Sendai Ladies (Nadeshiko 1st Div./Miyagi) 2-0 (0-0, 2-0) Waseda University (Kanto1/Tokyo)
Mynavi Vegalta Sendai Ladies and Waseda University clashed in the second match.
Following last year's campaign where they defeated the Nadeshiko League champions INAC Kobe Leonessa to advance through to the quarterfinals, Waseda University sought for another giant killing performance against Vegalta Sendai. The university side collected the ball to their two forwards as they anticipated for their opportunities, while Vegalta utilised the width of the field to create their chances. Despite their efforts, Vegalta struggled to pick up their momentum as they failed to evade the pressure applied by Waseda, and their forwards were caught offsides in many occasions.
However, following the halfway mark, Vegalta gradually found their rhythm. As Coach CHIBA Yasunobu later described, "I told my players to take on the opponents with their individual skills and through balls to create opportunities," the Sendai side showed more aggression in their attacks and increased their time in offence. As Waseda started to showcase a sing of fatigue, Vegalta captured the opening goal in the 66th minute. After they earned their first corner kick of the match, they managed to capitalise on this opportunity as defender SAKAI Yuki headed the ball into the net. Following another close attempt off a corner kick in the 82nd minute, Sakai once again registered a goal from a corner kick in the 87th minute, giving her side a 2-0 victory at the second round.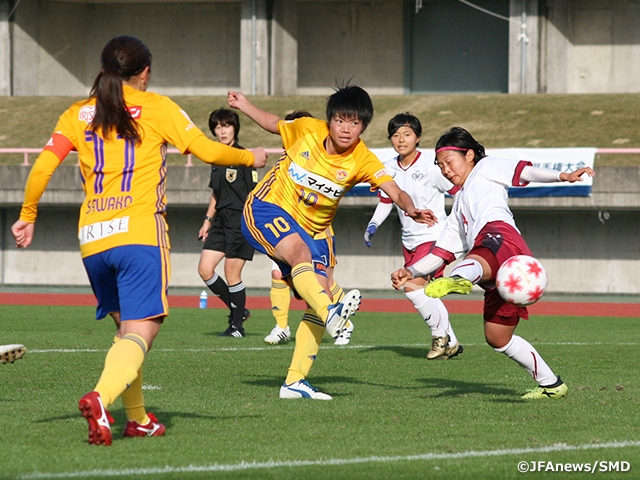 The remaining eight matches of the second-round will be played on Sunday 25 November to determine the fixtures for the round of 16.
Coach and Players' Comments
TAKARADA Saori (CEREZO OSAKA SAKAI LADIES)
With this match being played at our home city, we had many people coming to watch us including little kids, so I really wanted to score a goal for them. In the scene where I scored the goal, the cross came in a perfect timing, so I just had to connect with the ball and I am glad I was able to earn results here. This year, I was given the opportunity to win the world title with the U-20 Japan Women's National Team and gained great confidence as a player. It also gave me a stronger urge to play against more teams from abroad. We struggled to play our style of football in our club this season, but we know what we must work on, so we will continue to improve ourselves and build on our achievements to leave a positive result at this Empress's Cup.
FUNAKI Nodoka (Nippon TV Menina)
With the team missing five players who were selected into the U-17 Japan Women's National Team, majority of the players were junior high school students, so we had nothing to lose and that allowed us to attack aggressively from the front line. We managed to showcase our style of football with lots of ball possession, but we lacked quality in our final third. We faced a stronger opponent compared to the first round and we couldn't finish our plays with a shot in many occasions. We will utilise this experience of facing a higher ranked opponent at this Empress's Cup to perform well at the upcoming U-18 Japan Women's Football Championship.
SAKAI Yuki (Mynavi VEGALTA SENDAI LADIES)
Our opponents have beaten INAC Kobe last year, so we tried not to get overwhelmed by their momentum. We struggled against their defence in the first half, which limited our options, but as a team competing at the Nadeshiko League, we had to show our pride and strengths, so we entered the second half with a strong intention. We managed to take advantage of our speed in the second half and created more opportunities. Although I am a defender, I want to earn results, and set plays are always a great way to seek for opportunities. So, in that sense, I am glad I was able to score two goals today.
KAWAKAMI Yoshio, Coach (Waseda University)
Of course, we entered the match with the intention to win, so this was an unfortunate result. This tournament has been our goal throughout the year, and we wanted to make a deeper run than last year. Although there were some players who played in the tournament last year, as a university team, each year the team is consists with mostly fourth year players. So, this year is a totally different team from last year. We entered the match with the intention to apply pressure from the front line and utilise the spaces in the flanks to initiate our offence, but we couldn't create an effective attack and faced a difficult match. In our usual matches, we tend to have the upper hand in set plays, but today, our opponents had the edge in that aspect.
Empress's Cup JFA 40th Japan Women's Football Championship
Tournament Dates:Sat. 3 November 2018 - Tue. 1 January 2019
【1st Round】Sat. 3 & Sun. 4 November 2018
【2nd Round】Sat. 24 & Sun. 25 November 2018
【3rd Round】Sat. 1 & Sun. 2 December 2018
【Quarterfinals】Sat. 22 December 2018
【Semi-Finals】Sat. 29 December 2018
【Final】Tue. 1 January 2019