NEWS
JENESYS 2018 Japan-Mekong U-17 Football Exchange Tournament opens
06 October 2018
On Friday 5 October, the JENESYS 2018 Japan-Mekong U-17 Football Exchange Tournament opened at J-Village in Fukushima. The tournament is conducted as part of the "JENESYS 2018," a programme promoted by the Ministry of Foreign Affairs of Japan. Two fixtures were featured as the opening matches as the U-17 Shonan Bellmare and the U-17 Laos National Team, the U-17 Myanmar National Team and the U-17 Vietnam National Team each squared off against each other. The event will serve as an exchange platform for the youth in Japan and the five countries of the Mekong Region.
In the afternoon of this day, matches between the U-17 Shoshi High School and the U-17 Thailand National Team, the U-17 Japan National Team and the U-17 Cambodia National Team were conducted. Despite most teams did not have enough time to train after arriving at J-Village, the players showed great intensity to lighten up the action.
During their stay in Japan, players of the Mekong Region will participate in orientations and lectures conducted off the pitch to learn and experience the Japanese culture.
Coach and Players' Comments
Sarawut Suksawang, Coach (U-17 Thailand National Team)
The performance shown by the Japanese team was fantastic. Each player consists with great skills and they all understood the dynamics of the match. They also showed great intention and motivation to win the match. The opportunity to play against such high-quality team gives us a great learning experience. We hope to feed off of this experience and utilise it for our future growth.
Sieng Chanthea (U-17 Cambodia National Team)
I am happy that I was able to play against the Japanese players. They were all very skilled and seemed to communicate very well with each other. This whole environment is wonderful, as the facilities are clean, and the fields are very well organised. We came here not only to learn about football, but to learn about the Japanese culture as well as the cultures of other countries of the Mekong Region.
Sichanthavong Songkan (U-17 Laos National Team)
With this being our first match, I was very nervous. I was very moved by how organised the tournament was conducted. I hope to learn as much as possible so that I can contribute for the growth of football in Laos, and hopefully be able to help the Lao Football Federation as well.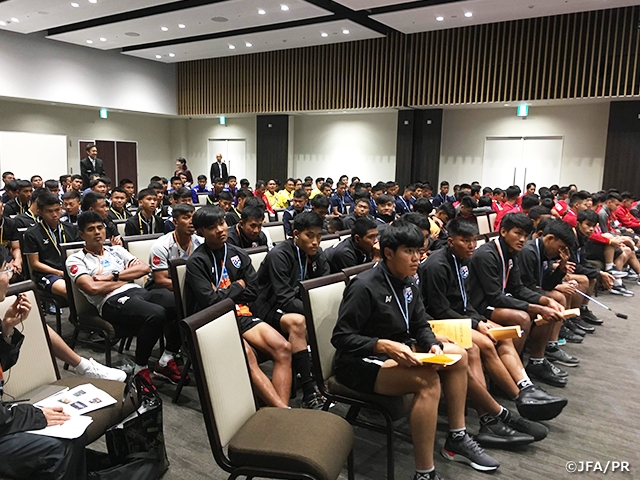 JENESYS 2018 Japan-Mekong U-17 Football Exchange Tournament
Tournament Dates: Fri. 5 - Mon. 8 October
Tournament Information