NEWS
Kashiwa and Urawa share a point each in 8th Sec. of Prince Takamado Trophy JFA U-18 Football Premier League EAST
09 July 2018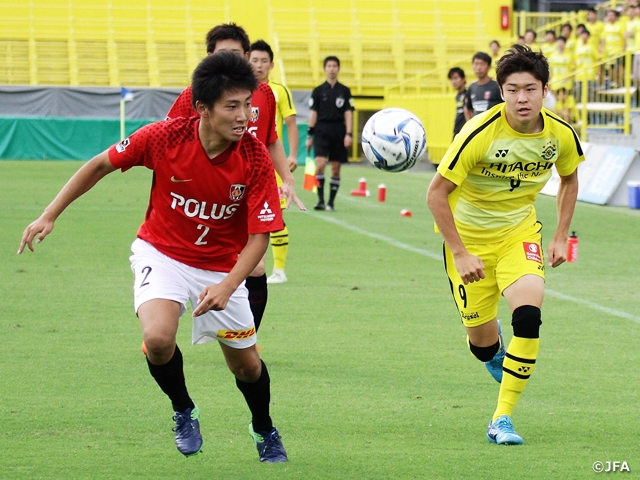 Pick-up Match
Kashiwa Reysol U-18 2-2 (2-2, 0-0) Urawa Red Diamonds Youth
On Saturday 7 and Sunday 8 July saw the eighth Sec. of the Prince Takamado Trophy JFA U-18 Football Premier League EAST in play. Sixth place Kashiwa Reysol U-18 (Chiba) welcomed fifth place Urawa Red Diamonds Youth (Saitama) to the Sankyo Frontier Kashiwa Stadium, which is the home field of their top team.
Urawa's Coach UENO Yusaku took a passive approach as his team has conceded goals in the first half in their matches played during the league break. On the other hand, Kashiwa's Coach YAMANAKA Shin described their experience playing at their home stadium as, "It gives us great enthusiasm," and demanded his players to "Play their usual style and evade the opponents' pressure to penetrate the open space." Led by midfielder YAMASHITA Yudai (#7), the home side created chances through their skilful ball movements. In the 15th minute, forward TSUTSUMI Kenta (#8) produced an opportunity with his dribble, allowing his fellow forward MORI Kaito (#9) to score the opening goal.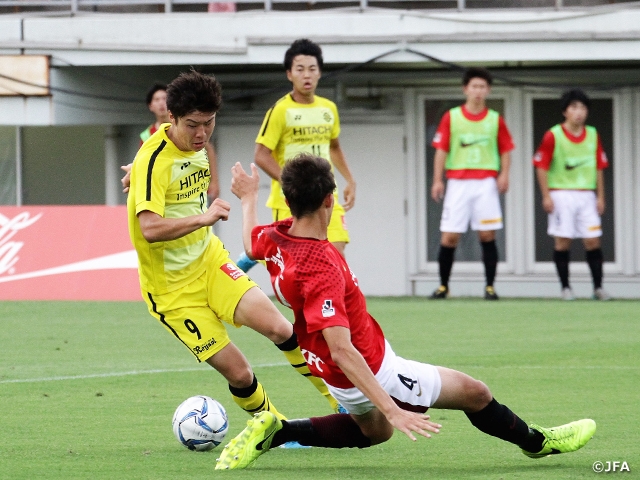 As Coach Ueno later praised his side, "Our players have great mentality," Urawa rallied back immediately after giving up the opening goal. In the 18th minute, the visiting side earned a penalty kick off a handling foul from the opposing defender. Midfielder IKETAKA Nobuki (#10) calmly converted the spot kick to level the match. However, Kashiwa responded with their version of rally in the 29th minute, when SHODA Norihiro (#11) made a superb individual effort to score the go-ahead goal to retake the lead.
Just as the momentum has seemingly shifted prior to the end of the first half, Urawa showcased their tenacity. In the 45th minute, Iketaka delivered a cross towards the near-post off a freekick they have earned in the left flank. Defender KITAMURA Ryoma (#2) ran in to connect with the ball and capitalised their final opportunity of the half, sending the match into half time with an even score of 2-2.
The second half saw the home side connecting the ball well to create their rhythm, while the visiting side delivered simple long balls to penetrate the space. However, both sides displayed persistent defence as all the defenders kept their concentration at a high level. Kashiwa had to change their system with a player being forced out with illness, while Urawa substituted numbers of attacking players, but both sides came short from scoring the decisive goal. After the full 90 minutes of play, the match ended with a final score of 2-2.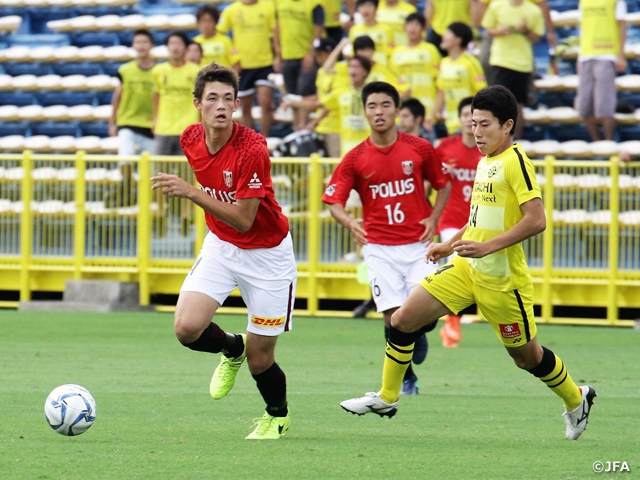 Coaches' and Players' Comments
YAMANAKA Shin, Coach (Kashiwa Reysol U-18)
We knew the Urawa side will utilise long balls from their own half, so we focused on keeping our defence compact and collecting the second balls. Urawa is also good at creating chances from their short combinations, so I told my players to challenge the ball while creating coverage at all times. Although we managed to do just that, but we gave up too many fouls, so that must improve.
DF #4 SUGII Hayate (Kashiwa Reysol U-18)
Despite scoring the opening goal in a good rhythm, we couldn't control the match after the goal. We gave up goals from unnecessary penalty kick and free kick, so that's something we must fix. The Urawa side showed great tenaciousness in fifty-fifty balls and we were a little passive in that aspect. We would like to continue striving to play our style of football while winning those individual battles in the match.
UENO Yusaku, Coach (Urawa Red Diamonds Youth)
It was a tough match for us. We planned on utilising our big players upfront by feeding long balls, but because we conceded early, it made it tough for us to pursue our game plan. It hasn't been long since I was appointed as the coach of this team, so I am still in the process of facing each player one by one and determining the right approach for this team. I haven't been able to implement the league dynamics in our game plans and share the analytical information to each player yet, so that's something we must work on moving forward.
DF #8 SHIRATO Daiki (Urawa Red Diamonds Youth)
We have conceded first half goals in each of our three matches since the Premier league has presumed. We once again made the match tough on ourselves. This is something we must fix. We must take a better approach when the opponents utilise the space behind our defence line, and we must think of ways to deny them from creating goal scoring opportunities. The team also must be keener to score goals. However, we did a good job of resetting our minds to rally back after getting scored on today.
Results of other matches
EAST
Ichiritsu Funabashi High School 2-2 (0-0, 2-2) FC Tokyo U-18
Toyama Daiichi High School 0-2 (0-0, 0-2) Kashima Antlers Youth
Jubilo Iwata U-18 4-0 (1-0, 3-0) Ryutsukeizaidai Kashiwa High School
Aomori Yamada High School 3-3 (3-3, 0-0) Shimizu S-pulse Youth
Ichiritsu Funabashi High School (Chiba) and FC Tokyo U-18 (Tokyo) shared a point apiece after both teams scored two goals each. Kashima Antlers Youth (Ibaraki) remained in first place after beating Toyama Daiichi High School (Toyama) with the help of the two goals scored by their midfielder MAEDA Taira (#10). Jubilo Iwata U-18 (Shizuoka) welcomed Ryutsukeizaidai Kashiwa High School (Chiba) to their home field as they recorded back-to-back victories led by midfielder SEITA Naoya's (#9) sixth minute goal, which was followed by three more goals in the second half. Despite SAITO Sena's (#10) efforts to score a hattrick, Shimizu S-pulse Youth's (Shizuoka) allowed Aomori Yamada High School (Aomori) to level the match as both teams shared a point each.
WEST
Gamba Osaka Youth postponed Vissel Kobe U-18
Cerezo Osaka U-18 1-0 (0-0, 1-0) Hannan University Senior High School
Avispa Fukuoka U-18 postponed Sanfrecce Hiroshima F.C Youth
Nagoya Grampus U-18 0-1 (0-0, 0-1) Kyoto Sanga F.C. U-18
Yonago Kita High School 0-2 (0-1, 0-1) Higashi Fukuoka High School
In the match between Cerezo Osaka U-18 (Osaka) and Hannan University Senior High School (Osaka), Cerezo's forward FUJIO Shota (#18) scored the deciding goal in the 51st minute to give his side the victory. Kyoto Sanga F.C. U-18 (Kyoto) temporarily took the group lead after beating Nagoya Grampus U-18 (Aichi) with the 21st minute goal from their forward HATTORI Kohei (#9). Higashi Fukuoka High School (Fukuoka) faced Yonago Kita High School (Tottori), where Fukuoka's forward NAKAMURA Shunsuke (#23) earned a brace to collect three points. The matches between Gamba Osaka Youth (Osaka) and Vissel Kobe U-18 (Kobe), Avispa Fukuoka U-18 (Fukuoka) and Sanfrecce Hiroshima F.C Youth (Hiroshima) were postponed due to the historic torrential rain that struck the western region of Japan.

Tournament Period:Sat. 7 April 2018 ~ Sun. 9 December 2018