NEWS
Semi-finalists are decided in JFA 17th O-50 Japan Football Tournament
09 July 2018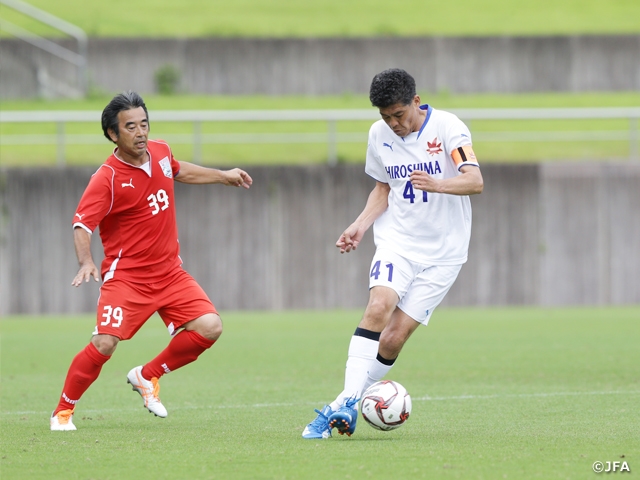 Sunday 8 July saw the second day of the JFA 17th O-50 Japan Football Tournament. The second and third Sec. of the first round were held, and the four teams qualifying for the semi-finals were determined.
None of the teams clinched their spot into the next round even after the second Sec. was played, as the tournament saw an equally matched competition throughout the groups. Hiroshima Forties (Chugoku 1/Hiroshima) in Group A, who could not make it on the first day due to torrential rain, showed up for the 2nd Sec. to beat Muroran Senior 50 Soccer Club (Hokkaido 1) 3-0. With their advancement into the semi-finals at stake the team went onto play against Yaizu Tobiuo Soccer Club (Shizuoka) in the third Sec. With the stakes raised high, both teams stayed competitive in this aggressive match, which saw some players removed from the match due to injury. However, despite their efforts, both teams failed to score the deciding goal as the match ended in a scoreless draw. As a result, MITAKA EAGLES (Kanto 2/Tokyo), who won against Muroran 1-0 in the other match in Group A, qualified for the semi-finals.
In Group B, the two teams recording a victory in the first Sec., Fukuoka Tobiume Senior Soccer Club (Kyusyu 2/Fukuoka) and Hyogo Soccer Club (Kansai 1/Hyogo) squared off in the second Sec. Hyogo scored the opener early in the match, as YAGI Seigo skilfully delivered a corner kick with the outside of his foot which was converted by NAGAE Kazuomi, who was anticipating the cross inside the box. The defending champions, Fukuoka, rallied back to dominate the match after this goal but the Hyogo side showed a tenacious effort to defend their goal. Hyogo's OH Dong Gun later commented, "We threw out our bodies and defended with our heart." In the second half, Yagi once again assisted a goal, this time from a free kick to give his side a two-goal lead. Hyogo went onto win the match with a final score of 2-0. Despite Fukuoka's effort to beat Conveni-Nakamura (Shikoku 1/Kochi) 6-0 in the 3rd Sec., Hyogo drew with Alfoot Azumino Senior (Hokushinetsu/Nagano) 0-0 and successfully clinched their spot into the final round.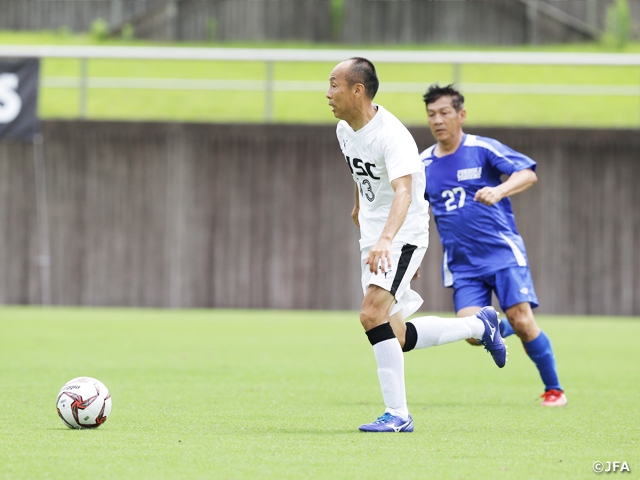 Nakatsu OB Soccer Club (Kyusyu 1/Oita), who was leading Group C after the first day, bested Matsue District Senior Soccer FC Dan-Dan (Chugoku 2/Simane) 1-0 in the second Sec. With the momentum on their side, Nakatsu won against Miyagi Shijukara Soccer Club (Tohoku/Miyagi) in the third Sec., topping Group C with three consecutive victories.
Group D saw Nicols FC Senior (Kansai 2/Osaka) advancing to the next stage with three wins as well. The team defeated Gifu Kawasaki FC (Tokai/Gifu) 3-0 in the 2nd Sec., followed by a win against Kagawa FC50 (Shikoku 2/Kagawa) in the final Sec. with two goals including NAKATSUKA Yasuhiro's shot. The team recorded the most goals scored in the first round with their eight goals.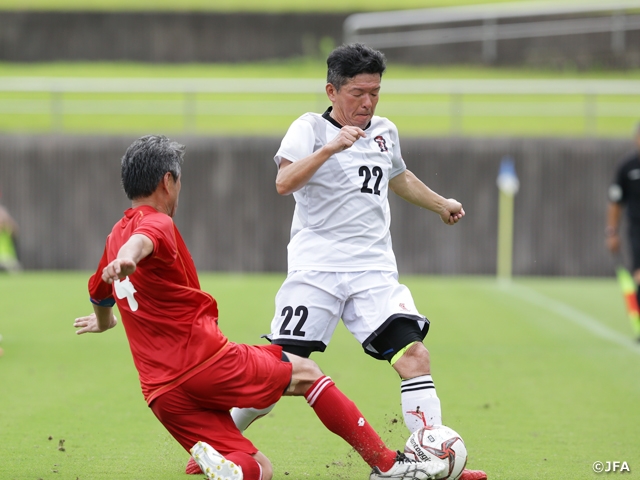 The final round will be held on Monday 9 July, as the three matches (semi-finals and final) will take place at the Fujieda Sports Complex Park Soccer Stadium and the Fujieda Sports Complex Park Athletic Field. MITAKA will meet Hyogo, while Nakatsu will play against Nicols in the semi-finals.
Players' Comments
SHIBATA Katsuya (Hiroshima Forties)
We entered this year's tournament with a strong intention to win the title, but with the horrific disaster that struck Hiroshima, we had to forfeit our first match. Even though we managed to put up a team on day two, we couldn't get all the players we planned on, and we were forced to play a field player in goal. The 25 members who managed to be here came with a strong obligation to represent Hiroshima, all of the members who couldn't make it here, and everyone who are putting in tireless efforts into the disaster reconstruction. The result was unfortunate, but I think we managed to showcase our style of total football where every player played and contributed for the team. I would like to thank the tournament committee's thoughtfulness, all the support from our families, teammates, tournament staffs, and the referees. We will continue to play with all the respect to others and strive to comeback to this National Championship next year.
NAGANO Toshiyuki (Conveni-Nakamura)
We have all played with each other back when we were young, and we've decided to form this team after we entered our fifties. As a team, we know each other very well, and our strong bond allows us to cover each other's weaknesses. However, with the recent disastrous weather, we couldn't enter the tournament with our best members and couldn't showcase our best performance. With our team's motto of, "having fun, no injuries, and score goals," we will do our best to win in next year's Championship.
UENO Akihiro (Miyagi Shijukara Soccer Club)
For many of our members, this was their first National Championship, so we looked a bit rattled. We seemed to rush our plays on the pitch and failed to make the necessary adjustments. Our team's strengths lie on our ability to force turnovers from our front line, but we couldn't display that aspect. It was a disappointing tournament for us, but we will feed off of this bitterness and rebuild our team ahead of the local qualifiers. We will do our best to come back to this stage next year.
KIMURA Kazuyasu (Kagawa FC50)
Knowing that our hometown has been struck by horrific floods, we wanted to bring back a positive result from this tournament, however, we suffered three straight losses. Reflecting back, we entered the tournament in bad shape, and if we could have done a better job in our first match, maybe the results would've been different. We did manage to cover our lack of skills by a collective effort shown by the team. We wanted to fight for the teams and players we have trained with, especially those from Kochi, Hiroshima, and Shimane. The result was not as we wished for, but we will reorganise what we lacked and work towards next year's tournament.

JFA 17th O-50 Japan Football Tournament
Tournament Dates: Sat. 7 July - Mon. 9 July 2018
Tournament Site: Fujieda City, Shizuoka