NEWS
JFA Academy Sakai hold "Accomplishment Presentation"
13 February 2015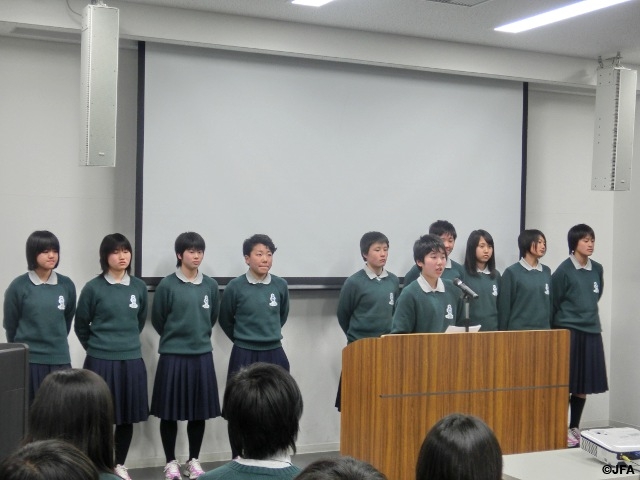 "2015 JFA Academy Sakai Accomplishment Presentation" was held on Wednesday 11 February at J-GREEN Sakai. JFA Academy Sakai invited various groups of people who support the students such as parents, the JFA Academy supporting group, teachers from Tsukisu Junior High School, staff members of J-GREEN Sakai and DREAM CAMP in order for the students grouped by their grade to present their accomplishment throughout the year and preliminary study for their oversea trip. The students of the inaugural class made a speech looking back their three-year spell in the academy as their graduation is coming up next month.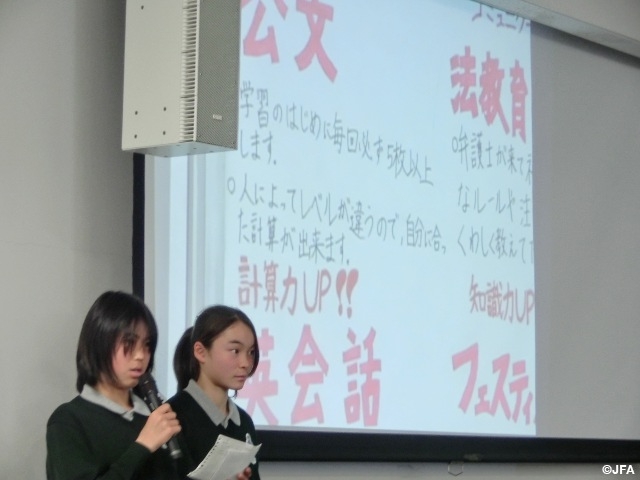 Academy Students Comments
HIRATA Hinano (2nd class, Junior High School 2nd Grade, Club: fc-vitoria)
We, as a class of 2016, made a presentation on "USA CAMP 2015," preliminary study for our trip we take off for this Saturday. I was able to explain that smoothly at the presentation. It was good that I was able to raise my voice and read slowly there compared to when I had a rehearsal. Listening to the presentation of the 2015 class, I was almost crying, when I imagined they experienced lots of feelings in the past three years. Next year, we are going to be the oldest. We will work hard to gain more memories during the remaining year so that we will be able to have a good speech in the presentation.
AOKI Natsumi (1st Class, Junior High School 3rd Grade, Club: Iga Football Club Kunoichi)
What I tried to convey in my speech was "Attitudes in our daily life and performances in football are all linked." I wanted to convey that because I actually experienced it. I sometimes didn't have good life attitudes, so I really regret it not doing that. I don't want students having life left here in the next year or next two years to experience the regret I actually had, so I told them with the best possible words I can use. Having done with this speech, I will try hard to convey that by my action in the rest of academy life.
IIDA Yurika (1st Class, Junior High School 3rd Grade, Club: Osaka Toin Flamingo Football Club)
My speech topic was "World." The reason why I used "World" was I said "I want to fly out to the world" as my resolution at the opening ceremony of this school and have always kept it in mind throughout my three year spell. When I was writing the speech script, I most struggled with how to express in my own style. At the presentation, I sometimes stuck in reading from being nervous even though I was smoothly reading at practices, but I managed to complete reading. The opportunity today made me look back my past three years and go through, figure out and understand my achievements. And I realised that we need to appreciate such an environment provided and shouldn't forget the gratitude. I will continue keeping "World" in mind and try lots of things with a feeling of gratitude.