NEWS
JFA Academy Fukushima Men's U-17/U-18 players return from national team activities
19 September 2019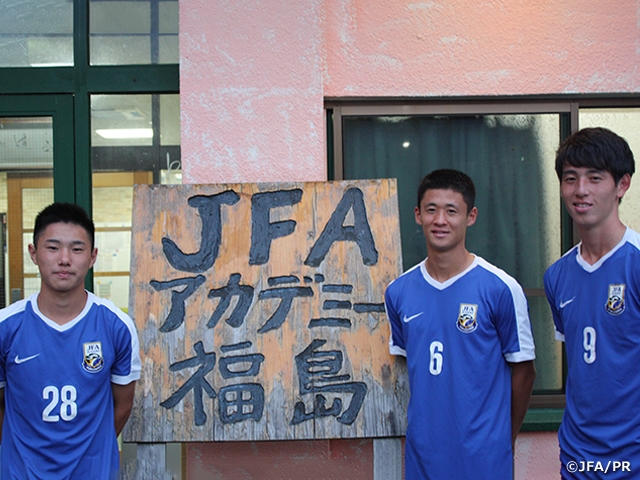 Ahead of the FIFA U-17 World Cup Brazil 2019, the U-17 Japan National Team has held a preparation camp in Ecuador from Monday 2 to Wednesday 11 September. From JFA Academy Fukushima, MITO Shunsuke (10th class) was selected to this squad.
The U-18 Japan National Team also held a tour abroad during the same period, as their final preparation tour ahead of the AFC U-19 Championship 2020 Qualifiers was held in Spain. Two players from JFA Academy Fukushima, UENAKA Asahi and KATO Hijiri (both 9th class), were selected to this travel squad.
Players' Comments
UENAKA Asahi (Entrance in 2014/9th Class)
This tour to Spain was the final tour abroad ahead of the AFC U-19 Championship 2020 Qualifiers for the U-18 Japan National Team, so we simulated our daily routines on and off the pitch, as if we were playing in the Asian qualifiers. On the pitch, we built our strategy to face teams with defensive approaches, which we may see in the qualifiers. Off the pitch, we made a habit of sanitising before eating our meals and to wait for the permission from the team doctor or trainer before eating vegetables and fruits. These are all important steps to win our matches as a team. We will implement everything we've learned through this tour to our daily routines and work to improve ourselves as a player. I will continue to give my best efforts to be selected to the national team again.
KATO Hijiri (Entrance in 2014/9th Class)
This tour to Spain was my second call-up to the national team. During this tour, we played a total of four matches, two against Scotland, one against Spain, and another match against a local club team, and we were able to finish the tour undefeated with a record of three wins and a draw. This tour has given us a good idea on where we stand in the world and what we need to do to compete at the world level. I was able to understand the team concept while showcasing my strengths as an individual player. There were many aspects where I felt I need to improve on, so I will continue to make my efforts to become a better player and hopefully get called-up to the final roster for the AFC U-19 Championship 2020 Qualifiers.
MITO Shunsuke (Entrance in 2015/10th Class)
This tour was designed to simulate the FIFA U-17 World Cup, so we were able to spend a productive time with a good amount of nervousness. However, the tour also made us realise many flaws of our team and individuals, so we must all take back what we've learned and work to improve ourselves ahead of the World Cup. We have only a month and a half left until the tournament and each player must strive to reach higher levels within the remaining time frame, so that we can enter the World Cup as a much improved team. I will focus on scoring goals more than ever and work hard every day to leave no regrets.