NEWS
【Scouting report】Aiming for first FIFA World Cup™ since 1982 by actively promoting players who are developing abroad - El Salvador National Team (KIRIN CHALLENGE CUP 2023)
05 June 2023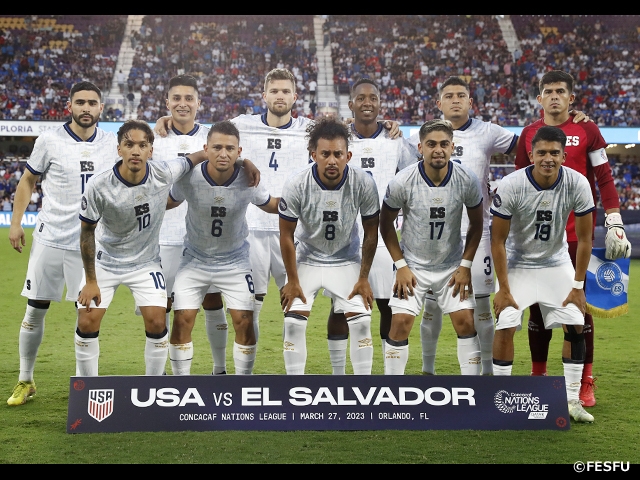 El Salvador has only played the SAMURAI BLUE (Japan National Team) once in the past. That match was played four years ago on 9 June at Hitomebore Stadium Miyagi (now Q&A Stadium Miyagi) in the KIRIN CHALLENGE CUP 2019, which Japan won 2-0 with the brace from NAGAI Kensuke. It was also the match in which KUBO Takefusa made his international A-match debut.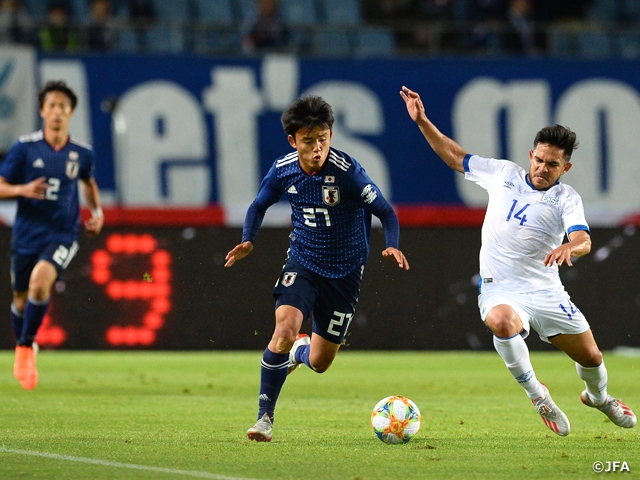 They have participated in the FIFA World Cup™ twice before, in the 1970 FIFA World Cup Mexico™ and the 1982 FIFA World Cup Spain™, both times losing all three group stage matches. In the last FIFA World Cup Qatar 2022™ qualifier, the team reached the final qualifying round, but failed to qualify after finishing seventh out of eight teams.
The team is currently aiming to qualify for the FIFA World Cup 26™, which will be co-hosted by the USA, Canada, and Mexico. With this World Cup being the first to include 48 teams, expanded from 32, and with the slots for the Confederation of North, Central America and Caribbean Association Football (CONCACAF) being increased from 3.5 to six, expectations are high for the El Salvador National Team to make their first FIFA World Cup™ appearance in 11 tournaments.
The team is led by Head Coach Hugo PEREZ, who took over in April 2021. He was born in El Salvador but moved to the USA at an early age and later represented the country in the 1994 FIFA World Cup USA™. He came to Japan as a member of the El Salvador National Team for the KIRIN CUP SOCCER '93 and scored the opening goal against Japan at Japan National Stadium.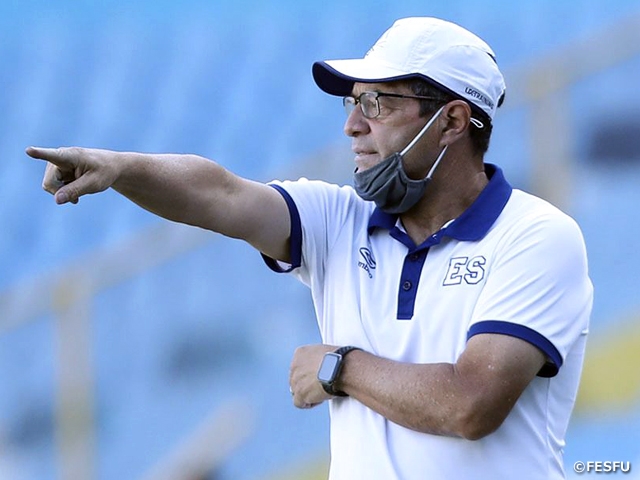 To bolster the team, coach Perez has actively recruited players who, like himself, have grown up outside the country and are qualified to play for El Salvador. The team has demonstrated a lot of potential despite the fact that the results have not always been favourable thus far, including a close 0-1 away loss to the USA in March of this year. Although they are often on the defensive end against stronger opponents, the players are highly skilled, and are capable of using their passing skills and sharp counter-attacks to close in on the opposition's goal.
With their sights set on their first World Cup appearance in 11 tournaments, the 2023 CONCACAF Gold Cup, to be co-hosted by the USA and Canada in June-July this year, will be a crucial step for the team. El Salvador will be looking to build on their East Asian tour, which includes a match against Korea Republic on 20 June, to prepare for the tournament that will decide the CONCACAF champions.
El Salvador National Team
Head Coach
Hugo PEREZ (USA)
Squad
GK
22 Oscar PLEITEZ (AD Isidro Metapan)
1 Mario GONZALEZ (Alianza FC)
18 Tomas ROMERO (Toronto FC/Canada)
DF
4 Eriq ZAVALETA (LA Galaxy/USA)
2 Erick CABALCETA (Alajuelense/Costa Rica)
12 William CANALES (Alianza FC)
21 Bryan TAMACAS (Oakland Roots/USA)
15 Alexander ROLDAN (Seattle Sounders/USA)
3 Roberto DOMINGUEZ (CD FAS)
5 Ronald RODRIGUEZ (CD Aguila)
MF
17 Jairo HENRIQUEZ (Colorado Springs Switchbacks FC/USA)
14 Christian MARTINEZ (San Carlos/Costa Rica)
6 Narciso ORELLANA (Alianza FC)
8 Brayan LANDAVERDE (CD FAS)
7 Joshua PEREZ (Montevarchi Calcio Aquila 1902/Italy)
23 Melvin CARTAGENA (CD Aguila)
13 Leonardo MENJIVAR (AD Chalatenango)
20 Walter PINEDA (CD Aguila)
16 Harold OSORIO (Chicago Fire FC/USA)
FW
11 Cristian GIL (CD FAS)
19 Kevin REYES (CD FAS)
9 Brayan GIL (Deportes Tolima/Colombia)
10 Mayer GIL (Alianza Petrolera/Colombia)
Results of last 10 matches (H: Home, A: Away, N: Neutral ground)
| | | |
| --- | --- | --- |
| 30 March 2022 | ●0-2 (A) Mexico | FIFA World Cup Qatar 2022™ qualifier (CONCACAF) |
| 24 April 2022 | ●0-4 (N) Guatemala | International friendly |
| 1 May 2022 | ○3-2 (N) Panama | International friendly |
| 4 June 2022 | ○3-1 (H) Grenada | CONCACAF Nations League |
| 7 June 2022 | △2-2 (A) Grenada | CONCACAF Nations League |
| 14 June 2022 | △1-1 (H) USA | CONCACAF Nations League |
| 27 September 2022 | ●1-4 (N) Peru | International friendly |
| 16 November 2022 | ●0-1 (A) Nicaragua | International friendly |
| 22 March 2023 | ●0-1 (N) Honduras | International friendly |
| 27 March 2023 | ●0-1 (A) USA | CONCACAF Nations League |
Record against Japan
1 loss (0 goals, 2 against)
| | | |
| --- | --- | --- |
| 9 June 2019 | ●0-2 | KIRIN CHALLENGE CUP 2019 |
Results at the FIFA World Cup™
Appearances: 2 times
Best finish: Group stage
1930 Did not participate
1934 Did not participate
1938 Did not participate
1950 Did not participate
1954 Did not participate
1958 Did not participate
1962 Did not participate
1966 Did not participate
1970 Group stage
1974 Eliminated in the qualifier
1978 Eliminated in the qualifier
1982 Group stage
1986 Eliminated in the qualifier
1990 Eliminated in the qualifier
1994 Eliminated in the qualifier
1998 Eliminated in the qualifier
2002 Eliminated in the qualifier
2006 Eliminated in the qualifier
2010 Eliminated in the qualifier
2014 Eliminated in the qualifier
2018 Eliminated in the qualifier
2022 Eliminated in the qualifier
| | |
| --- | --- |
| Association | Salvadoran Football Federation |
| FIFA Confederation | The Confederation of North, Central America and Caribbean Association Football (CONCACAF) |
| President | Humberto SAENZ |
| Official Site | http://www.fesfut.org.sv/ |
| FIFA Ranking | 75th (as of 6 April 2023) |