NEWS
【Scouting report】A South American powerhouse that is once again taking on the world with its traditional attacking football - Peru National Team (KIRIN CHALLENGE CUP 2023)
06 June 2023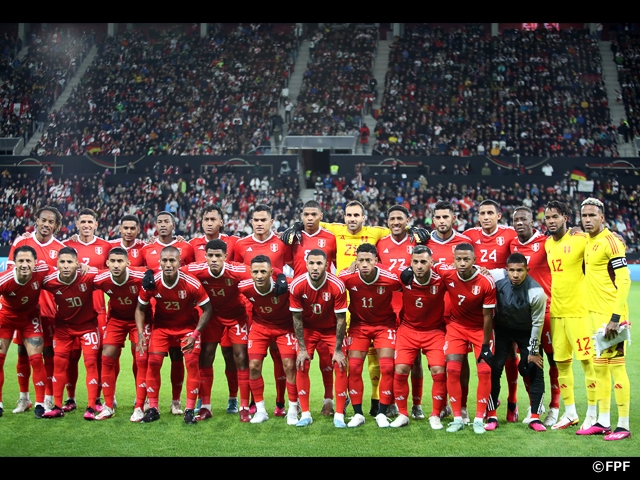 The Peru National Team, known for its first-choice kit of a white shirt with a distinctive red stripe running from the left shoulder to the right hip, will be making its first visit to Japan in 12 years. They last played the SAMURAI BLUE (Japan National Team) in the KIRIN CUP SOCCER 2011, against a team led by then Head Coach Alberto ZACCHERONI at Tohoku Denryoku Big Swan Stadium (now Denka Big Swan Stadium) in Niigata, which ended in a 0-0 draw.
Their first encounter with Japan dates back another 12 years, in the KIRIN CUP SOCCER '99. The match, played at International Stadium Yokohama (now Nissan Stadium), also ended in a scoreless draw. Shortly afterwards, Peru defeated Japan led by then Head Coach Philippe TROUSSIER 3-2 at the Copa America 1999 Paraguay, in which Japan was invited for the first time.
The golden age of the Peru National Team was in the 1970s. After beating Argentina and others in the qualifiers to earn a spot in the 1970 FIFA World Cup Mexico™, the team reached the quarterfinals in their first World Cup appearance in 40 years. The team also reached the top eight in the 1978 FIFA World Cup Argentina™, and in between these two World Cups, in 1975, the team won the Copa America for the first time in 36 years. The team became known for its attacking football, which made use of the high level of skills that each player possessed.
However, the team has since fallen away from the international stage and their last World Cup appearance came at the 2018 FIFA World Cup Russia™. They did not make it through the group stage but showcased an impressive performance in their second match against eventual champions France, in which they lost 0-1 despite keeping 56% of the ball possession. At last year's FIFA World Cup Qatar 2022™, they finished fifth in the South American qualifiers to clinch a place in the inter-confederation play-offs but narrowly missed out on a place in the World Cup after losing on penalties to Australia.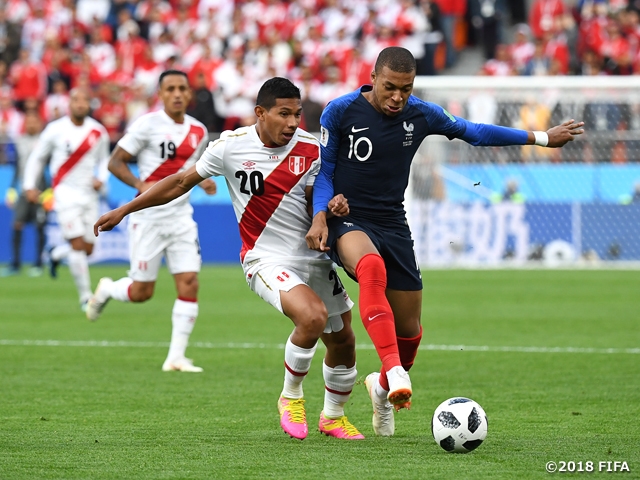 Since then, the team has hired Head Coach Juan REYNOSO in August last year. The former Peru National Team defender, who played in the aforementioned KIRIN CUP SOCCER '99, is looking to challenge the World Cup qualifiers scheduled to start this September and next year's Copa America with the team's quick transitions honed under former Argentinian coach Ricardo GARECA. In March this year, the team travelled to Europe with a squad that consisted many of the players from the 2018 FIFA World Cup Russia™, losing 0-2 to a strong German side, before drawing 0-0 with Morocco, who finished fourth in the FIFA World Cup Qatar 2022™.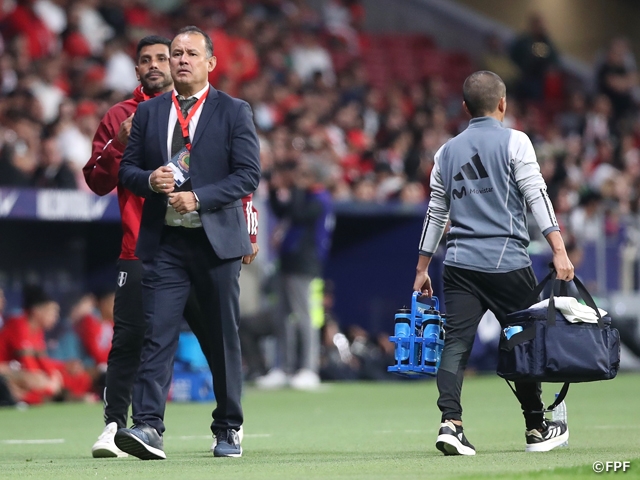 Peru National Team
Head Coach
Juan REYNOSO (Peru)
Squad
GK
21 Jose CARVALLO (Universitario)
1 Pedro GALLESE (Orlando City SC/USA)
12 Carlos CACEDA (FBC Melgar)
DF
5 Carlos ZAMBRANO (Alianza Lima)
4 Anderson SANTAMARIA (Atlas FC/Mexico)
22 Alexander CALLENS (Girona/Spain)
6 Miguel TRAUCO (San Jose Earthquakes/USA)
15 Miguel ARAUJO (FC Emmen/Netherlands)
2 Luis ABRAM (Atlanta United/USA)
3 Marcos LOPEZ (Feyenoord/Netherlands)
13 Jhilmar LORA (Sporting Cristal)
MF
19 Yoshimar YOTUN (Sporting Cristal)
10 Christian CUEVA (Alianza Lima)
16 Christofer GONZALES (Al-Adalah/Saudi Arabia)
20 Edison FLORES (Atlas FC/Mexico)
27 Wilder CARTAGENA (Orlando City SC/USA)
23 Pedro AQUINO (Club America/Mexico)
8 Sergio PEÑA (Malmo FF/Sweden)
11 Jesus CASTILLO (Sporting Cristal)
FW
9 Paolo GUERRERO (Racing Club/Argentina)
14 Gianluca LAPADULA (Cagliari/ITaly)
24 Alex VALERA (Universitario)
26 Bryan REYNA (Alianza Lima)
18 Christopher OLIVARES (Deportivo Municipal)
Results of last 10 matches (H: Home, A: Away, N: Neutral ground)
| | | |
| --- | --- | --- |
| 24 March 2022 | ●0-1 (A) Uruguay | FIFA World Cup Qatar 2022™ South American qualifier |
| 29 March 2022 | ○2-0 (H) Paraguay | FIFA World Cup Qatar 2022™ South American qualifier |
| 5 June 2022 | ○1-0 (N) New Zealand | International friendly |
| 13 June 2022 | ●0-0 (PK4-5) (N) Australia | FIFA World Cup Qatar 2022™ qualifier inter-confederation play-offs |
| 24 September 2022 | ●0-1 (N) Mexico | International friendly |
| 27 September 2022 | ○4-1 (N) El Salvador | International friendly |
| 16 November 2022 | ○1-0 (H) Paraguay | International friendly |
| 19 November 2022 | ○1-0 (H) Bolivia | International friendly |
| 25 March 2023 | ●0-2 (A) Germany | International friendly |
| 28 March 2023 | △0-0 (N) Morocco | International friendly |
Record against Japan
2 wins, 2 draws, 1 loss (4 goals, 4 against)
| | | |
| --- | --- | --- |
| 6 June 1999 | △0-0 | KIRIN CUP SOCCER '99 |
| 29 June 1999 | ○3-2 | CONMEBOL Copa America Paraguay 1999 |
| 22 May 2005 | ○1-0 | KIRIN CUP SOCCER 2005 |
| 24 March 2007 | ●0-2 | KIRIN CHALLENGE CUP 2007 |
| 1 June 2011 | △0-0 | KIRIN CUP SOCCER 2011 |
Results at the FIFA World Cup™
Appearances: 5 times
Best finish: Quarterfinals
1930 Group stage
1934 Did not participate
1938 Did not participate
1950 Did not participate
1954 Did not participate
1958 Eliminated in the qualifier
1962 Eliminated in the qualifier
1966 Eliminated in the qualifier
1970 Quarterfinals
1974 Eliminated in the qualifier
1978 Group stage (2nd round)
1982 Group stage
1986 Eliminated in the qualifier
1990 Eliminated in the qualifier
1994 Eliminated in the qualifier
1998 Eliminated in the qualifier
2002 Eliminated in the qualifier
2006 Eliminated in the qualifier
2010 Eliminated in the qualifier
2014 Eliminated in the qualifier
2018 Group stage
2022 Eliminated in the qualifier
| | |
| --- | --- |
| Association | Peruvian Football Federation |
| FIFA Confederation | South American Football Confederation (CONMEBOL) |
| President | Agustín Lozano |
| Official Site | https://fpf.org.pe/ |
| FIFA Ranking | 21st (As of 6 April 2023) |