NEWS
Furuhashi and Taniguchi among players returning to SAMURAI BLUE's squad for the KIRIN CHALLENGE CUP in June
26 May 2023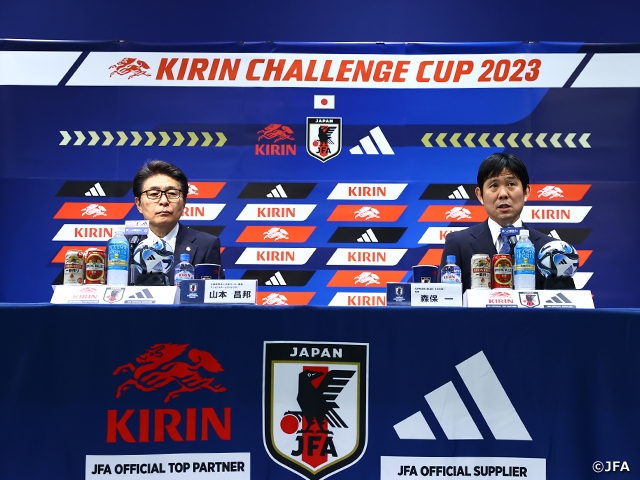 On Thursday 25 May, Head Coach MORIYASU Hajime of the SAMURAI BLUE (Japan National Team) appeared in a press conference to announce the squad for the upcoming KIRIN CHALLENGE CUP 2023 matches against the El Salvador National Team (Thursday 15 May at Aichi) and the Peru National Team (Tuesday 20 May at Osaka).
FURUHASHI Kyogo (Celtic FC), TANIGUCHI Shogo (Al-Rayyan SC), and NAKAMURA Kosuke (Portimonense) were among those making their return to the squad, while three players, including U-22 Japan National Team's KAWASAKI Sota (Kyoto Sanga FC), made their first call-up to the senior side.
The 26-man roster was centred around the players who were called-up for the KIRIN CHALLENGE CUP 2023 held in March, including familiar faces such as, MITOMA Kaoru (Brighton & Hove Albion FC), KUBO Takefusa (Real Sociedad), UEDA Ayase (Cercle Brugge KSV), ITAKURA Kou (Borussia MG), and ENDO Wataru (VfB Stuttgart).
Taniguchi and SOMA Yuki (Casa Pia AC) returned to the squad for the first time since the FIFA World Cup Qatar 2022™, while Furuhashi and HATATE Reo made their return since participating in the team's tour to Europe last September. For KAWABE Hayao (Grasshopper CZ) and Nakamura Kosuke, this was their first call-up since June 2021.
Three players from the J.League, Nagoya's MORISHITA Ryoya, Hiroshima's KAWAMURA Takumu, and Kyoto's Kawasaki, received their first call-up to the SAMURAI BLUE.
When asked about the composition of the squad, coach Moriyasu explained, "Of the players who have been showing up in our scouting reports, we selected those we would like to see how well they collaborate with other players and how well they understand team tactics."
The coach also added that, "We want to work with challenging targets so that we can add more depth to our squad and broaden the range of our team tactics."
It has been four years since Japan and El Salvador first met in the KIRIN CHALLENGE CUP in June 2019, in which Japan won 2-0. Japan's last five encounters with Peru have resulted in one win, two draws, and two losses, with the last meeting dating back to June 2011 at the KIRIN CUP Soccer, which ended in a scoreless draw. In the latest FIFA rankings, Japan is ranked 20th, while El Salvador and Peru are ranked 75th and 21st respectively.
After going winless in the pair of matches played in March, coach Moriyasu shared his aspirations for the upcoming matches, saying, "Unfortunately, we were unable to deliver a win to our supporters in March. This time, we will do everything in our power to celebrate our victory with our supporters."
The team will start their training camp in Chiba on Monday 12 June to prepare for the two matches, as the match against El Salvador will kick-off at 19:10 on Thursday 15 June at Toyota Stadium in Aichi, while the match against Peru will kick off at 18:55 on Tuesday 20 June at Panasonic Stadium Suita in Osaka.
Comments
MORIYASU Hajime, Head Coach of SAMURAI BLUE (Japan National Team)
This KIRIN CHALLENGE CUP is the team's second activity after the FIFA World Cup Qatar 2022™. We want to fight as a team to provide a victory that can please our home fans, especially after we failed to deliver a win in March. I plan to actively communicate with the players to urge them to play without the fear of making mistakes so that we can challenge ourselves to deepen our squad depth and broaden our team tactics against two excellent teams like El Salvador and Peru.
We focused on controlling the ball possession in the matches played in March, but this time our priority will be to initiate quick, goal-oriented plays. We want to keep the players on the same page in order to adapt a playing style that makes effective use of these two approaches. We also want to return to the fundamentals in the duels so that we can make the most of the players' skills and for us to take the initiative of the match.
Regarding the first-time selections and returning players, these are players who have been performing well and have been named in our scouting report. I have brought them in to see how they are doing, how they have developed, and what kind of strength they bring to the team. We want to see how well they fit in with the team and understand team tactics. Giving as many players as possible the chance to develop their match experience and tactical knowledge is crucial for creating the finest team possible since it enables us to ultimately choose the best players from a vast pool of candidates.
Many players of the Tokyo Olympics generation were on the team that competed in last year's World Cup, in fact, there were the most players ever to compete in a World Cup after having participated in the most recent Olympics. It showed the results of the "one team, two categories" approach, but I personally believe that we need to transform the team composition to a younger generation. Although we did a thorough and extensive scouting, we didn't come across many players from the categories below U-20 when we were compiling the shortlist for the FIFA World Cup Qatar 2022™. In order for Japan to compete on the world stage, we need to train our youth and increase their experience at the world's top level.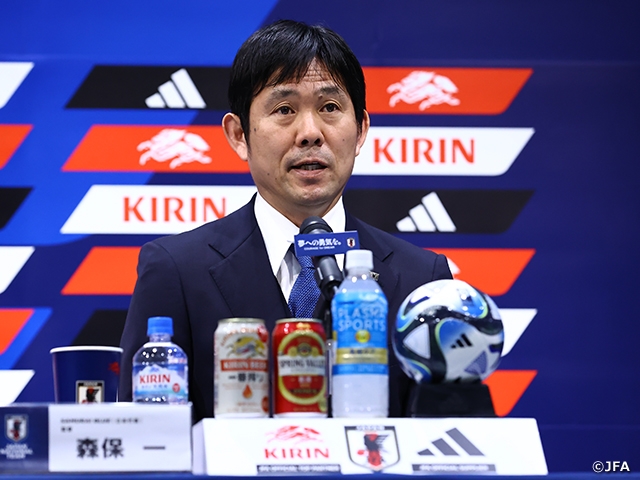 YAMAMOTO Masakuni, JFA National Team Director
Getting more players from the U-20 age group to represent Japan is a crucial part of Japan's roadmap to becoming world champions by 2050, and it is important for each category to work in collaboration with each other to make this a reality. In order to win the World Cup by 2050, we need to seriously look at how we can develop our youth one more cycle earlier, with a target of a top four finish by 2030. Coach Moriyasu and the coaching staff at each age group are working well together, so it is my job to quicken the cycle there. I strongly believe that this is a necessary component for Japanese football to rise to the top of the world, so I'm willing to give it my all to take on this challenge.