NEWS
SAMURAI BLUE's Coach Moriyasu hoping to put Panama in tough spot by applying pressure in both offence and defence
13 November 2020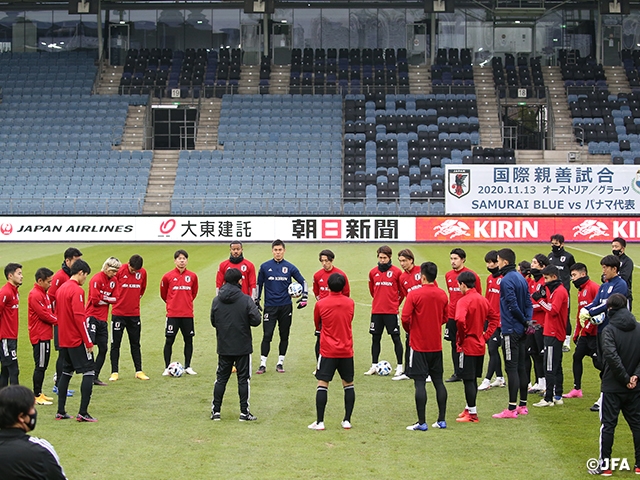 On Thursday 12 November, one day before their international friendly match against Panama National Team at Graz, Austria, coach MORIYASU Hajime of the SAMURAI BLUE (Japan National Team) appeared in an online press conference to share his aspiration to showcase a play style that would put their opponent in tough spots.
After a long delay caused by a worldwide spread of COVID-19, AFC has announced that the second round of the Asian qualifiers for the FIFA World Cup Qatar 2022™ will resume next March, making these two matches played in Austria the final prep-matches ahead of the Asian qualifiers.
Last month, the SAMURAI BLUE played their first match in nearly a year, as they faced Cameroon National Team and Cote d'Ivoire National Team at the Netherlands. The team made adjustments over the two match series, showing their adaptability and team growth. Following their Netherlands tour coach Moriyasu mentioned, "We hope to build on the team's foundation and improve in every aspect from our matches played in October." The Japanese coach continued by stating that his team will incorporate both fast breaks and slow build-up plays in their offence, while also emphasising on the ball possession. In defence, the coach mentioned that he will keep the players on the same page to put pressure on the ball with a more collective approach and try to put their opponent in tough spots.
Panama has made their first World Cup appearance in 2018, and the team is currently ranked 77th in the FIFA ranking (Japan is ranked 27th). This summer, the team has welcomed Thomas CHRISTIANSEN as their new coach. The Danish coach, who used to play for FC Barcelona and Villarreal CF, has led the team to win consecutive matches against Costa Rica National Team, who ranks 50th in the FIFA ranking, last month, despite having "Almost no time to prepare for the matches, due to the effects of the pandemic."
The team has rotated more than half of their squad since their last tour in October, selecting many players who plays in Europe. However, Abdiel AYARZA, who plays in the Peruvian League and scored the game winner in both of their previous matches, has returned to the squad, as coach Moriyasu commented, "His overlaps from the midfield left a strong impression."
Japan has faced Panama once in the past, where Japan won 3-0 at the KIRIN CHALLENGE CUP held in October 2018, which was coach Moriyasu's second match after taking the helm. Both teams have changed dramatically since, as coach Moriyasu shared his thoughts after observing Panama's most recent matches, "Panama is a strong team with great speed. They also have tremendous individual talents." The coach also mentioned, "They are capable of incorporating their individual strengths to their defence, while also making smooth transitions from defence to offence."
While being wary of their next opponent, coach Moriyasu also showed his confidence towards his team, mentioning that the team has shown their eagerness to improve over the short period of time. "The players are willing to challenge themselves to be more attack-minded and to heighten the quality of their plays in offence."
The match will take place at Stadion Graz Liebenau with a kick-off time of 15:15 (23:15 Japan time) on Friday 13 November. In efforts to prevent the spread of COVID-19, the match will be played without spectators. The SAMURAI BLUE is also scheduled to face Mexico National Team on Tuesday 17 (Wednesday 18 Japan time).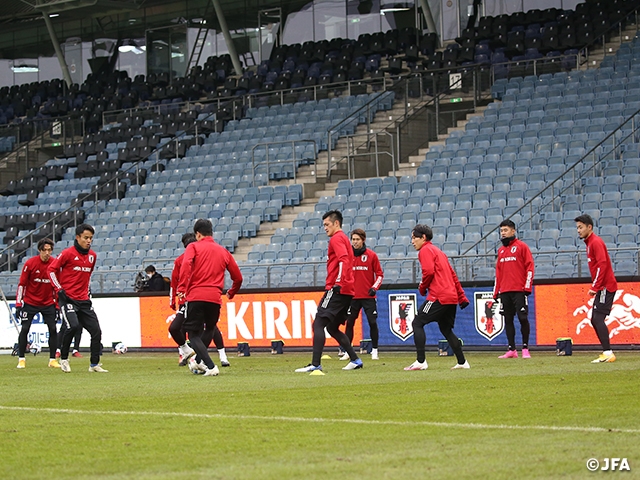 Coaches and Players' Comments
MORIYASU Hajime, Coach of SAMURAI BLUE (Japan National Team)
We would like to thank everybody who has made this national team activity possible during this difficult situation caused by the ongoing pandemic. There has been a slight change to our roster since last month, but we will work to deepen the team's mutual understanding, showcase our team's concept on the pitch, and strive to raise the overall level of the team in all aspects. In offence, we will incorporate both fast breaks and slow build-up plays, while also emphasising on the ball possession to create more opportunities. In defence, we will keep the players on the same page to put pressure on the ball with a more collective and aggressive approach and try to put our opponent in tough spots. We hope to utilise as many players as possible through the two matches. As a team, we will give our utmost efforts to win the matches and try to deliver joy to our fans and supporters.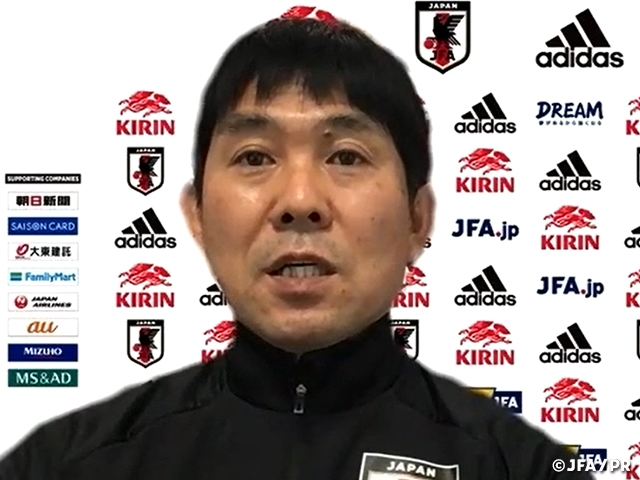 GK #12 GONDA Shuichi (Portimonense S.C./Portugal)
Although we have been able to keep clean sheets in back to back matches, we are not satisfied with our performance. In order for Japan to win at the World Cup, I must raise the level of my performance and try to contribute more for the team. Getting called up to the team is just a starting point. My performance and contribution on the pitch is what matters the most. With changes made to the squad and formation at each match, we must make small adjustments, but we are still making forward progress each time we play as a team, and I think that is a sign that everyone is doing their job on the pitch.
DF #22 YOSHIDA Maya (U.C. Sampdoria/Italy)
It goes without saying that we must perform well and win both matches, as there will be a long break until the team is reassembled in March. We might have been able to showcase a decent performance in our last match, but we must not get on our high horse and try to reset our minds to showcase an even better performance in this two-game series.
MF #6 ENDO Wataru (VfB Stuttgart/Germany)
We are given the opportunity to face two strong opponents, Panama and Mexico, so we must prioritise winning the matches while we work to keep our good form from our last tour. In order to make a deep run at the World Cup, we must play well against teams from Africa, Central and South America, so I am looking forward for these matches. Through the matches played in October, the team was able to showcase how we wanted to approach the match and managed to win the second match, so that was a positive series for us. We were able to apply good pressure from our frontline, so we hope to continue on that approach, while we try to raise the overall level of our performances.
MF #17 KUBO Takefusa (Villarreal CF/Spain)
I think it is ideal if we can have both options to either play flexibly according to our opponent or to take the initiative through our own football style. As a team, we must keep ourselves on the same page and strive to win both matches, regardless of who is on the pitch. In that sense, it is better if we can take more control over the match, so we will try to raise the intensity level from the beginning. One of the things I am focusing the most, is the quality of my plays at the final third. I hope to make a case for myself, while I am with the team. Regardless of how many matches I play, the most important thing is to contribute for the team, and in order to remain with the team, I will continue to work hard to earn positive results.
Thomas CHRISTIANSEN, Coach of Panama National Team
I have seen the matches played by Japan in October, and they showcased strong performances in both matches. Japan has many players playing at the top leagues in Europe, and they have plenty of experience. They seemed capable of playing with high intensity, make quick transitions, and apply pressure at a high degree of perfection. They will certainly provide us with a difficult challenge tomorrow, so we must be prepared. We may not have a star player, but we hope to showcase a competitive match tomorrow.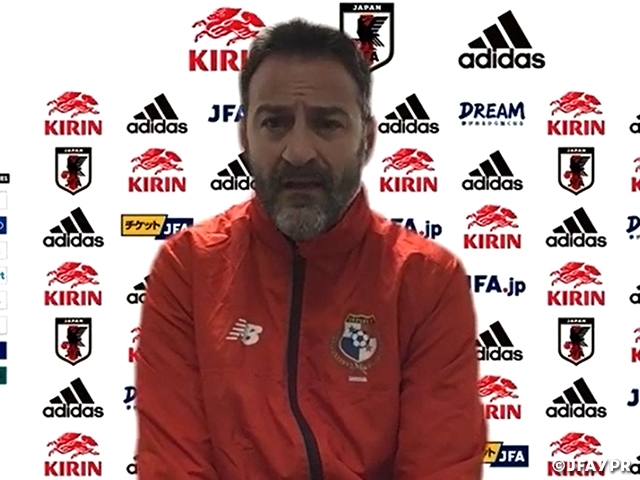 Schedule
Mon. 9 November
PM
Training
Tue. 10 November
PM
Training
Wed. 11 November
PM
Training
Thu. 12 November
TBC
Official Press-conference/Training
Fri. 13 November
15:15
International Friendly Match vs Panama National Team
(Stadion Graz Liebenau)
Sat. 14 November
PM
Training
Sun. 15 November
PM
Training
Mon. 16 November
TBC
Official Press-conference/Training
Tue. 17 November
21:00
International Friendly Match vs Mexico National Team
(Stadion Graz Liebenau)
*Schedule is subject to change
International Friendly Match
Fri. 13 November 15:15 (23:15 Japan time) vs Panama National Team
Tue. 17 November 21:00 (Wed. 18 November 5:00 Japan time) vs Mexico National Team
Venue: Stadion Graz Liebenau (Graz, Austria)