NEWS
SAMURAI BLUE win over Cote d'Ivoire with late goal scored by Ueda
14 October 2020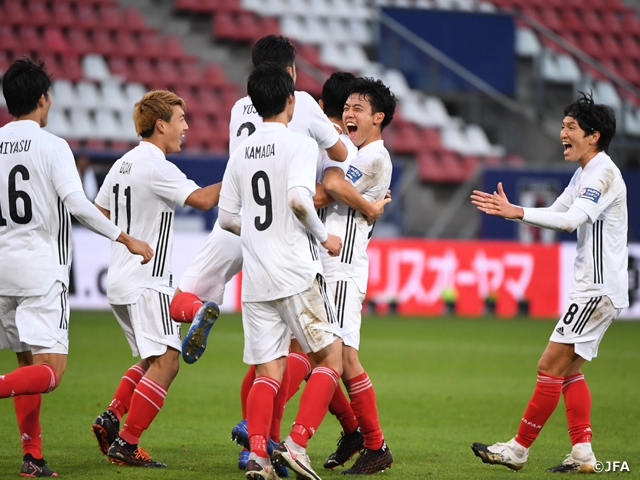 On Tuesday 13 October, the SAMURAI BLUE (Japan National Team) played in their second international friendly match of their Netherlands tour, where the team faced Cote d'Ivoire National Team. Late substitute UEDA Naomichi scored the decisive goal just before the final whistle to give the Japanese side their first victory since resuming their activity following the COVID-19 pandemic.
Four days after they drew 0-0 against Cameroon National Team, Japan entered this match against the African powerhouse with a four-back formation, while rotating eight players from their starting line-up. With SUZUKI Musashi playing up top, KUBO Takefusa, KAMADA Daichi, and ITO Junya played as the attacking midfielders, while ENDO Wataru was named into one of the defensive midfield positions. NAKAYAMA Yuta, who served as a defensive midfielder in the first match, was positioned as the left fullback, while MUROYA Sei took the field as the right fullback, and it was SCHMIDT Daniel who was named as the starting goalkeeper.
Cote d'Ivoire on the other hand, rotated four players from their 1-1 draw against Belgium, placing GERVINHO, Jumaa SAEED, and Nicolas PEPE upfront, while Eric BAILLY led their three man defence line, showcasing loads of talents who plays for top clubs in Europe.
The match started with Japan taking the initiative as Kubo responded to a cross delivered by Suzuki to strike a shot. In the 26th minute, Kamada struck a shot off a loose ball to threaten the opposing goal, followed by a cross sent by Kubo in the 34th minute that nearly connected with Suzuki in front of the goal. Defensive midfielder SHIBASAKI Gaku actively made runs upfront to add layers to the Japanese offence, forcing Cote d'Ivoire to switch their system to a four-back formation. Pepe struck a sharp shot at the end of the first half, but the attempt was blocked by the Japanese defence, as the match entered halftime scoreless.
The second half saw Cote d'Ivoire gaining momentum as Gervinho, who scored the decisive goal in the previous match between the two sides at the 2014 FIFA World Cup Brazil™, penetrated the Japanese defence line, setting up a close opportunity for Franck KESSIE in the 50th minute. Japan responded with a chance created by Ito in the right flank, which allowed Kamada to strike a shot, but his effort was blocked by the opposing GK.
In efforts to change the dynamics of the match, MINAMINO Takumi was brought into the match in the 61st minute, followed by HARAGUCHI Genki and DOAN Ritsu in the 73rd minute and 85th minute, respectively. Wish fresh legs added to their offence, Japan started to create more shooting opportunities to threaten the opposing goal.
While Japan gained momentum from their substitutes, Gervinho continued to lead the way for Cote d'Ivoire, as he drove into the box to take a shot in the 76th minute, but the shot was blocked by Nakayama. Coach MORIYASU Hajime made a late change to their defence, who had shown great composure throughout the match, as he brought in Ueda to replace Muroya and shifted to the system to a three-back formation in the 88th minute. This late substitute turned out to be the game changer for Japan in additional time. With time running out, Japan earned a free kick in the right side. Shibasaki delivered a high lobbing ball towards the far post, allowing Ueda to be in the receiving end of the delivery, as he sneaked up behind the Cote d'Ivoire defenders and struck a powerful header that pierced the net.
Ueda's first national team goal became the game winner for Japan, as they won the match 1-0. With this result, the SAMURIA BLUE earned their first victory of 2020.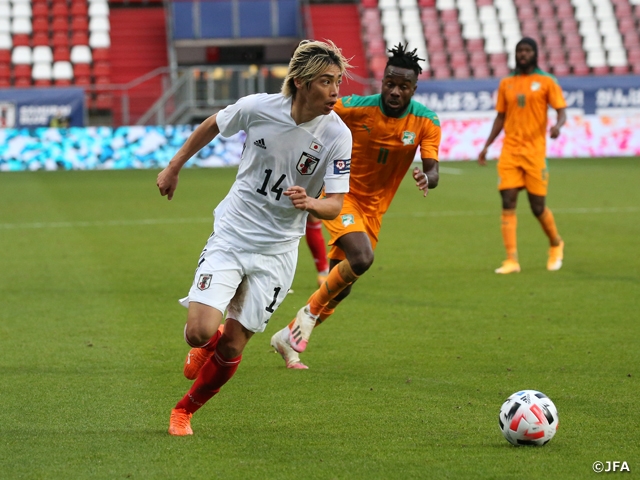 Coaches and Players' Comments
MORIYASU Hajime, Coach of SAMURAI BLUE (Japan National Team)
It was great to see our side managing to keep a clean sheet against Cote d'Ivoire, who recently drew against Belgium, and finish off the match strongly. I am satisfied with my players for getting their job done and showcasing their full potential in this match. The players on the bench also gave great energy to this team. Ueda has prepared well and entered this match with great focus, and all of that has led to this result. I made the decision to go four in the back because I though it would give us the best chance to win this match, and knowing Nakayama has played as a left fullback with his club, I decided to start him as a fullback today. I feel like we managed to try out most of the things we wanted to challenge during this tour. The players played with great courage and actively challenged what I have demanded from them. Facing quality teams with strong individual athleticism, we focused on making quick transitions. We managed to do a better job in the second match, as we made more collective efforts in defence while showing more composure in connecting the ball to build-up our offence. With the support of so many people, we were able to conduct this tour, and I would like to thank everyone who was involved to make this tour possible. I hope that our activity in Europe can lead to more sports organisations to resume their activities.
DF #2 UEDA Naomichi (Cercle Brugge K.S.V.)
I am genuinely happy. As a late substitute, my first priority was to keep the clean sheet, but I was also anticipating for an opportunity if there were any set pieces. I felt I was in great form in our training sessions, and my teammates were aware of that, too. Shibasaki and I were teammates at Kashima, so we were on the same page when we scored that goal. This goal gives me great confidence moving forward and I hope to use this experience to become a better player. I am committed to giving my best efforts on the pitch, regardless of how many minutes left on the clock. I feel like I can earn more results if I continue to work hard, so I will train hard each day and prepare myself in the best way possible.
DF #22 YOSHIDA Maya (U.C. Sampdoria)
I do not think we have ever defended so well against an African side before. Being able to earn a positive result against a team in top form gives us great confidence, but it is important that we continue with this trend. After struggling in our first match, we managed to make the proper adjustments in our second match. African teams have a tendency to leave the far post open in set-plays, and with time running out I thought they might be losing their focus, so I told Ueda and Tomiyasu to penetrate the far post, while also telling Shibasaki to target the far side. Ueda has shown during trainings that he is a tough opponent to mark against, and he has certainly proven that he can be a threat in set-piece situations. I would like to thank everyone who supported us to make this tour possible. This tour will not be a success until we all test negative for COVID-19 in our next test, so we will focus on our hygiene management.
MF #6 ENDO Wataru (VfB Stuttgart)
I feel like we managed to effectively apply pressure from the early minutes of the match. As a defensive midfielder, I focused on keeping my line hight, so that our attacking players can apply more pressure against the opposing defence line. We struggled to adjust against our opponent when they shifted their formation, but overall, we did a great job to apply pressure throughout the entire 90 minutes. We played with courage and did not back down against the opponent's pressure. Personally, I feel like I could have done a better job passing the ball in offence, but I am satisfied with my overall performance.
MF #9 KAMADA Daichi (Eintracht Frankfurt)
We created so many opportunities today, and I feel like we wasted too many chances. I made uncharacteristic mistakes in the first half. There were many scenes where I did not receive the ball even though I had no one covering me, and it tells me that I have yet to earn respect from my teammates. It was my first time playing in the number 10 role, so in a sense, I can only get better from this point. I am glad that I was able to play the entire 90 minutes and I am thankful to Ueda for saving us at the end.
FW #24 SUZUKI Musashi (Beerschot AC)
I was focused on making runs that can trouble the opposing defence line. There were several moments where I felt like I could have scored with the right delivery, so it was unfortunate that I ended scoreless today. However, I feel like our team vibe is getting better. As a forward, it is important that I am in position to give myself the best possibility to score a goal, so I will continue to make runs for it. I will continue to play with the confidence that if the ball comes to me, I can score a goal.
Patrice BEAUMELLE, Coach (Cote d'Ivoire National Team)
I am extremely upset with this result. We managed to enter the match in a decent form but conceded at the very end. I have demanded my players to showcase strong mentality throughout this tour, so this was a frustrating result for us. Japan was very well organised and showcased a great performance. In the first half, they were taking advantage of the open space in our defence line, so we made the change to switch our system to a four-back formation to adjust to their approach. Things seemed to be working fine until the end… We had many talented players upfront, but Japan is also the number one team in Asia, they did not give up any easy goals. I would like to congratulate Japan for their win.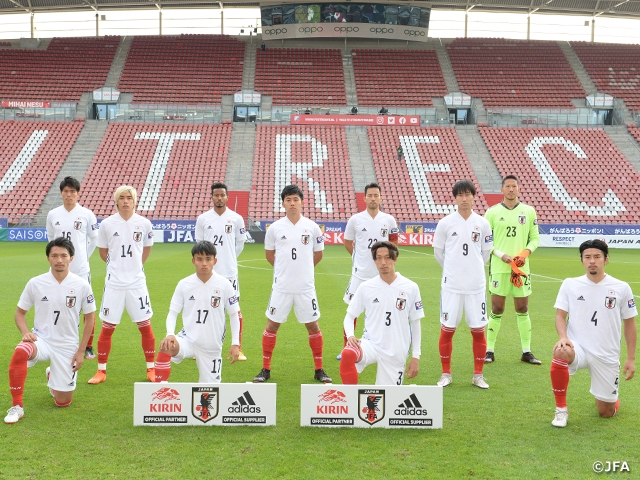 Schedule
Mon. 5 October
PM
Training
Tue. 6 October
PM
Training
Wed. 7 October
PM
Training
Thu. 8 October
TBC
Official Press-conference/Training
Fri. 9 October
0-0
International Friendly Match
vs Cameroon National Team (Stadion Galgenwaard)
Sat. 10 October
PM
Training
Sun. 11 October
PM
Training
Mon. 12 October
TBC
Official Press-conference/Training
Tue. 13 October
1-0
International Friendly Match
vs Cote d'Ivoire National Team (Stadion Galgenwaard)
*Schedule is subject to change
International Friendly Match
Fri. 9 October 2020 14:00 (21:00 Japan time) vs Cameroon National Team
Tue. 13 October 2020 16:45 (23:45 Japan time) vs Cote d'Ivoire National Team
Venue: Stadion Galgenwaard (Utrecht, Netherlands)