NEWS
SAMURAI BLUE finish as runners-up with loss against Korea Republic - EAFF E-1 Football Championship
19 December 2019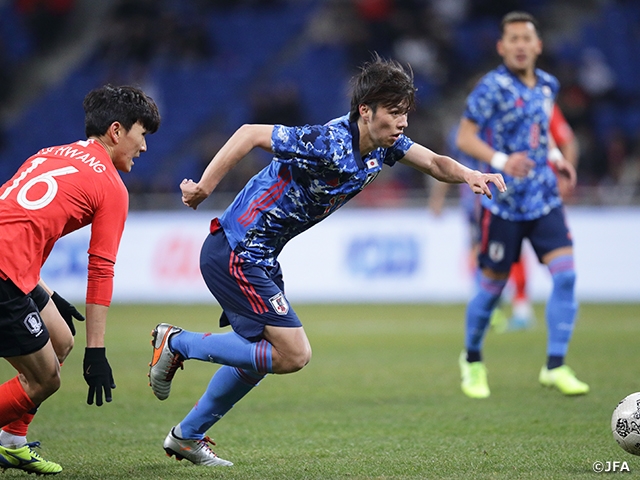 On Wednesday 18 December, SAMURAI BLUE (Japan National Team) played their third match of the EAFF E-1 Football Championship against Korea Republic National Team, where they lost 0-1 to finish as the runners-up of the tournament. With the win, Korea Republic claimed their fifth overall and third consecutive E-1 title.
After both teams entered the final match with two consecutive victories, Japan had the advantage in goal difference, needing a draw or better to claim the title, while Korea Republic needed a win. With the tournament title at stake, Korea Republic kept the starting line-up from their second match with the expectation of their goalkeeper position, as KIM Seunggyu was named to guard the goal. Despite missing their players who plays in Europe, the home side showcased great intensity to apply aggressive pressure from their frontline.
In search to win their first E-1 title since 2013, SAMURAI BLUE started the same line-up from their first match against China PR, except for the midfield position, where TANAKA Ao (Kawasaki Frontale) was paired with IDEGUCHI Yosuke (Gamba Osaka) at the centre.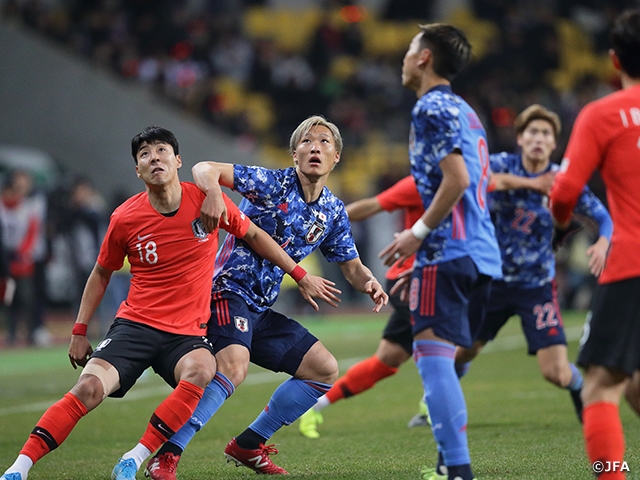 The match started with Korea Republic effectively utilising the width of the field to penetrate the open space in the flanks. With Korea Republic taking the initiative in the early minutes of the match, Japan was forced to be in the defensive end, as close opportunities were repeatedly created by the home side. With momentum on their side, Korea Republic scored the opening goal in the 28th minute, when KIM Jin Su dribbled up the left side before sending a pass to HWANG Inbeom, who struck a pin-point shot that pierced the Japanese goal, giving the home side the much needed lead.
In efforts to level the match, Japan made their efforts to press forward, but struggled against the quick pressure applied by the Korean players. In the 33rd minute, UEDA Ayase (Kashima Antlers) responded to a through ball sent by Tanaka, but his run was called offside.
With the team trailing a goal at halftime, coach MORIYASU Hajime brought SOMA Yuki (Kashima Antlers) in the left side to replace ENDO Keita (Yokohama F・Marinos), while bringing in OHSHIMA Ryota (Kawasaki Frontale) to replace Ideguchi in the 62nd minute.
While Korea Republic continued to threaten the Japanese goal through their sharp counterattacks, Japan started to create opportunities through their attacks from the flanks, as Soma made numbers of runs to penetrate the left side. In the 76th minute, Ueda reacted to a pass delivered by Morishima, but this play was called offside.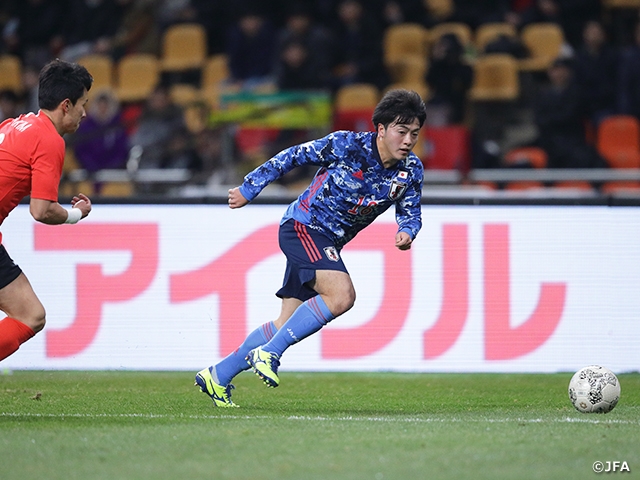 Japan utilised their final substitution in the 79th minute, as NAKAGAWA Teruhito (Yokohama F・Marinos) was brought in to replace SUZUKI Musashi (Hokkaido Consadole Sapporo). However, despite their final efforts to equaliser the match, Japan fell short from scoring the goal, finishing the match with a final score of 0-1. With this loss, Japan is kept winless against Korea Republic at the E-1 Football Championship in the past three tournaments, and their overall record is now 13 wins, 23 draws, and 40 losses.
Korea Republic have now won their third consecutive E-1 title, which is their fifth overall. Japan finished in second, China PR in third, and Hong Kong in fourth place. From Japan, Suzuki received the Brave Award and OGAWA Koki (Mito HollyHock) claimed the Top Scorer Award with his three goals. The tournament MVP was given to Korea Republic's HWANG Inbeom, along with his teammates KIM Seunggyu and KIM Minjae being awarded with the Best Goalkeeper Award and Best Defender Award respectively.
Coach and Players' Comments
MORIYASU Hajime, Coach of SAMURAI BLUE (Japan National Team)
First of all, I would like to congratulate Korea Republic for winning the title. We made our efforts for the title, but we fell short from it. We prepared ourselves in the best way possible to showcase our individual strengths and collective plays that reflects our team concept, but we were overwhelmed by our opponent's intensity and ended up giving up the initiative to our opponents. However, I am grateful for my players for showing great composure even after conceding the goal, and their tenacious efforts showcased throughout the match.
I told the players that before we talk about techniques and tactics, we have to win the battles in front of us. The players did well to enter the match with strong commitment, but Korea Republic overwhelmed us with their intensity. Even though we expected an intense match, the fact that we weren't able to cope against our opponent's pressure shows that I must do a better job as a coach to prepare our players for these kinds of matches. However, I don't think we were behind in a strategical sense. We lacked speed, timing, and strengths in each step to give our opponent the upper-hand. We must become able to win matches at this intensity level while showcasing our individual techniques. In order to win matches at the international level, the team must consist both strengths and techniques. I hope the players will learn from this experience and improve themselves to create a stronger version of Japan National Team.
DF #19 SASAKI Sho (Sanfrecce Hiroshima)
It is unfortunate that we couldn't win the title. We knew we were going to face a tough challenge against Korea Republic, but we were overwhelmed by our opponent's pressure in the early minutes of the match. It is important that we develop a team that can persevere against such stretches. It would have been better if we were able to show more ball movements to build our offence.
MF #9 SUZUKI Musashi (Hokkaido Consadole Sapporo)
This match made us realise that we must be able to play with confidence and showcase our usual performance even in an away game.
MF #14 MORISHIMA Tsukasa (Sanfrecce Hiroshima)
It took us a while until we got used to our opponent's speed. Our opponent utilised many long balls to force our defence line to drop deep. Korea Republic showed great accuracy to initiate their attacks in the early minutes, which allowed them to take the initiative of this match.
MF #16 SOMA Yuki (Kashima Antlers)
Although we had some moments where we managed to showcase multiple layers in our offensive, we also gave up many counterattacks to our opponent. When facing teams like Korea Republic, the speed of their counterattacks will be so much higher, and it is important that we manage the risks by keeping high possession of the ball. We saw plenty of room for improvements, so I will continue to work hard to build on my strong points and strive to become a better player.
MF #17 TANAKA Ao (Kawasaki Frontale)
We knew our opponent was going to come out with great intensity, so we had to endure the first half and keep a clean sheet to have a chance to win this match, but we ended up conceding a goal that gave our opponent more momentum. In order for us to reach higher levels, we must be able to keep clean sheets and create chances in matches like this.
Schedule
EAFF E-1 Football Championship 2019
Tue. 10 December
2-1
vs China PR National Team
(Busan Gudeok Stadium)
Wed. 11 December
TBC
Training
Thu. 12 December
TBC
Training
Fri. 13 December
TBC
Training
Sat. 14 December
5-0
vs Hong Kong National Team
(Busan Gudeok Stadium)
Sun. 15 December
TBC
Training
Mon. 16 December
TBC
Training
Tue. 17 December
TBC
Training
Wed. 18 December
0-1
vs Korea Republic National Team
(Busan Asiad Main Stadium)
*The schedule is subject to change due to the team condition, the weather, etc.
EAFF E-1 Football Championship 2019 Final Korea Republic
Tournament Dates: Tue. 10 - Wed. 18 December 2019
Tournament Venue: Busan Gudeok Stadium/Busan Asiad Main Stadium (Korea Republic)
Participating Countries: China PR, Japan, Hong Kong, Korea Republic