NEWS
SAMURAI BLUE's coach Moriyasu demands players to "Play with confidence" against Korea Republic - EAFF E-1 Football Championship 2019
18 December 2019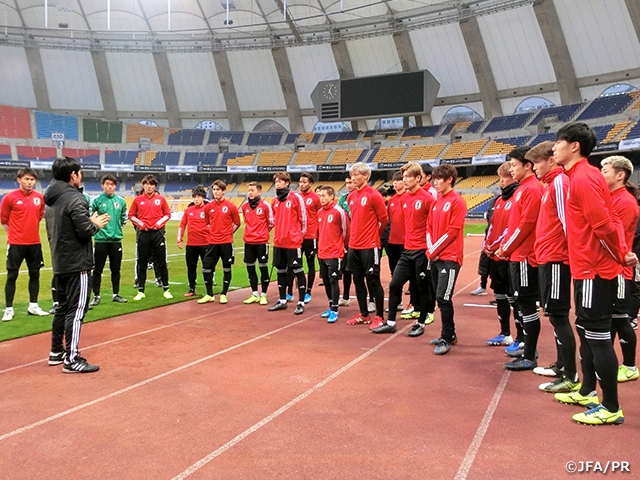 One day before their match against the Korea Republic National Team at the EAFF E-1 Football Championship 2019, the SAMURAI BLUE (Japan National Team) held their final training session on Tuesday 17 December, where coach MORIYASU Hajime mentioned, "I want my players to play with confidence."
While both teams will be entering the final match with two wins apiece, Japan holds the advantage over Korea Republic in goal difference, as the Japanese side can win the title with a draw in this match. Also, Japan will be entering the final match with an extra day rest following the second match.
The training session held at the match venue, Busan Asiad Main Stadium, was opened to the media for the first 15 minutes, where the players were seen going through their warmup routines while checking out the pitch condition. After the session went behind closed doors, the team went through various drills to work on their foot skills, before holding a scrimmage to go over the team's tactics.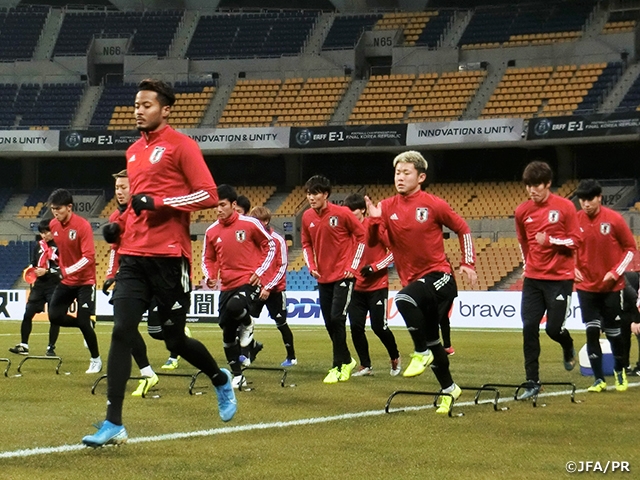 Ahead of their match against Korea Republic, coach Moriyasu mentioned, "Our opponent will fight for each ball with great intensity and they are committed to execute a passing football style." The Japanese coach continued by stating, "I need my players to match the opponent's intensity level and enter the match with the commitment to fight through."
Japan holds a head-to-head record of 13 wins, 23 draws, and 39 losses against Korea Republic. At the E-1 Football Championship, Japan has won 2-1 in the 2013 tournament held in Seoul to claim their first ever E-1 title, drew 1-1 in the match in 2015, and lost 1-4 in the 2017 tournament held in Tokyo.
With Japan seeking for their first title since 2013, SASAKI Sho (Sanfrecce Hiroshima) shared his aspiration, "We will showcase a strong performance to take home the title." The Japanese defender continued by stating, "The team is definitely making a forward progress. It is important that we continue to communicate with each other to make the adjustments on the pitch." SUZUKI Musashi (Hokkaido Consadole Sapporo) also shared his take on the match, "Compared to the first two matches, there should be more opportunities for counterattacks, so I hope to utilise my speed to create chances. I am very eager to score goals, but I will try to keep my composure and showcase my usual performance.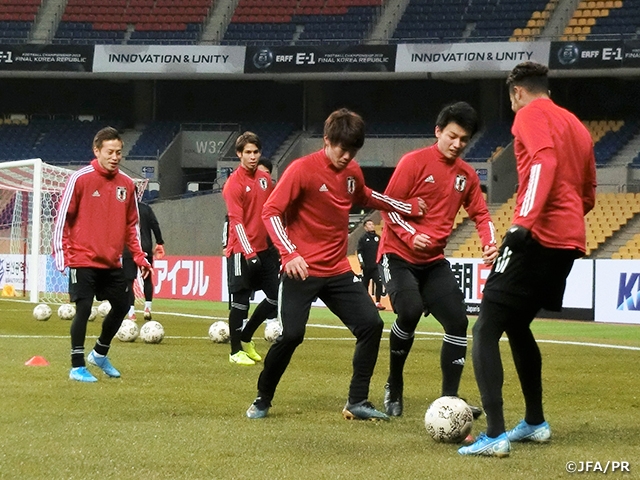 The SAMURAI BLUE will face the Korea Republic National Team on Wednesday 18 December at 19:30.
Coach and Players' Comments
MORIYASU Hajime, Coach of SAMURAI BLUE (Japan National Team)
Within the limited time, we went over our tactics and conditioned ourselves to showcase a positive performance in tomorrow's match. During our meeting, we addressed both the positives and negatives from our previous two matches and shared it with the team. The players are showing great form, so I will have a tough time deciding on the starting line-up. We have entered this tournament with the intention to win the title, and our goal can only be accomplished by taking one match at a time. We are not looking for a draw, but to claim the tournament title with a victory. Korea Republic has scored three goals from set-pieces, so we must focus on containing their strong points. We know this is going to be a tough match, but we have plenty of great talents on our team, so we hope to showcase our full potential in our match tomorrow.
DF #19 SASAKI Sho (Sanfrecce Hiroshima)
It was great that we were able to check out the pitch condition today. I am very familiar with our formation, so I know the pros and cons of this system. I hope to showcase my leadership when the team is facing a tough stretch. There is a deep history behind our matches against Korea Republic, and they have been successful at this tournament in recent years, so it would mean a lot for us if we can win the match and take home the title.
MF #9 SUZUKI Musashi (Hokkaido Consadole Sapporo)
Korea Republic will certainly come out to apply aggressive pressure, but we must also play aggressively and try to keep possession of the ball. If our opponent comes out applying pressure, it means that we will have plenty of space to exploit behind them, so we must find those spaces and make runs into them. We must also focus on our transitions. Our team has shown great improvements over the past two matches, and we have been able to construct a positive relationship that can inspire each other.
MF #14 MORISHIMA Tsukasa (Sanfrecce Hiroshima)
I am not sure how this match will play out, but I will focus on keeping a good position to help out my teammates at any given situations. I have always struggled to find ways to get myself involved in our team's goals, but this year, I have been able to get more involved, so I will try to keep that trend going. It is going to be very intense match, so I will focus on winning each battle and try to help the team in defence.
Schedule
EAFF E-1 Football Championship 2019
Tue. 10 December
2-1
vs China PR National Team
(Busan Gudeok Stadium)
Wed. 11 December
TBC
Training
Thu. 12 December
TBC
Training
Fri. 13 December
TBC
Training
Sat. 14 December
5-0
vs Hong Kong National Team
(Busan Gudeok Stadium)
Sun. 15 December
TBC
Training
Mon. 16 December
TBC
Training
Tue. 17 December
TBC
Training
Wed. 18 December
19:30
vs Korea Republic National Team
(Busan Asiad Main Stadium)
*The schedule is subject to change due to the team condition, the weather, etc.
EAFF E-1 Football Championship 2019 Final Korea Republic
Tournament Dates: Tue. 10 - Wed. 18 December 2019
Tournament Venue: Busan Gudeok Stadium/Busan Asiad Main Stadium (Korea Republic)
Participating Countries: China PR, Japan, Hong Kong, Korea Republic