NEWS
SAMURAI BLUE go over offensive strategies ahead of their match against Korea Republic - EAFF E-1 Football Championship 2019
17 December 2019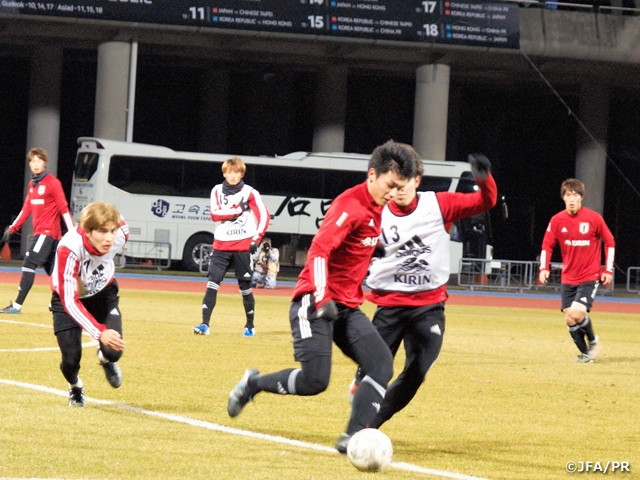 Two days ahead of their match against the Korea Republic National Team at the EAFF E-1 Football Championship 2019, the SAMURAI BLUE (Japan National Team) held a training session in Busan, Korea Republic on Monday 16 December.
Following their match against the Hong Kong National Team on Saturday 14, the players who started the match went through a light conditioning menu to work up a sweat, while the remaining players went over drills that covered the team's offensive strategies.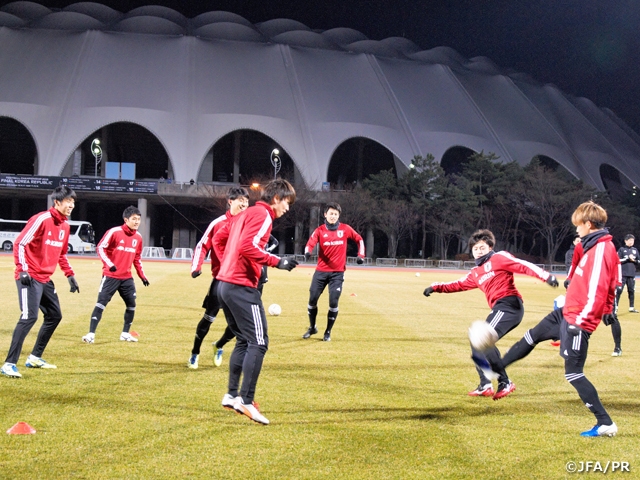 While the players played in a 5 vs 5 scrimmage, assistant coach YOKOUCHI Akinobu gave out detailed directions to keep the players focused. After going through the team training menus, the players conducted individual trainings, as the defenders went over their positionings in the defensive line, while the attackers repeatedly took shots to work on their finishing skills.
Japan's final opponent, Korea Republic has won their first match against Hong Kong 2-0, followed by a 1-0 victory over China PR in their second match of the tournament. While both teams will enter the final match with two wins, Japan will have the advantage in goal difference, putting themselves in position to win the title with a draw or better.
Ahead of the crucial match, HATANAKA Shinnosuke (Yokohama F・Marinos) mentioned, "We are expecting a very tough match." The Japanese defender continued by stating, "Korea Republic has a very powerful offence, so we must play tenaciously in front of the goal and respond against their crosses."
With Japan seeking for their first title since 2013, IDEGUCHI Yosuke (Gamba Osaka) shared his take on the match, "Our opponent will show quick transitions and great intensity to win the ball. It is important that we cover the fundamentals." OGAWA Koki (Mito HollyHock), who scored a hat-trick against Hong Kong, also shared his aspiration, "I am capable of making adjustments according to the opponent. I hope to take advantage of our opponent's character."
The SAMURAI BLUE will hold another training session on Tuesday 17 December, before facing the Korea Republic National Team on Wednesday 17 at 19:30.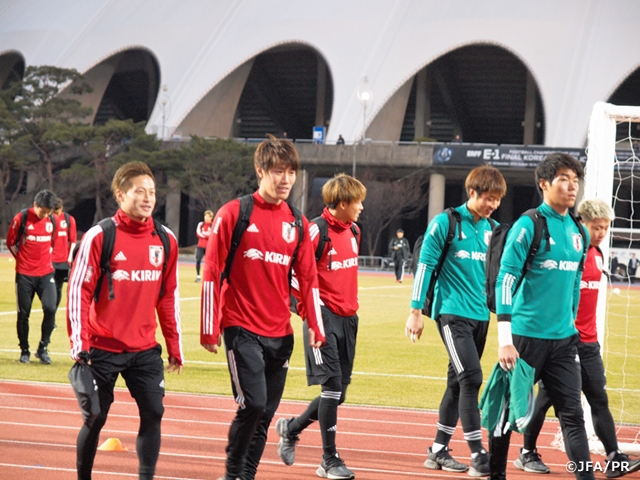 Players' Comments
GK #23 OSAKO Keisuke (Sanfrecce Hiroshima)
Compared to the previous two matches, the level of intensity will rise dramatically in our final match against Korea Republic. Knowing that our opponent must win the match to claim the title, we hope to stay aggressive and showcase our strengths. With the tournament title at stake, I am feeling a good amount of nervousness. We hope to showcase a good performance to win the title.
DF #4 HATANAKA Shinnosuke (Yokohama F・Marinos)
I can tell that the team is coming along well. Regardless of who we face, we are always striving to showcase our best performance while showing respect to our opponent. We are here to win the title, so we hope to finish off this tournament on a high note and take home the title with us.
DF #15 WATANABE Tsuyoshi (FC Tokyo)
In our match against Hong Kong, I was playing as a full back in an unfamiliar system, so I struggled to make my adjustments at first, but as the match progressed, I was able to settle down. Although I saw plenty of room for improvements in offence, I gave my best efforts to help the team out. I will be facing my teammate, NA Sang Ho, who is a very scary player to face, so I will do my best to stop him. All other players on the Korean squad are also very talented, so we must stay on our toes to keep up with them. Matches against Korea Republic have always been special, so we hope to win the match to earn the title.
MF #3 TANAKA Shunta (Osaka University of Health and Sport Sciences)
My ability to play multiple positions is my strong point as a player, and if I can heighten the quality of my performance at the centre back and defensive midfield position, I feel like I can earn more starts with this team. Our coach has mentioned that the defenders must be more creative in the build-up plays to initiate attacks from the defence line, so I will focus on that aspect in our next match.
MF #17 TANAKA Ao (Kawasaki Frontale)
I wasn't able to perform well in our match against Hong Kong and I feel like I could have done much better. That is why I must prepare myself in the best way possible ahead of our next match. I know it is going to be a tough match, but we must win this match against Korea Republic, so I will do my best to showcase my best performance.
FW #20 OGAWA Koki (Mito HollyHock)
Matches against Korea Republic are always intense, and the focus level displayed by each player increases dramatically. This will be my first match against Korea Republic, so I am very excited for the match. I will do my best to win the one-on-one battles and try to showcase my pride. I will repeatedly make runs to initiate our attacks and threaten the opposing goal.

Interview of ENDO Keita (Yokohama F・Marinos)

Interview of IDEGUCHI Yosuke (Gamba Osaka)

Interview of NAKAMURA Kosuke (Kashiwa Reysol)


Schedule
EAFF E-1 Football Championship 2019
Tue. 10 December
2-1
vs China PR National Team
(Busan Gudeok Stadium)
Wed. 11 December
TBC
Training
Thu. 12 December
TBC
Training
Fri. 13 December
TBC
Training
Sat. 14 December
5-0
vs Hong Kong National Team
(Busan Gudeok Stadium)
Sun. 15 December
TBC
Training
Mon. 16 December
TBC
Training
Tue. 17 December
TBC
Training
Wed. 18 December
19:30
vs Korea Republic National Team
(Busan Asiad Main Stadium)
*The schedule is subject to change due to the team condition, the weather, etc.
EAFF E-1 Football Championship 2019 Final Korea Republic
Tournament Dates: Tue. 10 - Wed. 18 December 2019
Tournament Venue: Busan Gudeok Stadium/Busan Asiad Main Stadium (Korea Republic)
Participating Countries: China PR, Japan, Hong Kong, Korea Republic