NEWS
Coach Moriyasu of SAMURAI BLUE seeks to test team's ability while striving for victory against "Best possible opponent"
17 November 2020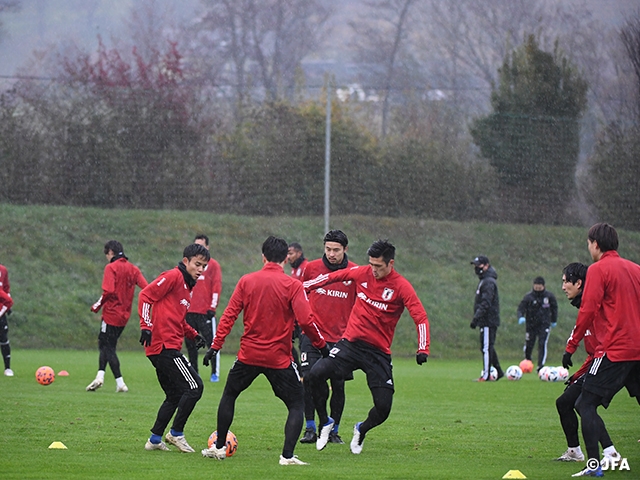 On Monday 16 November, one day before their international friendly match against Mexico National Team at Graz, Austria, coach MORIYASU Hajime of the SAMURAI BLUE (Japan National Team) appeared in an online press conference to share his aspiration to check where the team currently stands while seeking for victory against a world powerhouse, as he described the team's next opponent as "the best possible opponent."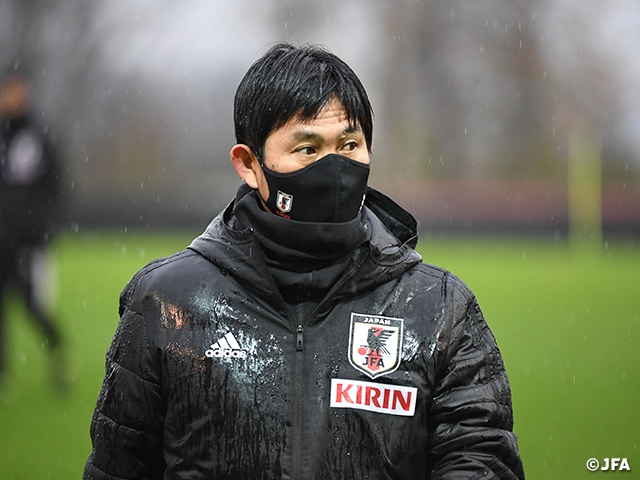 Following a long postponement caused by the worldwide pandemic, the second round of the Asian qualifiers for the FIFA World Cup Qatar 2022™ will resume next March, and this match against Mexico represents the last test match ahead of the qualifiers for Japan. Their opponent, Mexico has appeared in 16 FIFA World Cups, in which they advanced to the round of 16 in seven consecutive tournaments until 2018. Facing the CONCACAF powerhouse who has reached the World Cup quarterfinals in 1970 and 1986, coach Moriyasu mentioned that "they are the best possible opponent to test where we currently stand in the world." The Japanese coach also shared his aspiration "we are not just going to test our ability but prepare ourselves to win the match."
While Japan earned a 1-0 victory over Panama on the 13th, Mexico also won their match against Korea Republic 3-2 on the same day in Austria. Despite conceding the opening goal, Mexico rallied in the early minutes of the second half to score three goals to earn a come from behind victory against Japan's AFC rival. Since coach Gerardo MARTINO took over the helm in January 2019, the team has a record of 15 wins, 2 draws, and a loss. The team's only loss came against Argentina in September 2019, and the team has been undefeated in nine matches, including their 1-0 away victory over the Netherlands played last month. For the current tour, the Argentinian coach brought players like Hector MORENO, Carlos SALCEDO, and Raul JIMENEZ, who has scored a goal against Korea Republic and currently plays in the Premier League. The team also consists number of players who have experienced the 2018 FIFA World Cup Russia™ and those who play in the La Liga. While Japan is ranked 27th in the FIFA ranking, Mexico is ranked 11th.
Ahead of their second match at Austria, coach Moriyasu mentioned, "Our opponent consists a quality squad that has no flaws. They will pressure the ball with high intensity, so we must find ways to evade the pressure." Following last month's Netherlands tour, Japan has kept three consecutive clean sheets. Japan's anchor SHIBASAKI Gaku (CS Leganes) stated, "We will see if we can keep the same pace against a powerhouse like Mexico. We will be facing an extremely strong offence, and our ability to deny the opponent's opportunities will be tested at this match."
Team captain YOSHIDA Maya (U.C. Sampdoria) reflected on their previous match against Panama, where the team won 1-0 but failed to score goals after taking the lead while also having a numerical advantage with an opposing player getting sent off in the second half. The veteran defender mentioned that the team must enter the match as if it was a real match at the World Cup and pointed out, "By scoring the second and third goal in the final 10 minutes, it can really deteriorate the opponent's intensity level, which would allow us to conserve our energy, and that is an extremely important factor when competing in the group stage of the World Cup. In order to be successful at the world stage, each player must set their minds to prepare themselves in advance." Yoshida also analysed the team's current state, "We are in the process of constructing our new style, so there will be mistakes made. Whether or not we concede from those mistakes will be a key factor in tomorrow's match."
Just as Yoshida mentioned that "This team's core is based on the team who fought against Belgium at the World Cup (two years ago)," the players' ability to make their own decisions on the pitch will be tested in a match against a superior team. The SAMURAI BLUE's match against Mexico will take place at Stadion Graz Liebenau with a kick-off time of 21:00 on Tuesday 17 (21:00 on Wednesday 18 in Japan). Same with the previous match, in measures to prevent the spread of COVID-19, the match will be played without spectators.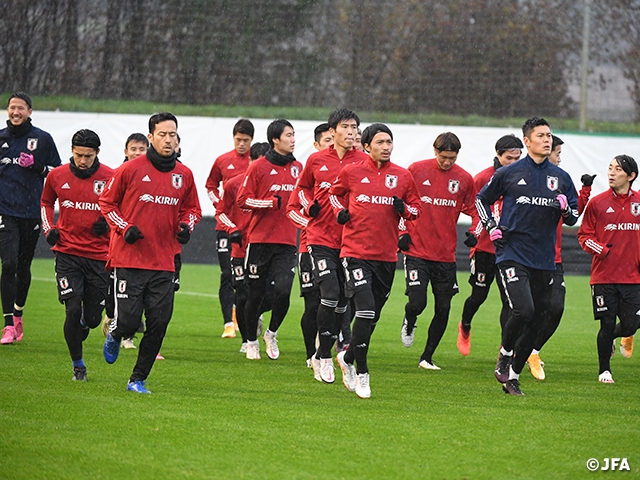 Coaches and Players' Comments
MORIYASU Hajime, Coach of SAMURAI BLUE (Japan National Team)
Tomorrow, we will be facing Mexico, a world powerhouse who has consistently advanced through the group stage at the World Cup, and we are extremely excited for this opportunity. Including the reserve members, we will compete to win the match as a team, while also trying to make the most of this match experience. Mexico is capable of mixing fast breaks and slow attacks, while their players can fluently initiate attacks from any position, so we must respond with a collective approach against them. I will demand our players to play with high intensity to win each battle in front of them and demand the team to challenge and overwhelm our opponent. Our team has raised the level of both offence and defence over the past two years. Each player has also improved over the years to raise the overall level of our team. We have continued to challenge ourselves to become more flexible on the pitch. Irregular accidents such as injuries and suspensions can occur anytime, and we must be able to make adjustments regardless of who is available to play. Ideally, we want to build a team where any combination of players can produce the same results and that is one of our focal points for this match.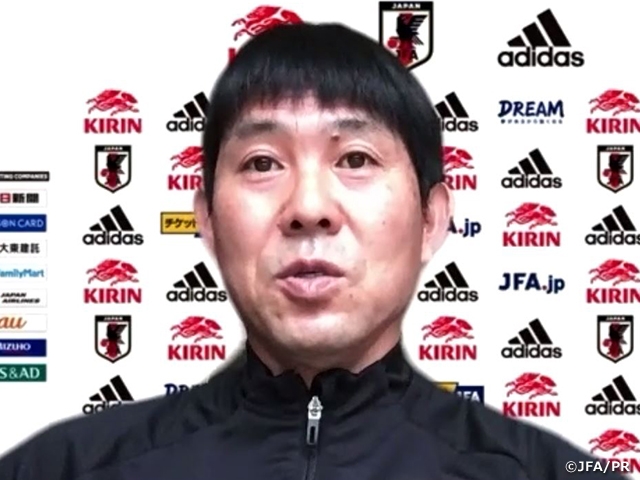 DF #22 YOSHIDA Maya (U.C. Sampdoria/Italy)
After watching their performance against Korea Republic, I have the impression that they are a very strong opponent. With the tight match schedule, we do not know exactly who will start, but they have a strong striker who plays in the Premier League and we must prepare ourselves as if this is a match at the World Cup. This team's core is based on the team who fought against Belgium at the World Cup (two years ago). The pursuit to find out what we lacked and needed to win that match is one of the major themes of this team. Each player must read the flow of the game and make their own decisions to guide the team to a better track, which was one of the traits we lacked in that match against Belgium. It is an aspect coach Moriyasu has been mentioning at our meetings. The bigger the stage, the less external impact we can have on the match, so the players must have the patience to fight through adversity and nurture the ability to make changes from the inside. Our ability to connect passes, initiate counterattacks, and defensive perseverance will be tested at this match against Mexico, and I am looking forward for the challenge.
MF #7 SHIBASAKI Gaku (CD Leganes/Spain)
This match against Mexico is a wonderful opportunity to test our abilities. How we approach this match as a team will be a major focal point for the development of this team. We have strived to build a team that can showcase the same performance against any opponent, so this match against a world powerhouse will be a huge test for us. We will see if we can summon up the courage to execute our usual game plan.
MF #9 KAMADA Daichi (Eintracht Frankfurt/Germany)
I was given the opportunity to play as an attacking midfielder for the first time in our previous match, and compared to my first time playing with the national team, I felt like my teammates were more aware of my play style and it made it much easier to play. In the match against Panama, I was able to fulfil my responsibility, while also creating opportunities within the limited playtime, so I was pretty satisfied with my performance. From what I have seen at the World Cup, I have the impression that Mexico is not necessarily a huge team in terms of size, but they are very skilful and organised, similar to Japan. We will be facing a strong opponent, but as long as we can keep a clean sheet, we can give our attackers the chance to win the match for us, so we will focus on our defence first to showcase a wonderful match.
FW #11 SUZUKI Musashi (Beerschot AC/Belgium)
Mexico does not have many players belonging to big clubs, but they are ranked 11th in the world and have the impression of being extremely skilful. However, there must be flaws that can be exploited, so I will anticipate for those chances to score goals. At any given match, my job is to win the duel against the opposing defender. I have played for a club that incorporated the three-back formation in the past, so I do not have any issues adjusting to either the three-back or the four-back formation. Their striker, Jimenez, has taken many shots and created many opportunities against Korea Republic. As a striker, I am looking forward to play against him.
Gerardo MARTINO, Coach of Mexico National Team
Japan is an extremely dynamic team with great individual skills. They have great discipline as a team, while also consisting many talented attackers that can singlehandedly impact the match. Putting aside the detailed strategies for tomorrow, I am hoping that our players can stick with the football style we have nurtured over the past two years. Our players are not big, but capable of making dynamic plays and have great foot-skills. We are striving for a football style that can bring out the full potential of each individual player.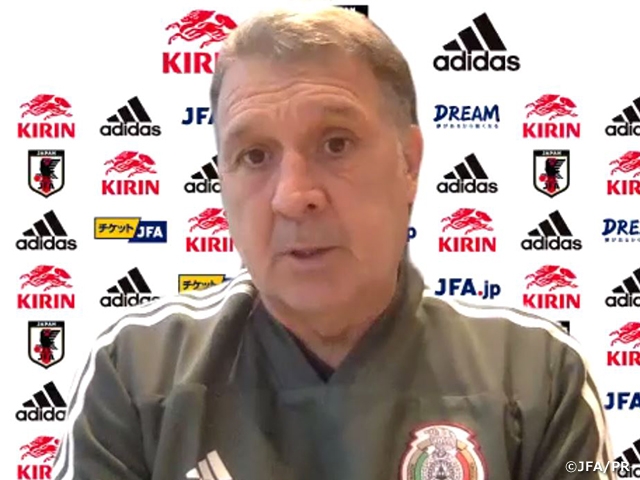 Schedule
Mon. 9 November
PM
Training
Tue. 10 November
PM
Training
Wed. 11 November
PM
Training
Thu. 12 November
TBC
Official Press-conference/Training
Fri. 13 November
1-0
International Friendly Match vs Panama National Team
(Stadion Graz Liebenau)
Sat. 14 November
PM
Training
Sun. 15 November
PM
Training
Mon. 16 November
TBC
Official Press-conference/Training
Tue. 17 November
21:00
International Friendly Match vs Mexico National Team
(Stadion Graz Liebenau)
*Schedule is subject to change
International Friendly Match
Fri. 13 November 15:15 (23:15 Japan time) vs Panama National Team
Tue. 17 November 21:00 (Wed. 18 November 5:00 Japan time) vs Mexico National Team
Venue: Stadion Graz Liebenau (Graz, Austria)
【2020.11.16 Training②%F0%9F%93%B9】
強豪メキシコとの対戦が明日に迫った #SAMURAIBLUE。雨の中でのトレーニングとなったこの日。冒頭15分のみ公開がされました。

%E2%8C%9A11.18(水)5:00KO(日本時間)
%F0%9F%86%9Aメキシコ%F0%9F%87%B2%F0%9F%87%BD
%F0%9F%93%BANHK BS1にて全国生中継
%E2%9C%85https://t.co/ZSDRPuniIW#daihyo #jfa #新しい景色を2022 pic.twitter.com/lh98vQ0AN7

— サッカー日本代表 (@jfa_samuraiblue) November 17, 2020