NEWS
Japan defeat Saudi Arabia, move up to second place after the fifth match of the World Cup Asian final qualifiers (Road to Rossia)
16 November 2016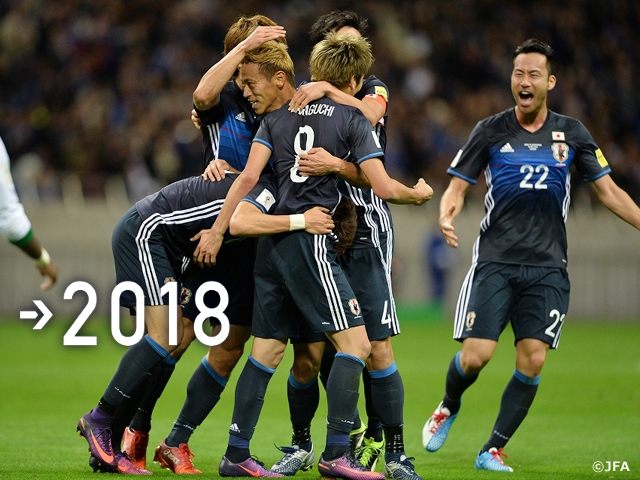 On Tuesday November 15, SAMURAI BLUE (Japan National Team) edged Group-B leaders Saudi Arabia 2-1 at Saitama Stadium 2002 in the FIFA World Cup Asian final qualifying round with goals scored by midfielder KIYOTAKE Hiroshi (Sevilla FC/Spain) and forward HARAGUCHI Genki (Hertha BSC Berlin/Germany).
As a result of this win, Japan are now tied with Saudi Arabia at 10 points with three wins, one loss and one draw, sitting at second place only due to goal differential. Staying as one of the top two teams will eventually give them the automatic advancement to the World Cup. At third place are Australia with nine total points who have just drawn with Thailand 2-2. The rest of the group are the United Arab Emirates (UAE), who beat Iraq 2-1, at fourth with six points, while fifth-placed Iraq and six-placed Thailand have three and one points, respectively.
Failure to win this match would have put Japan farther away from the sixth straight World Cup berth. Japan's coach Vahid HALILHODZIC, saying that he would choose the better group of players to win, placed forward OSAKO Yuya (1.FC Koeln/Germany) who tallied two goals in the match four days ago against Oman in the middle and forward KUBO Yuya (Berner Sport Club Young Boys/Switzerland) on the right. Kubo just made his national team debut in the same match. Also with Haraguchi on the left and Kiyotake behind Osako, the new formation was employed by the Japan's boss.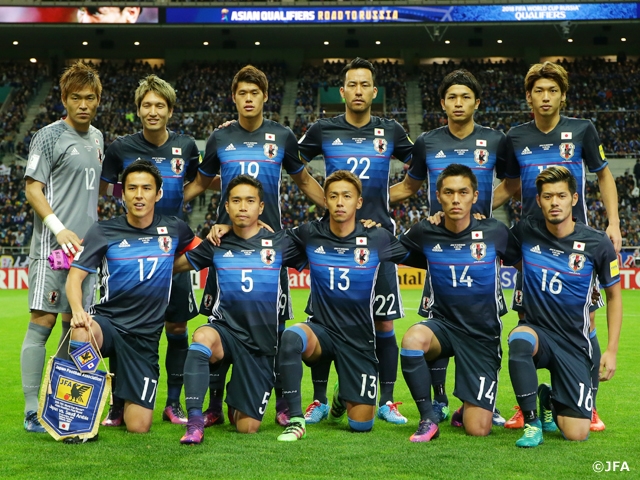 Early in the match, Japan went onto attacks centered on Kiyotake and Haraguchi, as they were paying attention to counter-attacks by the opponents. They were quick and collective in putting pressure, robbing the ball and eliminating the early signs of the opponents' offence.
In the 20th minute, Haraguchi took the ball up to feed Osako who attempted a shot surrounded by defenders. Two minutes later, Kubo found a cross from the right side and struck at goal with his right foot. Both efforts, however, were cleared by the opponents. In the 39th minute, Osako directly tried to score from Kubo's pass and Haraguchi in the 42nd penetrated by himself and fired a shot, but both of them went off target.
It was moments before the end of the first half when the deadlock was broken. A pass into the open space behind Saudi Arabia defenders from Kiyotake initiated an attack on the right side. Kubo's cross was once cleared by a defender, but Kiyotake picked it up and shot it himself, which ended up with a hand ball by an opponent in the box. Kiyotake composedly outsmarted the opposing goalkeeper to take advantage of the awarded penalty kick and scored an opener for the Japanese side.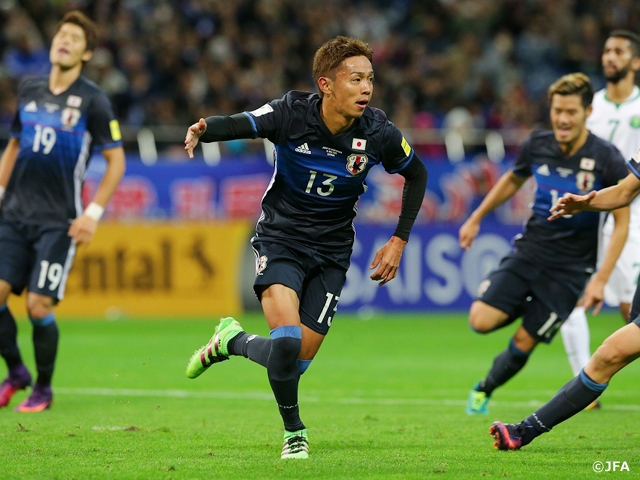 At the start of the second half, Japan replaced Kubo with forward HONDA Keisuke (AC Milan/Italy) and in the 64th minute Kiyotake with midfielder KAGAWA Shinji (Borussia Dortmund/Germany) to widen the lead.
Osako in the 62nd minute and Haraguchi moments later finished respective attacks with a shot, while Honda fired his own in the 78th minute from the right side of the box. None of the attempts were materialised.
Then, the valuable second goal was scored in the 80th minute. Defender NAGATOMO Yuto (FC Internazionale Milano/Italy) took the pass from Honda and dribbled forward on the left flank to send in a cross. Kagawa at the near post deflected it to Haraguchi, who calmly found the back of the net. Haraguchi now has scored a goal in four straight matches in this final qualifying round.
Six minutes later, Japan had another scoring chance when Honda shot off Haraguchi's pass, but this time they failed to extend the lead. Instead, they allowed Saudi Arabia to score one back in the 90th minute. A rebounding ball after a shot by forward NASSIR ALSHAMARANI was picked up by defender OMAR IBRAHIM OTHMAN, who struck a shot. Nagatomo tried to clear it away from inside of Japan's goal, but the ball was judged as already behind the goal-line.
In the additional time, Saudi defender OSAMA HAWSAWI was sent off from the pitch for his second yellow card. Moments before the time-up, Alshamarani went for an equaliser with his head, but NISHIKAWA Shusaku saved the goal behind him. Japan held onto the single-goal lead and grabbed the third victory of this round.
At the whistle, coach Halilhodzic, his players and the team staff celebrated the win.
Qualification matches will resume on Thursday 23 March next year when Japan take on the UAE on the road.
Coaches' and Players' Comments
Vahid HALILHODZIC, Coach of SAMURAI BLUE (Japan National Team)
I am proud of my players who played a good game. Saudi Arabia were a good team, but we grabbed a win by playing with strong determination and courage. However, we wanted to finish this match without allowing a goal and we could also have scored more. We rushed several times and lacked the composure in front of the goal.
It was a great team effort. Given the current circumstances, the substitutes like Kagawa contributed to the team's win and the players who didn't play also supported their teammates as well. I want them to keep this team spirit. I told the squad members playing overseas to try to play in matches more. If you don't play often and lose your game intuitions, the same problem may arise. The fact that they keep playing is our strength. I also expect our young players to grow enough to threaten our regular starters. The second half of the qualifiers will get tougher and the difficult situation will continue until the end. But we will play together and get the spot in the World Cup.
FW #8 HARAGUCHI Genki (Hertha BSC Berlin/Germany)
We needed the three points, so I'm pleased that we achieved that aim. Speaking of the goal I scored, I was able to see the angle and kick the ball firmly. I wanted to do my job to help Japan win, so that goal is a bonus. It's good that we were able to turn the unfavourable rhythm around into a positive one.
MF #13 KIYOTAKE Hiroshi (Sevilla FC/Spain)
Speaking of the penalty kick, I tried to stay calm and put it in by paying close attention to the goalkeeper. Today, the most important thing was that we were able to play as one united team. It was a difficult match, but the whole team were able to play with good balance both offensively and defensively. It's a very big three points, and it was good that we could wrap up the last national team match of this years in a good fashion.
FW #15 OSAKO Yuya (1.FC Koeln/Germany)
I feel that this win will put us back at the start line. I kept trying to maintain a good distance with Kiyotake and threaten the opponents. Young players like us have to do more. We want to build far stronger Japan National Team by improving ourselves.
DF #5 NAGATOMO Yuto (FC Internazionale Milano/Italy)
When we broke down the opponents' defence right before we scored the second goal, it was a well-coordinated combination with Honda. Honda, Kagawa and I got involved and a younger player like Haraguchi scored in the end, which was good. We may find something useful from reviewing this play. This qualifier still has three straight matches in the Middle East, and we cannot afford to lose any one of them. But if we keep doing what we are doing now, good results will follow. Today we realised that, and that realization gave us confidence.
Bert VAN MARWIJK, Coach of Saudi Arabia National Team
It's always difficult to accept a loss, but Japan deserved this win. Japan's line-up and their way to play were what I was expecting, but we were not at top form which is really necessary to play against this group's favourite team like Japan. We weren't able to utilise the chances we had late in the match. I think we won't find out the outcome of this group until the end.
Schedule
Sun. 6 November
PM
Training
Mon. 7 November
PM
Training
Tue. 8 November
PM
Training
Wed. 9 November
PM
Training *
Thu. 10 November
TBC
Official Conference (Kashima Soccer Stadium)
Official Training (Kashima Soccer Stadium) *
Fri. 11 November
4-0
KIRIN CHALLENGE CUP 2016
vs Oman National Team (Kashima Soccer Stadium)
Sat. 12 November
AM
Training
Sun. 13 November
PM
Training *
Mon. 14 November
TBC
Official Conference (Saitama Stadium 2002)
Official Training (Saitama Stadium 2002) *
Tue. 15 November
2-1
ASIAN QUALIFIERS (Road to Russia)
vs Saudi Arabia National Team (Saitama Stadium 2002)

*Closed doors except for first 15 minutes
*Schedule is subject to change due to team condition, weather, or any other unforseeable circumstances
ASIAN QUALIFIERS - ROAD TO RUSSIA
2016-11-15 (Tue.) - 19:35 (Estimated time)
Saitama Stadium 2002
SAMURAI BLUE (Japan National Team) vs Saudi Arabia National Team
More Information