NEWS
SAMURAI BLUE blow past Oman 4-0 with Osako's two goals at KIRIN CHALLENGE CUP 2016
12 November 2016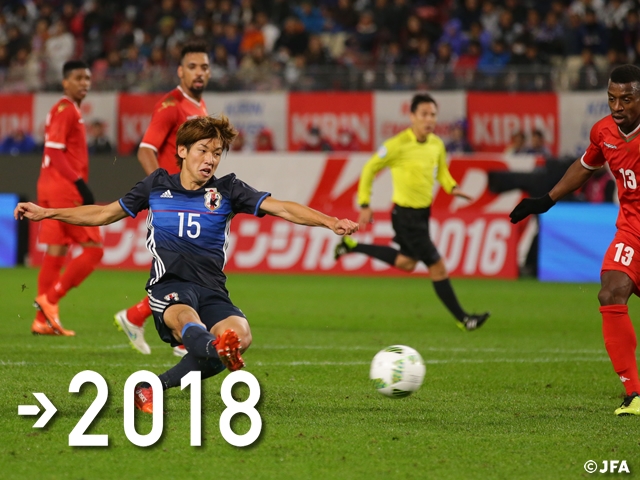 SAMURAI BLUE (Japan National Team) defeated Oman at the KIRIN CHALLENGE CUP 2016 with the two-goal contribution by OSAKO Yuya (1.FC Koeln/Germany).
Just as coach Vahid HALILHODZIC said in the press conference on the previous day "I want to introduce those who haven't played much yet and check their quality of play," he replaced some of the starters from the last matches with Osako, who came back to the national team after a year and a half of absence, up front and SAITO Manabu (Yokoyama F・Marinos) on the left flank. Also, in the anchor position was midfielder NAGAKI Ryota (Kashima Antlers), making his debut in the national team, and in the middle of the backline was defender MARUYAMA Yuichi (F.C. Tokyo).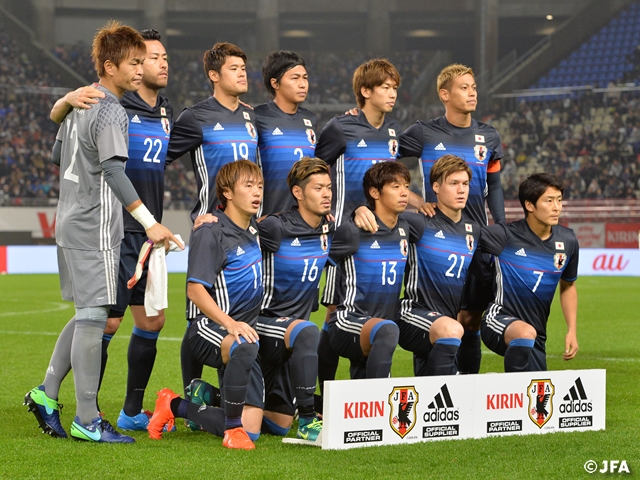 Against Oman being ranked at 129th by FIFA, Japan dominated ball possession from the beginning of the match. The yet unfamiliar makeup of the starters caused some passing errors, and there were stretches where they were unable to play at their tempo. However, midfielder KIYOTAKE Hiroshi (Sevilla FC/Spain), despite not playing in many recent matches for his club, provided good feeds and Saito aggressively took advantage of his dribbling, which all contributed to Japan establishing favourable attacking pace.
In the 19th minute, despite being judged offside in the end, Osako's header off a cross from forward HONDA Keisuke (AC Milan/Italy) found the back of the net. Then in the 25th minute, Honda fired his own shot after receiving a pass from Nagaki, and midfielder YAMAGUCHI Hotaru (Cerezo Osaka) utilized a return from Saito and attempted a mid-range shot five minutes later, both of which failed to open the scoring.
The awaited first goal came in the 32nd minute. Kiyotake's cross ball from the left was materialised when Osako threw his body out in front of the goal and met the feed with his head for the first goal for the national team in three years.

In the 41st minute, Osako again received a pass from Kiyotake, went past a defender and struck home a right-footed shot to extend Japan's lead to two goals.
Meanwhile, Oman, who had already been eliminated from the FIFA World Cup qualifiers in the second round, intercepted Japan's pass and went on a counter-attack in the 20th minute. Midfielder YASEEN AL SHEYADI finished the attack with his shot in the end only to see it go off target.
The second half continued to see Japan's dominance. Honda and Kiyotake fired shots in the 58th and 59 minutes, respectively. However, they were unable to find the target. Then, in the 63rd minute, forward ASANO Takuma (Vfb Stuttgart/Germany) was taken down illegally and awarded a penalty kick, which was converted by Kiyotake for a 3-0 lead.
Before and after the third goal, forward OKAZAKI Shinji (Leicester City Football Club/England) and midfielder KOBAYASHI Yuki (Sport Club Heerenveen/Netherlands) were sent onto the pitch for Japan. Forward KUBO Yuya (Berner Sport Club Young Boys/Switzerland) also was subbed on in the 71st minute and showed sharp plays including a mid-range shot in his national team debut.

Thereafter, midfielder HARAGUCHI Genki and defender MORISHIGE Masato (F.C. Tokyo) got off the bench, and Haraguchi tried out his finishes in the 88th and 90th minutes.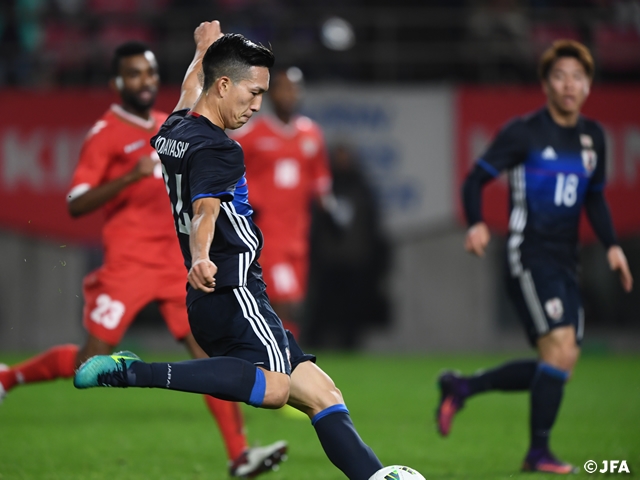 One more goal was scored in the additional time of the second half. After an interception on the left flank, Japan connected passes until Haraguchi sent a cross to unguarded Kobayashi, who composedly posted his career-first goal for the national team with his right foot. Japan improved their unbeaten record against Oman to eight wins and three draws.
The next match for SAMURAI BLUE is the fifth match in the FIFA World Cup 2018 Asian final qualifiers against Saudi Arabia. Japanese side now sitting at third in the group B will challenge the group leaders at Saitama Stadium on Tuesday 15.
Coaches' and Players' Comments
Vahid HALILHODZIC, Coach of SAMURAI BLUE (Japan National Team)
We won the match, but we are not completely satisfied with the performance. Probably it was because we didn't dominate the match completely or we rushed it too much. There were technical mistakes as well. This may have resulted from the ball being slippery or the significant changes we made in the line-up, but those factors should not affect the performance of the national team. We must maximise our skills and control the match. Once we introduce three or four new players, the complexity of the game changes. There were some players who adjust well to the circumstances, while others were not able to perform at the top level. Some took advantage of the situation, while others failed to do so.

There were many positive takeaways from the match also. Late in the match, I sent in new players and placed two strikers up front. Osako scored two goals after one year of absence. His role today was different from the one that he has at his club, but he positioned himself well, meeting my expectations. I feel that he will bring a lot to this team down the road. Ever since I took this coaching position, I have been looking for players who can score. Now I feel that I have found a very good candidate. I also found out that I can trust Kiyotake, although he doesn't get to play for his club very often. This turned out to be a good test where I gained a lot of precious information. I would like to thank Oman for showing a very good performance as well. Who can show the best performance against Saudi Arabia and who I should play are some of the questions I need to contemplate before the match this coming Tuesday.
FW #15 OSAKO Yuya (1.FC Koeln/Germany)
Today Kiyotake checked on my positioning constantly and created chances, where I could face the opposing goal numerous times. I was able to move into the middle of the box nicely for the first goal and make a good turn with composure for the second. Today's match reminded me once again that it's important to stay calm in front of goal. We are building good momentum here, and the next match is the important one. I want to score goals in subsequent game as well.
MF #13 KIYOTAKE HIROSHI (Sevilla FC/Spain)
The coach told us prior to the match that I will give you ideas, but it's up to you to make the most out of them. That freed my mind, and I was able to express myself freely on the pitch. The next match against Saudi Arabia is the key, so we tried out various things today to make use of them in the subsequent match.
FW #25 KUBO Yuya (Berner Sport Club Young Boys/Switzerland)
I tried to play as I normally do without thinking too much that this was my debut match. We were leading, so I was trying to hunt aggressively for goals. The coach told me before I was subbed to attack the space behind defenders. I moved to the right flank, though. There were chances for me to score, but I am dissapointed that I could not add the finishing touch.
JUAN RAMON LOPEZ CARO, Coach of Oman National Team
Japan were dominating the possession of the ball, and their pressing was working very well. So, there was not much room left for us to make choices, and Japan took control of the match. We couldn't take advantage of the counter-attack opportunities in the first half. That was partly because we had to practice in an unfamiliar setting for us after we arrived in Japan. The key in the match between Japan and Saudi Arabia may be finding ways to disrupt the opponents' game tactics, while avoiding frivolous errors of their own. I think they are evenly matched, so they will be competing a very tough 90 minutes.
Schedule
Sun. 6 November
PM
Training
Mon. 7 November
PM
Training
Tue. 8 November
PM
Training
Wed. 9 November
PM
Training *
Thu. 10 November
TBC
Official Conference (Kashima Soccer Stadium)
Official Training (Kashima Soccer Stadium) *
Fri. 11 November
4-0
KIRIN CHALLENGE CUP 2016
vs Oman National Team (Kashima Soccer Stadium)
Sat. 12 November
AM
Training
Sun. 13 November
PM
Training *
Mon. 14 November
TBC
Official Conference (Saitama Stadium 2002)
Official Training (Saitama Stadium 2002) *
Tue. 15 November
19:35
ASIAN QUALIFIERS (Road to Russia)
vs Saudi Arabia National Team (Saitama Stadium 2002)

*Closed doors except for first 15 minutes
*Schedule is subject to change due to team condition, weather, or any other unforseeable circumstances
KIRIN CHALLENGE CUP 2016
2016-11-11 (Fri.) - 19:20 (Estimated time)
Kashima Soccer Stadium
SAMURAI BLUE (Japan National Team) vs Oman National Team
More Information
ASIAN QUALIFIERS - ROAD TO RUSSIA
2016-11-15 (Tue.) - 19:35 (Estimated time)
Saitama Stadium 2002
SAMURAI BLUE (Japan National Team) vs Saudi Arabia National Team
More Information